The NBA trade deadline oftentimes can be one of the most exciting parts of the NBA season and it doesn't even involve on-court action. There are blockbuster trades that can turn a team's season around and trades that catapult a team from contender to championship favorite. We see it every year and once the deadline passes the casual fan usually stops paying attention to team and personnel moves.
But moves can still happen in the NBA even after the trade deadline has come and gone, and these moves usually involve what is called a buyout. Teams are able to add or drop players from their team through the buyout process in order to add a bit more depth to their roster. Buyout players aren't stars that will change the entire dynamic of your team, but they can play a key role in the rest of your season straight through to the NBA Finals in some players' cases.
But what exactly is a buyout? Who are some notable buyout players from the past? And, probably most important, why does this all matter to my favorite team? I am glad you asked! This article will clear up the hazy world of NBA buyouts and educate you on the process.
What is a Buyout?
Before we can dive into the pros and cons of buyouts, we need to understand what they are and, more importantly, what they aren't.
A buyout involves a player and team that want to part ways, leading to the player surrendering a specific sum of their contract in the process. The sum of money is usually not for the full amount that their contract is worth, and is usually agreed upon between team and player in order for them to seek other teams. If a team buys a player's contract out, they are not allowed to pick them up for one year.
The buyout is usually a mutual parting of ways, but not always. Sometimes players request a buyout and it isn't granted by the team. Teams may want to use that player as a part of a trade package to get better talent, however, this would not be the case if the player is bought out after the trade deadline.
Why Do a Buyout?
There are several situations that buyouts usually occur. The main objective for both parties in a buyout is for the team to cut that player's salary from their cap and for the player to seek other teams, potentially a playoff contender or just an overall better fit for their situation.
A perfect example of a buyout scenario in the 2019-20 season is a player like Markeiff Morris, a former Detroit Piston and now on the Los Angeles Lakers. Morris is in his ninth year in the league and has bounced around significantly during his tenure, playing for five teams in that time. He is not a star but is a very serviceable player and can contribute on the right team and help them win. That right team is the Lakers.
Morris' former team, the Pistons, however, are not in the position to win this year. After losing Blake Griffin to an injury and trading Andre Drummond, they are in the midst of a full rebuild with Morris not in their plans. Hence, the buyout. It helps all parties involved and is the smart move for each as well.
Another example of a buyout from this season is Dion Waiters. Waiters was playing pretty good basketball for the Miami Heat but injuries and an incident on a team plane forced the Lakers to suspend him and ultimately let him go. Waiters was picked up by the Memphis Grizzlies only to be bought out in February of 2020 and still hasn't found a new team.
While Markeiff Morris is only one example, he is a great one in terms of the types of players that usually get bought out. Let's put it this way, the Houston Rockets aren't going to buy out James Harden because he is not the type of player that gets bought out. He is a superstar, for one thing, and he contributes immensely to the success of the Rockets' organization.
So do buyout players have a type? They do actually! Well, a few types:
Veterans: As we saw in the Markeiff Morris example above, veteran role players tend to get bought out a lot. Sometimes they have dealt with multiple injuries or maybe their skills have declined during their contract length.
Players in the final year of their contract.
An expendable part of a trade package: Maybe a team takes on a player it doesn't need just to get another player from the opposing team in a trade. That player is usually waived or bought out by their new team and able to test the league market and get on another team through waivers.
A high maintenance player: See the situation above with Dion Waiters. Sometimes a team just doesn't need the headache and the player mutually agrees that a fresh start is best for both parties.
Do Buyouts Work?
Usually, the answer is no, but sometimes they work out very well. The initial review of the buyout, by fans and the media, tends to be the biggest splash that the player makes in the whole ordeal. They don't normally live up to the expectations of being "the guy" that will turn this team's season around.
The Most Successful Buyout in Recent History
In 2008, the Celtics acquired P.J. Brown in a buyout and went on to win the NBA Championship. Brown was a huge factor down the stretch and in the playoffs for the Celtics and made a huge impression as a buyout role player that did exactly what they wanted him to do when they picked him up. While his stats don't jump off the page, they didn't need Brown to play that type of role. He played great and came up big in the Eastern Conference Finals.
Unfortunately, in most situations, PJ Brown is the exception to the rule when it comes to buyout guys. Celtics GM, Danny Ainge was asked about buyout guys and he shed some light on the over-hyping of them in the moments they are acquired versus their actual contribution to the team:
"So we went and did these buyouts every year to try to help our team, and rarely did those work. Rarely. It sounds good on paper. Everybody said, 'Oh my gosh, they just added so-and-so to the team,' when, in fact, those players may take away minutes from a younger player that is better, change the chemistry and the roles of the players inside your organization." – Danny Ainge
In Conclusion
The buyout market, while enticing to those teams on the fringe of greatness looking for that last piece to put them over the hump, usually comes up short in its overall success. That doesn't mean teams can't catch lightning in a bottle as the Celtics did with PJ Brown back in 2008, but the chances are highly unlikely.
Many times, you are dealing with a player who feels their role on their previous team isn't what it should be and the hardest part about creating and managing a professional sports team is to get every player on the team to understand and embrace their role. PJ Brown did it, and it paid off big time. But as history has shown us time and again in the buyout market, PJ Brown is a rarity.
Has your favorite team ever succeeded in acquiring an effective buyout guy? Has your favorite player ever been bought out? Let us know your story in the comments!
Sours: https://dunkorthree.com/nba-buyout/
The Feb. 7 NBA trade deadline has come and gone. As the clock crept closer to 3 p.m. on Thursday, and even though Anthony Davis and Mike Conley weren't moved, there was still some significant action that shook several teams around the league. Tobias Harris, Marc Gasol, Nikola Mirotic, Harrison Barnes, Kristaps Porzingis and many more players were dealt in the days and hours leading up to the deadline.
But we're not done with the transaction madness. What's next? The NBA's buyout market.
What is a buyout?
Sometimes, for one reason or another, a player and his team just want to break up. This normally happens:
When teams take on players in a trade that don't factor into their short- or long-term future. Usually, this is when a veteran joins a lottery team
When a team that acquired a vet earlier in an attempt to compete performs below expectations
When teams don't find a trade at the deadline for a player that wants out
So what happens next?
When a team and player want to split, they mutually agree that the player will be waived. The player's agent and the team negotiate what portion of a player's contract will need to be forfeited to set him free. Sometimes, a player has to give everything up to leave. Other times, it's just a portion of his salary. It's a case-by-case basis.
When a player is waived, he becomes an unrestricted free agent eligible to sign with any team interested.
He just has to clear waivers first.
Wait, what are waivers?
Waivers is a 48-hour period where teams are allowed to bid on a player's contract, and if they win the bid, that player no longer enters unrestricted free agency. Instead, he signs with the team that placed the winning bid. The team making the bid has to be able to fit the player's existing contract into its payroll or an unused salary-cap exception.
This notably happened in 2000, when the Bulls acquired then waived Bruce Bowen as part of the Toni Kukoc trade.
Bowen never cleared waivers. Instead, both the Knicks and Heat put in waiver claims on the defensive stopper. When two teams put a waiver claim in on the same player, the player goes to the worst team of the two options. The Heat were a half-game worse than the Knicks at that point — coincidentally, the only time the entire season Miami was worse than New York — so Bowen spent a year in Miami before his decade in San Antonio.
If another team claims a player off waivers and wins the bid, they assume the remainder of his contract and the original team clears him off their payroll.
OK, so the player has cleared waivers. Now what?
When this happens, his remaining salary is either reduced or totally wiped clean from his old team, depending on what has been agreed upon. This is where things get fun. Now, the player becomes a free agent, free to join any team interested in signing him.
A team has to be able to sign a player with its own cap space or whatever exceptions they have available. For example, the Lakers, Sixers and Rockets are each expected to be players in the buyout market. The Celtics also traded Jabari Bird to the Hawks to clear a roster spot, as did several other teams.
Most playoff teams have a flooded payroll, so the most they can offer is the veteran's minimum, which varies and caps at $2.3 million depending on a player's experience.
Give me an example. A real-life example
Let's take Wesley Matthews for instance, a player who was traded to the New York Knicks in the Porzingis deal.
The Knicks are far from real contention, and Matthews didn't factor into New York's short- or long-term future. So, many expect Matthews and New York to come to a buyout agreement. He will make more than $18 million this year, so New York will pay him a pro-rated negotiated portion of what he is owed for the remainder of the year — whatever the team and Rose's agent agree on.
If Matthews clears waivers, he will then be free to sign a contract — either through the end of the year or a multi-year deal — with whichever team is interested.
Can a player ask for a buyout?
Yes, but that doesn't always guarantee it will happen. For example, Jahlil Okafor asked for a buyout last season, but the 76ers rejected his request while holding out for a trade. Philadelphia eventually dealt Okafor to Brooklyn.
It's possible something similar happens with Robin Lopez and the Bulls this season, though perhaps Chicago will set him free.
What happens to a player's contract with their old team when they sign with a new team?
The old team is only on the hook to pay a player what they've agreed to. For example, Dwyane Wade was one of the highest-profile buyouts in recent memory when he and the Chicago Bulls agreed to part ways in September, 2018. Wade agreed to leave on the table just more than $8 million of the $23.8 million he was owed for this season.
23.8 - 8.3 = $15.5 million
That's how much the Bulls paid Wade to walk away last season. That's a hefty price for zero points per game, but it's the price a team pays when it buys a near-max contract out.
Teams are sometimes allowed to save money by setting off a portion of whatever the player's new contract is, but the right to set-off is usually waived as part of buyout negotiations.
How long does the buyout market period last?
The buyout market is technically always open, but it's most active after the NBA trade deadline passes. That's when contenders look for one last chance to bolster their rosters.
The buyout market period effectively ends on March 1, because that is the last day teams any bought-out player can find a new club to be eligible to compete in the playoffs. Buyout market free agents differ from regular free agents who never signed with a team during or ahead of the regular season.
What stops a team from trading a player, then re-signing him after the player is waived?
Been there, done that. Teams used to be able to do that, but not anymore.
Back in 2010, the Cavaliers traded club legend Zydrunas 'Big Z' Ilgauskas to the Wizards in a package for Antawn Jamison. When the Wizards waived the big fella, Cleveland re-signed him after 30 days.
But the NBA closed that loophole in the newest CBA by prohibiting teams from signing a player in the same season they traded him.
Why would any team let a guy out of their contract? What's the benefit for them?
One reason? They can save money! Instead of paying a player his full year's salary, a team and agent usually negotiate a reduced number that works for both sides. Sometimes, that number is zero. The Bulls were able to save money when they agreed to a buyout with Dwyane Wade in September, an example we'll touch on again later.
Another reason: The player just might not fit a team's timeline. Lottery-bound teams want to get a look at young players late in the season, and having a veteran who'd prefer to play on a contender would get in the way. Many times, teams take players back in trades with no thought of keeping them past the day. Those players get waived immediately after a deal, and if there's interest, they get signed on the buyout market.
One more thing: Teams don't want to hold players against their will. Most veterans are good locker room guys no matter where they are, but if a guy really wants to play winning basketball again, a team is best served letting him go, especially if winning isn't in the cards any time soon. This player-friendly reputation could serve that team well in future free agent pursuits.
Are there any memorable contract buyouts?
Sure: The Thunder traded Carmelo Anthony to the Hawks over the summer. Anthony had one year left on his contract worth $27.9 million left on his deal. Atlanta bought his contract out at $25.5 million.
Buyout contracts became particularly popular during the lockout-shortened 2011-12 season when Kenyon Martin, Patty Mills, and Wilson Chandler each exercised NBA-out clauses mid-season while playing in China. Other players signed on the buyout market that season were DeMarre Carroll (Jazz), Boris Diaw (Spurs), and Gilbert Arenas (Grizzlies).
Last season, the Cavaliers signed Deron Williams and Derrick Williams on the buyout market. The Knicks bought out the remainder of Brandon Jennings's contract, and he signed a remainder-of-the-year contract with the Wizards. Minnesota signed Lance Stephenson to a 10-day contract, then let it expire, clearing the path for him to rejoin Indiana longer-term.
The most famous example was in 2008, when the Celtics signed free agent P.J. Brown — who stayed on the market all year after his contract expired in the summer — and Clippers buyout Sam Cassell to bolster their eventual title team. Brown hit a critical jumper in Game 7 of their second-round series against the Cavaliers and contributed as a backup big man throughout Boston's playoff run.
How often do players signed on buyout contracts actually make a difference?
Sometimes, but not too often. It's rare that a bona fide difference-maker isn't traded for something in return before the deadline. Buyout candidates are the leftover scraps on the market.
There are exceptions. Brown was pivotal in the Celtics' title run in 2008. More recently, the Heat signed Joe Johnson after Brooklyn bought his contract out in 2016, and he became a valuable contributor as they made a decent playoff push.
OK, so who's getting bought out this year?
The trade deadline was wild. Here's a snapshot of the buyout market:
Jeremy Lin: The Hawks bought Lin's contract out and he has signed for the rest of the season with Toronto
Enes Kanter: The Knicks bought Kanter out of his contract, and he signed for the rest of the season with Portland. The Trail Blazers signed Kanter to four-year, $70 million offer sheet in 2015. The Thunder matched that offer before trading him to New York.
Carmelo Anthony: The Rockets traded Melo to the Bulls, who waited a while until waiving him. He's been linked to the Lakers, but the Lakers are going to wait for bigger names to hit
Wesley Matthews: Welp. This one's done. The Knicks bought-out Matthews contract, and he's already headed to the Indiana Pacers. The 76ers and Rockets were also interested in Matthews.
Robin Lopez: The Bulls could buyout Lopez, but GM John Paxson says he has no plans to do so
Zach Randolph: Z-Bo is a culture-setter who can be an incredible locker room presence on the right team
Wayne Ellington: Ellington is a sharp-shooter at its finest.
Markieff Morris: Morris has been recovering from a neck injury, but he's a tough-nosed stretch-four who can help a number of playoff teams
Marcin Gortat: The Clippers, surprisingly, set him free as well. He can still run a mean pick-and-roll, right?
Sours: https://www.sbnation.com/2018/2/9/16994790/nba-free-agency-nba-buyout-market-explained-how-do-contract-buyouts-work
Buyouts Are Warping the NBA's Competitive Landscape
Welcome to the Morning Shootaround, where every weekday you'll get a fresh, topical column from one of SI.com's NBA writers: Howard Beck on Mondays, Chris Mannix on Tuesdays, Michael Pina on Wednesdays, Chris Herring on Thursdays and Rohan Nadkarni on Fridays.
 The NBA's premier rebounder—a 6' 10" spring-loaded mass of muscle—will soon have a new team. And it won't cost that team a thing.
To be clear: Andre Drummond will be paid many millions of dollars to haul in 10 to 15 boards a night, as he has for years. It's just that Drummond's new employer, the Lakers, won't be paying most of it. Nor will they sacrifice anything to acquire Drummond's elite skills for the stretch run.
Confused? Welcome to Buyout Season—a strange, unofficial space on the NBA calendar that was never intended to and probably shouldn't exist, but just might swing the championship race.
Here's how it works: Every season, teams try to unload unwanted veterans via trade, before the scheduled trade deadline. When those efforts fail, the team and the player arrange a buyout, in which the player agrees to a (usually minor) pay cut, the team pays out the remainder of his contract, then places him on waivers.
The bought-out player is then free to chase rings, shots or warmer weather—or sometimes, all of the above—usually by signing for the veteran's minimum salary. His old team saves a few dollars, opens a roster spot and makes room for younger players to get reps. His new team gets a boost for the stretch run at relatively little expense. Everyone is happy!
Except, well, not everyone.
The Buyout Market, like much of the NBA ecosystem, mostly helps the bigger markets, the glamor teams and the contenders, further warping a competitive landscape that many teams believe is already stacked against them. "You're just helping the rich get richer," says a general manager with a small-market team.
And the market is booming in the wake of last week's trade deadline. Former All-Star LaMarcus Aldridge, recently waived by the Spurs, promptly agreed to join the Nets. His decision came just three weeks after former All-Star Blake Griffin (bought out by the Pistons) chose Brooklyn, a big-market superteam built around Kevin Durant, James Harden and Kyrie Irving.
Drummond, the NBA's leading rebounder over the last six years, reached a buyout deal with the Cavaliers last week. He chose one big-market contender (the Lakers) after seriously weighing an offer from another big-market contender (the Celtics).
The Lakers—in a tight race with the Clippers, Jazz, Nuggets and Suns for Western Conference supremacy—now get the benefit of a 27-year-old center who has averaged 17.5 points, 15.1 rebounds, 1.8 steals and 1.6 blocks over the last three seasons. The total cost to the Lakers? Less than $800,000 for the rest of this season, per ESPN's Bobby Marks. This, for a player whose actual salary this season is $28.8 million.
Indeed, the rich are getting richer.
Bought-out players typically sign for a prorated portion of the minimum salary, allowing their new teams to add talent without regard for the salary cap.
"It's a definite concern," says another team executive working in a small market. "Without a doubt, players that are entering the buyout market will only be looking at contending teams. And most of the time, historically, their preference has been to go to the teams in the bigger markets. ... And it gives teams an opportunity to sit back and add players on minimum deals that they normally wouldn't be able to acquire."
It's debatable whether Drummond was ever worth his lofty salary (which he earns thanks to the five-year, $127 million deal he signed with the Pistons in 2016). He's made the All-Star team only twice in nine years, and some experts question whether rebounding is still a valuable commodity in today's NBA.
Nevertheless, the Lakers just got a player recently valued at close to $30 million for relative pennies, despite being far over the cap and without having to trade a single player or draft pick. "The system is flawed," says a third small-market GM. "You shouldn't be adding to your team this deep in a season without giving things up."
This isn't merely the gripe of small-market teams, or even a matter of opinion; the Buyout Market directly (and objectively) undermines the NBA's complex system of salary caps and luxury taxes. The whole point of all these rules is to limit how much elite talent a team can collect—and to force teams to make trade-offs and hard choices.
Butthe Buyout Market makes a mockery of it all. There is no sacrifice, at least for the glamor teams and the contenders. The Lakers, with LeBron James and Anthony Davis as high-priced franchise stars, would never be able to afford a $29 million rebounding specialist in a normal market (and will probably lose him to free agency this summer).
Aldridge (35) and Griffin (32) are both past their primes, but they are still solid players, and an incredible luxury for a Nets team already stocked with elite scorers. Aldridge's contract with the Spurs paid $24 million this season (minus a reported $7.25 million buyout). Griffin's contract was worth $36.8 million this season, and another $38.9 million next season (minus a reported $13.3 million buyout). The Nets just got them both for $2.1 million combined.
"This is creating a competitive advantage for the large, destination markets," says the first team exec. "And it's another inequity for the small markets."
On a smaller scale, the Spurs signed Gorgui Dieng after he was released by the Grizzlies last week, a rare instance of a non-glamor team benefiting from this midseason free-agent bazaar. Still, free agency is supposed to happen in the offseason, when teams have planned for cap room, with a presumably equal chance to recruit talent.
Other contenders had to work a little harder to strengthen their rosters last week. The Nuggets traded players and draft picks to get Aaron Gordon. The Clippers had to give up Lou Williams, the three-time Sixth Man of the Year, to get Rajon Rondo. The Bucks traded players and picks to get P.J. Tucker. The Sixers traded players and picks to get George Hill. The Heat traded players and draft considerations to get Victor Oladipo.
But the Lakers effectively got Drummond for free, just as the Nets did with Griffin and Aldridge. And though all three could conceivably go elsewhere this summer, the Lakers and Nets now get several months to recruit them first.
And that also hurts their former teams, executives say. Rival teams pursuing those players never considered trading for them, because their large contracts made a trade unlikely. Everyone knew which players would be bought out, long before the trade deadline. So they just waited.
The Buyout Market is effectively a second free agency period, except it comes in the middle of the season, involves only a handful of franchises and doesn't require cap room. And it was never intended to exist. There is no mention of a "buyout market" or a "midseason free agency period" in the NBA's collective bargaining agreement. It has evolved on its own, over several years—driven primarily by star players and influential agents.
When a player grows discontented, he pushes for a trade. When no trade materializes, he pushes to get released or bought out. Teams feel pressure to agree, out of fear of alienating agents or being perceived as indifferent to a player's wishes. Those things can haunt a team, especially a small-market one, when free agency rolls around.
"It's very, very hard for the small markets or mid markets to say we're not gonna buy you out," said one small-market GM, "because you can't get players there anyway. If you don't do them favors, an agent will say, 'I'm not gonna bring my guys to you.'"
But midseason buyouts used to be much rarer. The phrase buyout market was rarely used around the NBA until about 2016, according to a Nexis search, but it spiked two years later and has become a permanent part of the lexicon.
Some team executives have pushed for reform, to no avail. One suggestion is to make buyout players ineligible for the playoffs unless they have been released at some date before the trade deadline—say, in early February—thus incentivizing teams to trade for the players. Another option would be to create a compensation system, in which the team signing the player has to send a draft pick (or possibly multiple picks, depending on the player) to the player's former team. A third proposal would be to give each team a cap exception specifically for buyout signings—and limit it to one per season, or even one every two years. A fourth option would be to have teams place a blind bid for bought-out players, using whatever cap room or cap exceptions they have available, with the player awarded to the highest bidder.
The small-market execs hope the issue gets addressed in the next CBA, which would begin in 2024, after the current deal expires. But they are not particularly optimistic. As they see it, NBA officials are driven by marketing and money, and having marquee names congregate in glamor markets, or on title contenders, is good for ratings.
"The way you know the NBA doesn't think it's a problem is they're reticent to acknowledge it's been a problem," says one of the small-market execs. "The inaction tells you, 'We're cool with it.' "
LUKEWARM TAKE OF THE WEEK
The Pistons played a video tribute for Blake Griffin on Friday—his first game in Detroit since his buyout. It was a nice gesture. But we need a new standard for these things.
Griffin played 138 regular-season games for the Pistons, not even two full seasons. He led them to one playoff appearance—a four-game, first-round sweep by the Bucks. He did make one All-Star team as a Piston, in 2019. But his tenure was otherwise an expensive, regrettable and mostly unmemorable chapter, marred by injuries and general decline. So what, exactly, were the Pistons paying tribute to?
I'm not sure when the tribute video became standard operating procedure for NBA teams, but it's reached the point of absurdity. The Hawks produced one in 2018 for Dwight Howard—Dwight Howard!—whom they'd traded (as quickly as possible) after just one season.
Can we save the tributes for the truly memorable players? The ones who left an impression? The perennial All-Star? The five-year starter? The plucky fan favorite? Or at least for the guy who hit that one big shot in the playoffs?
Teams are certainly in a difficult spot here. The more these videos proliferate, the more pressure there is to do them for everyone, lest you look like the one team that isn't properly appreciative of its former players. You never want to leave a bad impression on an influential player (or his agent). In the free-agent bidding wars, every edge matters.
Listen, appreciation is good. I am stridently pro-appreciation. I appreciate that teams are appreciative of their former players. But these videos now feel like AYSO participation trophies—if everyone gets them, they cease to mean anything.
More Morning Shootaround
Nadkarni: The Nuggets have stumbled into their lineup of the future
Herring: Inside the NBA's year of the lefty
Pina: Dončić is finding his rhythm behind the three-point line
Mannix: Clippers must make a deadline move
Beck: A conversation with Monty McCutchen
Sours: https://www.si.com
Breaking down the NBA buyout market l DNVR Explains
Does the Buyout Market Reflect a Competitive Imbalance in the NBA?
Last Thursday marked the NBA trade deadline, meaning teams can no longer trade players on their rosters. However, after the deadline, there remain no restrictions on teams signing free agents. Coincidentally, after the trade deadline, some players and teams enter into buyouts whereby that player is bought out of his current contract and becomes a free agent. This happens where a team is usually unsuccessful in trading a player on a high salary or a player refuses to play for the team for the rest of the season.
The buyout market can make or break a team's season. This year, the Brooklyn Nets fortified an already stacked roster by signing two all-star free agents whilst the reigning champions, the LA Lakers, signed the league's leading rebounder. These signings come somewhat at the expense of small market franchises who lose a star player and get nothing in return. One general manager reportedly described the buyout market as "helping the rich get richer."
What does a buyout involve?
A buyout usually occurs when a player is in the final year of his contract, often a lucrative contract, and the player's employer must decide whether to continue to pay the player's salary for the rest of the season (whereby the player becomes a free agent that summer and can join a new team) or to proceed with a quid pro quo in which the team cuts their losses and releases the player from their contract and pays a discounted salary.
But one does not merely buyout an NBA player's contract
 In accordance with the Collective Bargaining Agreement, a player's base salary becomes guaranteed from 10 January for the remainder of the season. This means that rostered NBA players on 10 January will receive their base salary for that season even if they are waived or dropped by their employer. Therefore, in order for a player to be successfully bought out of their contract (i.e. the team pays them less than their base salary), the parties enter arbitration to agree the buyout amount. Once agreed, the player enters waivers (a sort of two-day "cool off" period) before becoming a free agent.
This year, the buyout market strengthened two of the strongest teams in the NBA. Andre Drummond who was on a max contract with the Cleveland Cavaliers signed with the Lakers for a salary of $794,536 for the remainder of the season. This is peanuts compared to the $28.8M per season he was being paid by the Cavs. The Lakers, therefore, added an all-star calibre player to their roster for cents on the dollar.
Six-time all-star, Blake Griffin, was due $36.8M from the Detroit Pistons this year and agreed to a buyout agreement, which involved Griffin returning $13.3M to the Pistons. Meanwhile, LaMarcus Aldridge was due $24M from the San Antonio Spurs this year but returned $7.25M of this salary to facilitate the buyout. Both players signed with the Brooklyn Nets, receiving salaries of $1,229,676 and $878,340, respectively, for the remainder of the season.
Are big market teams benefiting at the expense of smaller market teams?
Sure, the mechanics of a buyout provide some benefits to the incumbent franchise. The Detroit Pistons, for example, can save money rather than paying the player their full salary. Moving the player from their roster also creates a new roster spot that can be invested in a young player and will generally mean that the Pistons' young players benefit from more game time and more time on the ball.
However, the overwhelming sentiment appears to be that contending teams are gifted a superstar and said superstar's previous team receives nothing in return. The Detroit Pistons could have traded Blake Griffin but why would the Nets give away assets and take on Griffin's huge contract when they can gamble on him being bought out and sign him, as they did, for a discount without giving anything to the Pistons in return? Indeed, another General Manager reportedly believes, "You shouldn't be adding to your team this deep in a season without giving things up."
Indeed, the NBA's Collective Bargaining Agreement does not establish the buyout market and does not create this new system. It has evolved on its own and perhaps now is an appropriate time for the NBA to take control of the market reality. However, the Collective Bargaining Agreement is due to be renegotiated in 2024, which is likely the soonest the matter will be addressed.
The NBA's previous commissioner, David Stern, placed an emphasis on promoting small market teams during his tenure. Infamously, Stern vetoed Chris Paul's trade from the New Orleans Hornets (as they were known in 2011) to the Lakers. This was highly unusual but, at the time, the NBA owned a majority stake in the Hornets. The Hornets were a new expansion franchise, entering the league in 2002 and the NBA considered it in the league's wider interests if it controlled the Hornets. Some speculate that the trade was vetoed because it would have consolidated the Lakers position at the top, at the expense of a small market team like New Orleans.
Indeed, the Brooklyn Nets are arguably the most stacked team in NBA history and have been able to manoeuvre at the expense of smaller market teams.
All of this to beat a 36 year old…
© Copyright 2021 Squire Patton Boggs (US) LLPNational Law Review, Volume XI, Number 89
Sours: https://www.natlawreview.com/article/does-buyout-market-reflect-competitive-imbalance-nba
Buyout nba player
2021 NBA buyout market: How midseason free agency works, and who could be available after the trade deadline
The NBA trade deadline isn't necessarily designed to cater to true contenders. Oftentimes those teams are short on trade assets because those assets were spent building a contender in the first place. They usually lack tradable salary because their highly-paid players are all essential parts of their rotation. 
That isn't to say that winning teams don't make trades in February. It's just that only a few of them have produced championships. The blockbusters that sent Marc Gasol to the Toronto Raptors and Rasheed Wallace to the Detroit Pistons are the exception. 
The buyout market, on the other hand, is the rule. Markieff Morris was an essential component of the Lakers' championship run last season. P.J. Brown got the 2008 Boston Celtics into the Eastern Conference finals. Boris Diaw landed with the San Antonio Spurs in 2012 and wound up staying as a critical reserve on their 2014 championship team. These are the most famous examples, and not every champion or finalist makes a meaningful addition in the middle of the season, but it is the avenue of roster-building that is most often available to the best teams, and is therefore the one that they most often at least attempt to use. 
But every team in the playoff hunt wants to get better. Not everyone has the means to do so through a trade. But almost anyone can pluck midseason free agents with the right recruiting pitch. The blockbusters may stop on Thursday, but teams are far from finished constructing their rosters. 
So how will they go about it? What exactly is the buyout market, and how will teams use it in pursuit of a championship? This trusty guide should answer any and all questions on the subject. Below is your 2020 buyout market primer. 
How do buyouts work?
A buyout occurs when a player and team mutually decide to part ways. The player surrenders an agreed-upon amount of his guaranteed salary, and in exchange, is released and allowed to sign with any other team as a free agent. If a team buys a player out, he cannot re-sign with or be claimed off of waivers by that team for one year or until the end of the contract that was bought out, whichever comes later. 
That clause typically lasts one year, though, as buyouts on multi-year deals are a rarity (though Blake Griffin was an exception this season). Typically, the kind of player that gets bought out fits the following criteria: 
Is in the final year of his contract. 
Is a veteran whose age, injury history, declining skills or positional redundancy limits his original team's interest in retaining him as a free agent in the upcoming offseason.
Is currently on, or was traded to before the deadline, a lottery team that has little to gain by employing such a veteran for the remainder of a season. 
The motivations are simple for both sides. The team is able to save a bit of money. The player is allowed to pick a new team that better suits him at that moment. Usually, they are motivated either by a desire to compete for a championship or a chance to prove their value to a winner ahead of their impending free agency. 
What timeline does the mid-season free agency market generally follow? 
Buyout negotiations typically begin in earnest once the trade deadline has passed. At that point, teams know for certain who has and has not been traded and what needs they still have to fill. News began pouring in almost immediately at 3 p.m. ET about who could hit the market and where they might land. 
Not all buyouts are negotiated overnight, though. While the trade deadline was on March 25, teams have several weeks to decide whether or not they want to buy out their players. In a normal season, the unofficial deadline to do so is March 1, as that is when bought out players must have signed with new teams in order to be eligible for the playoffs. This season, that date has been moved to April 9. This restriction only applies to players who have been bought out, though. Players who were not under contract with another team earlier in the season are eligible for the postseason as long as they sign by the end of the regular season. 
How can teams afford to sign free agents in the middle of the season?
Only two NBA teams are currently below the salary cap. The New York Knicks have $13.5 million in space, and the Charlotte Hornets have roughly $1.8 million. Both would certainly like to add talent ahead of their playoff pushes, but typically, the best players join teams that are closer to winning championships. 
Most buyout contracts are worth the minimum salary. From a cap perspective, that means that most buyout contracts are worth the same amount, which would be a pro-rated portion of the minimum salary for a second-year player (as the league reimburses teams for the extra salary of older players to prevent teams from intentionally targetting younger ones). For the whole season, that would be around $1.62 million, but the actual amount paid to a player and counted beneath the cap depends on when the contract is signed. This regular season is 146 days long. The trade deadline falls on the 93rd day of the season. Therefore, a player would receive roughly 36.3 percent of that minimum figure if he signed with a new team on deadline day, and slightly less with each passing day. 
Under normal circumstances, almost any team can sign as many minimum-salaried players as they'd like, provided it has the roster spots to fit them. This season, is something of an oddity, though. A staggering 18 teams are hard-capped at the apron ($138.928 million) for some reason or another. Some are so far beneath the line that it functionally doesn't matter. Others are so precariously close that they lack the flexibility to sign anyone. Teams must have a total of 14 players on their roster when the dust clears, and if you see teams trading minimum-salaried players for nothing, that is often why. When you trade a player, you offload their entire salary, and can therefore replace him with a pro-rated minimum player that counts for significantly less against the hard cap. 
While the minimum salary is the baseline for buyout players, a number of contenders have a major financial advantage over the competition in the form of cap exceptions. There are three primary forms of exceptions that come into play with mid-season free agency. The first is the mid-level exception. Most contending teams spend their entire exception during the offseason's free agency. A few, however, save some or all of it for use during the regular season. The following potential playoff teams saved a portion of their Mid-Level Exception big enough to make an offer above the pro-rated minimum to bought-out free agents, via HoopsHype's Yossi Gozlan:
These exceptions pro-rate slightly, but not at the rate of a minimum-salary deal. As there are 146 days in this regular season, these figures all lose 1/146th of their value with each passing day. The second major exception is the bi-annual exception. As its name suggests, it can be used every other year. Like the mid-level exception, it prorates daily, but considering its size, it is rarely divided amongst multiple players. That means that the 16 teams that have it all have the same amount to spend: $2.9 million. Notable contenders that have yet to spend their bi-annual exception include the Celtics, Clippers, Heat, Suns, Blazers and Jazz. 
The last major type of exception on the table is the disabled player exception. Teams are eligible to apply for a DPE when one of their players gets injured. If a league-approved doctor deems that player unlikely to be healthy by the end of the league year, the team is granted a cap exception that can be used in free agency or trades worth half of that player's salary or the Non-Taxpayer Mid-Level Exception, whichever is lower. Unlike the other exceptions mentioned, Disabled Player Exceptions do not prorate. The following potential playoff teams have Disabled Player Exceptions:
Money is rarely the deciding factor for a free agent who has been bought out, but it never hurts. Conversely, just having this money doesn't mean every team will spend it. Several of the teams listed here have to contend with the luxury tax, or won't be able to recruit a top player, or simply won't have any interest in altering their existing roster. The money is merely a tool at their disposal. It is up to them to make the most of it. 
Who are the top potential buyout candidates this season?
This list is simultaneously incomplete and overstuffed. Ultimately, there is no set formula that leads to a buyout, so we'll try to use the criteria above while also establishing a few other categories to watch. There will be notable players to get buyouts that are not listed here. There will also be plenty of players on this list that don't get bought out. But on paper, these are the players to watch in midseason free agency, either because they have already changed teams, or because there is a chance they still might. 
Sours: https://www.cbssports.com/nba/news/2021-nba-buyout-market-how-midseason-free-agency-works-and-who-could-be-available-after-the-trade-deadline/
NBA Buyout Market EXPLAINED!
In the NBA there are some legal terms and concepts that are difficult to understand at the first glance. There are some peculiarities regarding contracts, transfers, buyouts, that not everyone can comprehend. Therefore explanations are necessary to better grasp various details. A lot of viewers and lovers of the NBA are interested in a contract buyout.
What does a contract buyout mean in the NBA? If the team and the player are mutually interested in parting, they can agree on a buyout. The player gives up part of his guaranteed salary, and in return receives full freedom. After 48 hours he becomes an unrestricted free agent.
Depending on the situation, the player may opt-out of either a large part of the contract or lose almost nothing at all. We will also have a look at some of the most specific questions regarding contract buyouts, providing specific examples to explain things further.
If you are thinking of buying an NBA jersey, then check out the latest offers from the official NBA retailers below.
What happens after 48 hours after a contract buyout?
It is a really interesting point. 48 hours after the buyout agreement, the player is on the waiver. Any team at this point can take over the player's current contract. If several teams want to sign a player, a team that is lower in the standings will have the advantage. The team must have a place for the player in a roster or a sufficient salary cap.
This happens rarely. But, for example, in 2000, Chicago bought Bruce Bowen's contract, and the Knicks and Heat also wanted him. Interestingly, it was probably the only day of the year when the New York Knicks were up in the standings than the Miami. So before joining the San Antonio Spurs, Bowen spent the rest of the season with the Heat.
If a player is taken from the waivers, the tames take over the remainder of his contract, and he is excluded from the salary cap of his former team.
Who can sign a "buyout" player?
As soon as the period of waivers passes, the player becomes an unrestricted free agent and can sign with any interested team. A team can sign a player if it is under the salary cap or using an exception.
Some teams in the NBA have a sufficient salary cap while others do not. But since most players sign minimum contracts after the buyout, this is not a problem for most of these teams. It is always necessary to consider because after the contract buyouts rarely you will see massive deals.
The regular season is 177 days long if we do not take some unexpected events, like the coronavirus pandemic in 2020, or lockouts. The deadline is on the 108th day. That is the player who signs the contract after the buyout can count on less than 40% of the new amount, whether it is "minimal" or "exception".However, after the buyout money rarely becomes a determining factor for players.
Is it possible to demand a buyout?
This one is also interesting. Technically the answer to this question is yes – it is possible to demand a buyout, but there is no guarantee that the team will agree to it. We can provide an example of Jahlil Okafor who asked the Philadelphia 76ers to buy him out two years ago, but the team refused and then traded him to Brooklyn. Right now Okafor plays for the Detroit Pistons. In short, there could be some complications both from teams and players.
Is it possible to completely give up salary?
Yes, it is possible to refuse the salary. Though this will create an undesirable precedent from many points of view, so in practice, this is not possible. Such things have never happened in the NBA and barely any player will take on this step.
Why are some players waived and some bought out?
The main difference between these two is the size of the contract. The bigger the amount, the more sense it makes for the team to negotiate its reduction. For example, the Chicago Bulls negotiated a buyout with Wade, which resulted in him giving up more than $8 million (contract amount 23.8, Wade gave up 8.3, the total he received from Chicago was 15.5). Carmelo Anthony received 25.5 of Atlanta's 27.9 million in long-term buyout negotiations. If we are talking about a "minimal," it is easier for the team to waive the player without negotiations.
Is it possible to negotiate a buyout and then re-sign the player?
Actually, such a thing is possible, but not until a year from now. If there is more than a year left in the contract, it is only after the contract expires. The exception is a buyout with a full salary, in which case you can re-sign the player immediately.
Is it possible to exchange a player, wait for a buyout, and re-sign?
It is possible as well, but only in a year. In 2010, Cleveland traded Ilgauskas to Washington, where he was waived, and 30 days later he became a Cavaliers player again. The next collective agreement added a clause according to which the player can not be re-signed after the exchange within a year of the exchange.
The bottom line
Contract buyout in the NBA also has even more details but these are the simplest things that will give a proper insight into how such negotiations work. Contract buyouts always take a major portion of the NBA transfers, where players are leaving their teams and move to the other ones, agreeing to different salaries and terms.
Sours: https://basketballnoise.com/what-does-a-contract-buyout-mean-in-the-nba/
You will also like:
NBA Buyout Market 2021: All Things You Should Know About It
In addition to the dramatic matches on the court, the NBA trade deadline is also something that attracts the attention of fans. Some trades will change the fate of a team. So a lot of people pay attention to this issue every season. 
But the turning point can still occur after the trade deadline, and it has to do with buyouts. Although there is not too much impact, these players will still breathe new life into the team. Let's learn more about buyout in the NBA with Scott Fujita in this article!
What Is A Buyout In The NBA?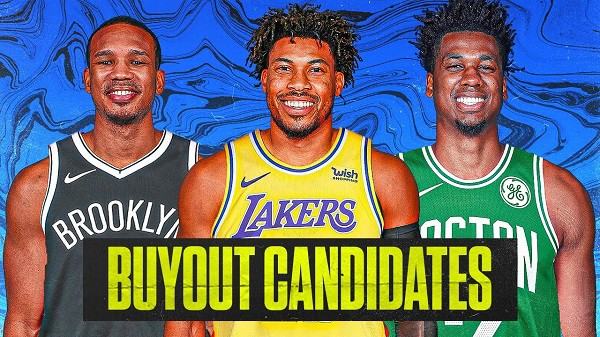 The buyout free agency market in 2021 is active
1. The Definition
Buyout market is a term that often appears in basketball. You can see it as a tradition of every season. However, what does buyout mean in the NBA? We need to understand more about this before we move on to the following sections.
A buyout usually takes place in case a player and a team want to part ways. During this process, the player will have to pay back a specific amount that they have agreed on in the contract.
This total amount will usually not be the full amount specified by the contract. Usually, the team and the player will discuss with each other to decide the amount of money to help them find another team. If a new team buys out a player's contract, they will not be able to choose them again for a year.
Related: Who has the most buzzer beaters in nba history
Usually, the buyout takes place under the agreement of the two parties to part ways. However, there are a few exceptional cases. Sometimes players want to become free agents without the team's approval.
Sometimes the team wants to use players as a condition to exchange other talents. However, this will not be possible if a buyer loses a player after the NBA trade deadline.
2. The Goal of Buyout
There are many reasons for a buyout market to appear. The most common cause is to create a win-win deal for both the player and the team. In this case, the team can reduce the cost of paying the player's salary. On the contrary, the player can go looking for a new opportunity. Usually, there will be playoff candidates or lineups that suit them better.
3. Types of Buyout Players
While it may sound strange, not all buyout players are equal. Usually, there are four types of players as follows:
Veterans: They are the most experienced players of the season. They are in the buying and selling due to injury or a drop in form.
The players were in the final year of their contracts.
Trade packages: Some teams will select players to exchange in the market with the rest of the teams. The other teams can choose to admit players or not. If no team buys back players, they will become free-agent and can freely search for new teams for themselves.
High maintenance players: They are the players the team wants them to leave as soon as possible. It could be because they didn't fit the team's tactics or caused problems for the team.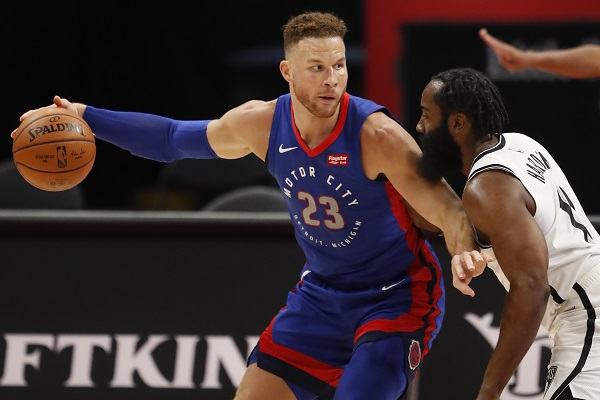 The buyout of Blake Griffin was a huge deal
How Does NBA Buyout Work?
However, the structure of a buyout market is not so easy. It has rules-based rules that you need to learn more about.
Based on the Collective Bargaining Agreement, the team will have to guarantee the player's base salary for the remainder of the season. This event takes place on January 10 of each year. That means the players ranked on this date will receive their base salary. It will happen even if their owner exempts or removes them from the team.
Therefore, to successfully buy a player's contract, the parties involved need to discuss to agree on the purchase amount. The team that buys the player's contract will have to pay a salary lower than the base salary. 
After agreeing, the player will enter the waivers phase. It's like a short 1-2 day vacation. They eventually become free agents.
Situation Of The NBA Market In 2021
This year, the buyout market is extremely active. It has consolidated two of the strongest teams in this year's NBA season.
A prime example is Andre Drummond. He signed a maximum contract for the Cleveland Cavaliers with $28.8M per regular season. They then transferred him back to the Lakers for a salary of $794,536 for the rest of the season. It is a real bargain for the Lakers. They have added an All-Star player to the squad for a very comfortable cost.
Blake Griffin, a six-time All-Star, has also expired. He reached his $36.8M contract with the Detroit Pistons and accepted an acquisition. It means Griffin will have to refund $13.3M to the Pistons.
Meanwhile, Lamarcus Aldridge has also reached the end of his $24M contract with the San Antonio Spurs. He decided to refund $7.25M to facilitate a buyout.
Both players have signed new contracts with the Brooklyn Nets. Blake Griffin's salary is $1,229,676 and $878,340 is the salary of Lamarcus Aldridge. They will be their salary for the rest of the season.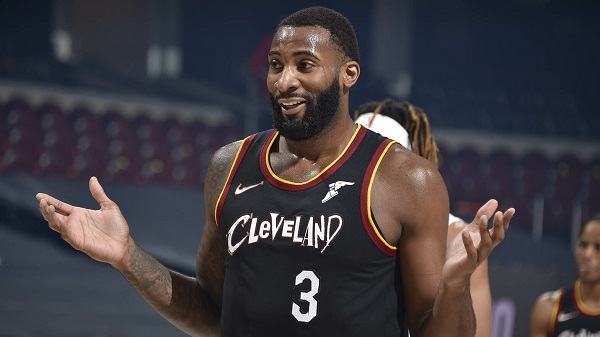 Andre Drummond is a hot free agent in 2021 buyout market
Relationship Between Big Market And Small Market In Buyouts
There are of course some benefits to having these buyouts in place for incumbent franchises. 
Let's take the Detroit Pistons as an example. They can save a lot of money to pay the players' salaries in full. Changing a roster spot will also facilitate the development of young players on the team. They will have more time to play and mature.
However, there are some opinions that this mechanism is not fair. Some teams will get a superstar for a great price. These players will not get any benefits in return on their part.
Take the example of Blake Griffin's deal. It is a fact that the Brooklyn Nets do not necessarily pay such a large amount for the Detroit Pistons. They can wait for Griffin to become a free agent and then buy him back. By doing so, the Nets will not have to exchange anything for the Pistons. But that would be a gamble and the Nets don't want that. They want to actively choose the best seed for their squad.
Indeed, the NBA's Collective Bargaining Agreement does not establish an acquisition market. It has developed on its own. So we think perhaps now is the right time for the NBA to take control of the reality of the market. 
However, they will renegotiate the Collective Bargaining Agreement in 2024. We can hope for the possibility that they will resolve the matter at the earliest.
The Timeline Of Mid-season Free Agency Market
Often people will initiate serious buyouts when the trade deadline has passed. At that point, teams can re-evaluate their rosters and make corrections. The news will begin arriving at 3 p.m. ET. That news will include the players who can join the free agency market and the teams they're going to.
However, not all buyouts happen overnight. Although the trade deadline is usually March 25, teams will still have time to think. That period will last several weeks for them to determine if the player is right for them.
During a regular season, the unofficial deadline for them to do so is March 1. When buyouts players will have to sign a contract with a new team to be eligible to compete in tournaments. remaining matches.
This season, they have moved that date to April 9. However, this restriction only applies to the already purchased players. Players who do not have a contract with another team at the start of the season will be eligible for postseason. The time will be as long as they sign at the end of the regular season.
Final Words
Hopefully our article has helped you understand more about buyout terminology in the NBA. There are always factors that can influence the whole tournament, so the NBA Buyout is always full of surprises. We think that is the reason why we love this tournament so much.
Sours: https://www.scottfujita.com/nba-buyout/
536
537
538
539
540