I am not a Biblical scholar. In fact, I am not a scholar of any sort. Nor am I an expert on any given topic. But with that disclaimer firmly in place, I do want to assure you that I can read. It's truly a pleasure be a part of worship with you today.
As I began to read and organize some thoughts, I came across some devotional material that caught my attention, and here's why: Our Christian heritage has deep roots in the Jewish faith. The Old Testament is full of rich stories and readings, some of which are pretty grim. But knowing and understanding some of the beautiful Hebrew words enriches our own Christian beliefs. And so, here are 7 words every Christian should know.
The first word is HESED. It means love. HESED is not just a feeling—it's an action. It intervenes on behalf of loved ones and comes to their rescue. Theologian John Oswalt says, "'HESED is a completely undeserved kindness and generosity. HESED is not romantic love. It's faithful. It's reliable. It's a wife praying for years for her husband to know God. It's a dad, once again, bailing out his drug addicted son.  It's parents who lovingly care for an autistic child. Isaiah 54:10 states 'Though the mountains be shaken and the hills be removed, yet my unfailing love for you will not be shaken nor my covenant of peace be removed, says the Lord who has compassion on you." Love such as this lifts both the giver of this love and its receiver." Today we can rely on God's HEEESD for us…no matter what we face.
AMANAH is the next word, and it means faith. James 2:17 says, "Thus also faith by itself, if it does not have works, is dead." AMANAH literally means to take firm action—faith to act. Last month our congregation participated in a Faith in Action Sunday. Many took their faith to the community through service, fellowship, engaging, and connecting. We do not know what impact it had on others, but we do know our actions brought faith to life. This is less about knowing and more about doing—it is faith to act.
Following God is not an intellectual decision. AMANAH is a bit like climbing a staircase. We intellectually know the steps go up, but until you actually climb them, you don't experience the next level. You don't see what there is to see. You don't get to where you are headed. What you DO is more important than what you KNOW. Don't just believe in the stairs….climb them. What would you need to change today to ensure your faith was defined by what you do instead of by what you know?
TEFILAH is our next Hebrew word, and it means prayer. How often do we use prayer as an emergency call to God for something we need or want? We bargain with God: "If you will just grant me this, I promise I will never skip church." Or, "Get me out of this horrible situation I am in." A little over a week ago, my husband, Bill, and I made a trip to the emergency room in the middle of the night. Bill was experiencing chest pains. He was admitted and the following day, the doctors placed a stent in him to open one of his arteries. You can believe I was begging God to help the doctors heal him and restore his health.
The English word for pray is "to ask or beg." But TEFILAH means to self-evaluate.  So, for Jews in the Bible, it was not a time when they asked God for things. It was a time when they examined themselves. They'd use prayer as a way to compare actions, behavior, and attitudes against God's holiness. 2 Corinthians 13:5 states, "Examine yourselves to see whether you are in the faith. Test yourselves. Do you not realize Christ Jesus is in you-unless of course you fail the test?" It goes on to state, "I trust you know you have not failed."
Interesting. As you consider prayer in this light, does the way Biblical Jews prayed change your ideas about prayer?
 RUACH is our next word, and this Hebrew word means breath. Genesis 2:7 reads, "The Lord God formed the man of the dust of the ground and breathed life into his nostrils the breath of life and the man became a living being." What a glorious verse! We don't necessarily think about breathing unless we're running out of air. Divers are mindful of air in their tanks as they explore the sea. Athletes learn the importance of managing their breath to compete. Singers must carefully breathe to support the musical notes coming out of their mouths. And those who practice yoga know it is the underpinning of all postures and thoughts.
The Hebrew word RUACH means breath, but it also means spirit. So, a man really becomes a living being when God gives him His spirit. Without this divine component, breath is simply mechanical and a function of the human body. The Psalms exhort "everything that has life and breath praise the Lord." So, to be truly alive, we inhale God's Spirit and exhale His praise.
Inhale Spirit!
Exhale praise!
This is life!
Now here is a Hebrew word you will know: SHALOM. This beautiful word means peace. The word Jerusalem in Hebrew is YERUSHALAIM, a combination of two words. YERU, which means "you shall see," and SHALOM, "The peace of God." Therefore, Jerusalem means the place where you shall see God.
When I think of Jerusalem in the time of Jesus, I imagine a place as busy as perhaps a place like New York City—busy, crowded, loud. It's difficult to be centered, to find that peace as it probably was in those ancient times. Amid the hectic world we live in, we seek finding the peace of God to center us, draw us close, and find a haven in today's world just as Jesus's words were intended.
John 14:27 contains these beautifully comforting words: "Peace I leave with you. My peace I give to you. I do not give as the world gives. Do not let your heart be troubled and do not be afraid." He told His followers that the Kingdom of God is within you, which means the peace of God is within us. You undoubtedly know someone who exudes peace, love, acceptance. Whenever you see this person—and it may very well be someone who is part of this congregation—you are warmed and happy to be in their presence. This individual IS that example for you.  As we live our lives, do others see the peace of God within us?
And just when you thought I might have more familiar words, here is our sixth new Hebrew word: NEPHESH. It means soul. Psalm 19:1 reads, "The heavens declare the glory of God, the skies proclaim the work of His hands." The glorious sky reveals God's glory with its bright blue color and fluffy white clouds, or more ominous grayness as a storm approaches or a winter snow is about to begin. But this sky has no words, or speech or sound, yet the message of its beauty goes out to all the world and is "heard everywhere" without the slightest sound.
Our lives should carry this same message. We're taught to love God with all our souls—or NEPHESH—which also means life, for ALL of our lives. Not for an hour each week at church but in everything we do every minute of every day. That's a tall order! But we are also told that the reward is beyond our comprehension. If YOU never spoke another word, would the way you live your life glorify God?
Finally, our seventh Hebrew word is MEM. It means chaos.  In John 6:19 we hear, "When they had rowed three or four miles, they saw Jesus approaching the boat walking on water and they were terrified." In Mark 6:45 we read (and this was right after the feeding of the multitudes) "immediately He made His disciples get into the boat and go before Him to the other side, to Bethsaida, while He sent the multitudes away. And when he had sent them away, He departed to the mountain to pray. Now when evening came, the boat was in the middle of the sea, and He was alone on land. Then he saw His disciples straining and rowing, for the wind was against them. He came to them walking on the sea." We know from reading these familiar scriptures that the disciples were frightened and, yet, confirmed in their commitment to Jesus.
During Biblical times, the sea had a negative connotation for the Jewish people. The Hebrew word for "water" is MAYIM, and it comes from the root "MEM," meaning chaos. This makes sense when you consider that the Israelites grew up hearing that a flood wiped out the earth. Even to this day, there aren't many homes or hotels on the thirty-three mile shoreline of the sea of Galilee, even though it is very lovely and picturesque.
Again, last week as Bill was facing this surgery and all of its unknowns, it felt like chaos rolling over us. We didn't know what to expect, just like the disciples we were afraid. We knew to pray, but I am ashamed to admit my faith was weak. I knew I needed to trust God; it was in His hands. And thankfully, He graced us with a joyful outcome. If you face chaos today, remember Jesus is in control of your chaos and calling you to get on top of the chaos with Him.
So there you have it. Hebrew 101. 7 words every Christian should know. For the sake of our common tongue, I'll paraphrase their meaning in English. Love, Faith, Prayer, Breath, Peace, Soul, and Chaos. A unique range of words each with a broader definition that expands their meaning as we know it. Each of these words tells a deeper story in their Hebrew roots.
We are called to reflect on the Scriptures and their teachings. God is here for us no matter what we face—this is ultimate love.
Our faith is defined by our actions.
Prayer is also a way to compare actions, behavior and attitudes with God's holiness.
Breath is also spirit and the spirit of God is within us with the simple act of breathing as we contemplate His intent for us.
Peace is within us but we can also see peace in others. Do others see peace in us?
Soul reveals God in us without any words and our actions should glorify Him.
And if we have chaos in our lives, Jesus calls us to give it to Him and He is in control.
May this brief peek into our ancient past offer you reflection, hope, and a connection to our brothers and sisters in this rich heritage.
Amen.
Sours: https://adrianfumc.org/sermons/7-hebrew-words-every-christian-should-know/
11 Beautiful Words to Make You Fall in Love With the Hebrew Language
Sonya Korshenboym / © Culture Trip
Hebrew words are a mixture of ethereal and guttural sounds, with meanings often rooted in ancient Jewish culture. It was revived by Zionists in the late 19th century, having been largely dormant for 2,000 years.

The word stav derives from the Aramaic word for winter, sitva, which was its original meaning through antiquity and the Middle Ages. It wasn't until the 19th century when a scholar, Mordechai Yaweel, defined stav as what we know as autumn. A prominent poet called Judah Leib Gordon emulated this and gradually influenced a generation of teachers. Soon enough, the first generation of Hebrew speakers who defined stav as autumn, not winter, emerged.
A word that takes your imagination to the best of Israel: sun, beaches, matkot (beach paddleball), cold watermelon and limonana. Such is the excitement for kahyeets in Israel that it was the name of a hit song by Avior Malasa, and has inspired countless others.
For the pagan-influenced ancient Hebrews, the sun was a goddess, considered one of the leading Canaanite deities. BeitShemesh, now a religious city near Jerusalem, was where sun worship was most widely practiced. Despite later attempts by Jewish religious scholars to stamp out this pagan idolatry from the Hebrew language (kha-MA, the female word for 'hot' in Hebrew, is the word you'll find for sun in the religious texts), shemesh preserved its status and was adopted into modern Hebrew.
One of three words present in the tanakh (the Hebrew Bible) to denote the soul, along with ruach and nefesh, neshama is a cognate of nesheema, which literally means 'breath'. There is a Jewish belief that this breath came from God and is the source of part of man's soul. Neshama sheli – 'my soul' – has become a popular term of endearment among Israelis.
Sonya Korshenboym / © Culture Trip
In addition to being the name of the famous female pop trio Haim, this is the Hebrew word for life and a common name in Israel. The first two letters, chet (ח) and yud (י), which together mean chai (alive), are popular symbols on necklaces and other Jewish jewellery. L'chayim! is the Hebrew equivalent of 'cheers!', and literally means 'to life!'.
While there are multiple theories about the origins of this word, it is commonly used in the tanakh as 'sky', often alongside the word for land, erets, to represent creation in its entirety. Broken down into sham-mayim it literally means 'there, water', which could reflect early attempts to make sense of rain and the sky.
Sonya Korshenboym / © Culture Trip
The word yareakh is even more ancient than the Hebrew language and can be found in other Semitic languages, including Southern Arabic and Geez, where it means 'new moon'. Like shemesh (sun), the yareakh was seen as a god in ancient times; a belief Jewish sages tried to eradicate by replacing the word with levanna (white). Yareakh, with its guttural 'akh' sound that is typical in Hebrew, is also the title of a song by one of Israel's most loved singers, Shlomo Artzi.
The root or base of this word is hav, meaning 'to give'. Perhaps this reveals a fundamental truth: that to love is to give – a beautiful thought that can resonate universally.
Sonya Korshenboym / © Culture Trip
The word simcha is derived from the verb sameach. It is rooted in the Akkadian word shamahu, meaning 'sprout' or 'flourish', and is also used as a name in Israel. Simchat Torah ('Rejoicing of the Torah') is a joyous religious holiday in which Jews conclude, and begin anew, the annual Torah (Jewish religious text) reading cycle.
The Hebrew word for flower derives from the verb liphroch, meaning 'to blossom', which can be used, beautifully, in reference to a person. The word has inspired plenty of Israeli musicians, from a famous old-school Israeli lullaby to a hit song from 2017.
Ruakh, where 'akh' is a guttural sound, is the Hebrew word for spirit and features prominently in the tanakh. It is also the word for wind, and in religious texts has taken the meaning of 'God's breath'. That is to say, the human spirit comes from a breath from God. The very meaning of this word touches the core of Jewish spirituality.
Give us feedback
Cookies Policy
We and our partners use cookies to better understand your needs, improve performance and provide you with personalised content and advertisements. To allow us to provide a better and more tailored experience please click "OK"
Sours: https://theculturetrip.com/middle-east/israel/articles/15-beautiful-words-that-will-make-you-fall-in-love-with-the-hebrew-language/
A
Acharonim
(ah-kha-roh-NEEM)
"The last ones," Post-Rishonim commentators.

Adonai
(ah-doh-NIGH)
A name traditionally used in place of the four-letter Name of God, יהוה, to avoid pronouncing it unnecessarily. [H]

Adon Olam
(ah-DOHN oh-LAHM)
"Master of the World," a concluding hymn.

AdoShem
(ah-doh-SHEM)
A circumlocution traditionally used in place of the name Adonai and HaShem. [H]

Afikomen
(ah-fee-KOH-men)
Half of the central matzah broken off and put away at the beginning of the meal. A Greek word meaning that which comes after or "dessert".

Aggadah
(ahg-ga-DAH)
Non-legal rabbinic writings of the Talmud. [A]

Agunah
(ah-goo-NAH)
"Chained one"; a woman whose husband refuses to grant a divorce.

Akeidah
(ah-kay-DAH)
The Hebrew word literally means "binding" and 'The Akeidah' is a special name referring to the 'binding' or sacrifice of Isaac by Abraham, as described in the book of Genesis. [H]

Aliyah
(ah-lee-YAH)
Immigration to Israel. The Hebrew word translated into English means "ascent" - a "going up" that started with the Israelites "ascending" from Egypt to Israel; from slavery to freedom. [H]

Am HaSefer
(ahm has-SE-fer)
People of the book; the Jews.

Amidah
(ah-mee-DAH)
"Standing" (prayer); The central prayer of the three prescribed daily services; also called the Shmoneh Esreh.

Amora'im
(a-moh-RAH-eem)
lit.=explainers: Gemarah-era commentators (200-500 C.E.)

Am Segulah
(ahm se-gool-LAH)
A treasured and befitting nation by virtue of deeds and actions; a special title given to Israel as a nation.

Ani Ma'amin
(ah-nee ma-ah-MEEM)
"I believe," a phrase that begins each of Maimonides' Thirteen Principles of Faith.

Apikorsim
(ah-pee-kohr-SEEM)
Apikorsim are what Chasidim refer to as Jewish goyim, or secular Jews. They seem to be the worst opposition for Hasidic Jewry.

Aron (hakodesh)
(ah-ROHN)
The holy cabinet for Sefer Torah in synagogue.

Aseret HaDibrot
(ah-SE-ret ha-dee-BROHT)
The Ten Commandments

Aseret Yimei Teshuva
(ah-SER-et ye-MAY te-shoo-VAH)
Ten days of repentance. Penitential season. Time from the 1st of Tishri (Rosh Hashanah) and ending with the close of Yom Kippur. These days are also known as Yamim Nora'im, the Days of Awe.

Assur
(ahs-SUR)
Something prohibited. [H]

Averah
(ah-vay-RAH)
Sin, transgression of G-d's will. [H]

Avinu Malkeinu
(ah-VEE-noo mal-KAY-noo)
Avinu Malkenu. Our Father Our King, a prayer recited during the High Holidays and thought to have been written by Rabbi Akiva.

Avinu Shebashamayim
(ah-VEE-noo she-bah-sha-MAI-yeem)
"Our Father, Who art in Heaven," the first words of the Lord's Prayer (Matt 6:9; Luke 11:2).

Avodah
(ah-voh-DAH)
Work; Labor; also, worship (specifically the sacrificial Temple service as performed by the kohen gadol).

Avodah Zarah
(ah-voh-DAH za-RAH)
Idol worship or, in general, worship of anything other than God. In the Mishnah, the 8th tractate in the order of Nezikin, dealing with regulations related to idols and idolatry.

Avraham Avinu
(AHV-ra-ham ah-VEE-noo)
"Our father Abraham." Father of the Jewish people and of a multitude of nations (Luke 1:73; Gal. 3:7).

Azazel
(ah-za-ZAYL)
Scapegoat. Goat sent into the wilderness signifying removal of the nation's sins. The unidentified place or demon to which the scapegoat was sent on the Day of Atonement (Lev. 16:8, 10, 26).



B
Ba'al Tefillah
(ba-al te-fee-LAH)
Prayer leader [H]

Ba'al Teshuvah
(ba-al te-shoo-VAH)
A penitent; a Jew who returns to a traditional observant Jewish lifestyle (also known by the acronym B'T) [H]

Bechor
(be-KHOHR)
Firstborn status; firstborn [H]

Bedikat Chametz
(be-dee-kaht KHA-metz)
A final check for leaven, often done the evening before the day Pesach begins.

Bamidbar
(ba-meed-BAR)
Numbers (4th book of the Torah) [H]

Bereshit
(be-ray-SHEET)
Genesis (1st book of the Torah) [H]

Bet Din
(bayt DEEN)
Court of Jewish law [H]

Bet Midrash
(bayt meed-RAHSH)
"House of study", a school that was usually part of a synagogue. [H]

Bikkur Cholim
(beek-koor kho-LEEM)
Visiting the ill or hospitalized [H]

Birkat HaMazon
(beer-kat ha-mah-ZOHN)
Grace After Meals, usually printed in the form of a card or small booklet.

Bitachon
(beet-ah-KHON)
Trust (in HaShem). [H]

Bracha (pl. brachot)
(be-rah-KHAH, be-rah-KHOT)
Blessing [H]

Brit Chadashah
(breet kha-dah-SHAH)
New Covenant or New Testament. [H]

B'rit Milah
(breet meel-LAH)
Covenant of circumcision [H]; Bris [Y]

B'sha'ah tovah!
(be'shah-ah toh-VAH)
Congratulations to an expectent mother (literally, "in a good hour," means "at an auspicious time," i.e. may whatever time your child is born be a good time.") Also the correct response to announcement of a marriage engagement. In both cases, it is in anticipation of a "mazel tov" for something hoped for, that has not yet occurred. [H]

B'tzelem Hashem
(be-TZEL-lem ha-SHEM)
Hebrew expression for "In the image of God." Also, b'tzelem Adonai. [H]



C
Chachamim (Hachamim)
(khah-kha-MEEM)
Sages [H]

Chagim
(khah-GEEM)
Hebrew for festivals, typically those which are described in Leviticus 23 (singular: chag). [H]

Chag Sameach
(khag sa-MAY-akh)
A happy holiday (used as a greeting) [H]

Chanukah
(khah-nook-KAH)
The eight day festival (beginning 25 Kislev) commemorating the successful Jewish revolt against the Greek/Syrian occupation of the Land. The word hanukkah means 'dedication.' [H]

Chavah
(KHA-vah)
Eve, the wife of Adam [H]

Chaver
(kha-VAYR)
Hebrew word meaning 'friend.' Plural: chaverim. [H]

Chumash
(KHOO-mahsh)
Book form of the five Books of Moses. The word chumash is from the word chamesh, meaning 'five.' Plural: chumashim [H]

Chayav
(khai-YAV)
One who is obligated (chiyuv=obligation) [H]

Chazzan
(KHAZ-zahn)
also: hazzan; Cantor [H]

Cherem
(KHE-rem)
Excommunication (from cessation of aid, boycott) [H]

Cheshbon Hanefesh
(khesh-bohn ha-NE-fesh)
Self-examination of your actions' merit, or accounting of your
soul's good and bad aspects. [H]

Chevra
(KHEV-rah)
Friends; comrades [H]

Chesed (Hesed)
(KHE-sed)
Kindness [H]

Chevra Kadisha
(khev-rah ka-dee-SHAH)
Literal translation: holy society;the group that prepares a body for burial. [H]

Chillul Hashem
(kheel-lool ha-SHEM)
Desecration of the divine name [H]

Chok (pl. chukim)
(khok)
Law from the Torah deemed to be without a humanly-discernable rationale, e.g., the red heifer. [H]

Chametz (also chometz)
(KHAH-metz)
Leavened food, which is forbidden during Pesach [H]

Chumash
(KHOO-mahsh)
The five books of the Torah, bound in one volume (not a scroll) [H]

Chumra
(KHOOM-rah)
Stringency -- custom of a community to observe more strictly [H]



D
"Dati / lo dati"
(DAH-tee)
Dati = religious, lo dati = not religious, as used in current Hebrew in Israel, but it is a black and white distinction, meaning Orthodox and not Orthodox. [H]

Daven
(DAH-ven)
To pray or shokel (from Yiddish, with a particular emotional sense) [Y]

Derech Eretz
(DE-rekh E-retz)
Manners; way of the land; customs[H]

Din
(deen)
Law, judgment [H]

Drasha
(DRAH-shah)
Interpretation of a Torah passage (often a creative interpretation) (from a root meaning "search"); also spelled D'rasha, Derasha, etc. [H]

Dukhn
(DOO-khen)
To perform the kohen's blessing before the congregation [Y]

D'var torah (pl. divrei torah)
(de-vahr TO-rah; deev-ray TO-rah)
Word of Torah; a Torah discourse, homily or sermon [H]

Devarim
(de-vah-REEM)
The 5th book of the Torah (Deuteronomy) [H]



E
Emet
(EH-met)
Truth [H]; Emes [Y]

Emunah
(eh-moo-NAH)
Faith [H]

Eretz Yisrael
(E-retz yees-rah-EL)
The Land of Israel [H]

Erev
(E-rev)
Evening. Shabbat and all the festivals start just before sundown. [H]

Etrog
(Et-rog)
A citron fruit something between a lemon and a lime.

Ezrat Nashim
(ez-raht na-SHEEM)
The Court of the Women in the Bet HaMikdash (the Temple). This term also refers today to the Women's Section within the Synagogue. [H]



F
Frum
(frum)
Observant (often with a right-wing Orthodox implication). Derived from the German/Yiddish word for "pious". [Y]

FrumSpeak
(frum speak)
The talk of the frum Jew, also called Yeshivish.[Y]



G
Gan Eden
(gahn AY-den)
The Garden of Eden. [H]

Gemara
(ge-MAH-rah)
"Learning" [A]; The later part of the Talmud, which expands upon the Mishna.

Get (pl. gittin)
(get; gee-teen)
Document of divorce [H]

Gemilut Chasadim
(geh-mee-loot khas-sa-DEEM)
Acts of loving kindess [H]

G-d
(God)
A circumlocution for writing the word "God." [E]



H
Hachamim (chachamim)
(khah-kha-MEEM)
Sages [H]

Haftarah
(hahf-TAH-rah)
The selection from the book of prophets read after the Torah reading. [H]

Haggadah
(hag-GAH-dah, or hag-ga-DAH)
A set narrative of benedictions, prayers, midrashic comments and psalms recited at the seder ritual on erev Pesach. [H]

Halacha
(ha-lah-KHAH)
Path; Jewish law [H]

Hanukkah
(khah-nook-KAH)
The eight day festival (beginning 25 Kislev) commemorating the successful Jewish revolt against the Greek/Syrian occupation of the Land. The word hanukkah means 'dedication.' [H]

Har HaBayit
(har ha-BYE-eet)
The Temple Mount. [H]

HaShem
(ha-SHEM)
"The Name". A word traditionally used as a substitute for the four-letter Name of God, to avoid pronouncing it unnecessarily. [H]

Hashgacha
(hash-gah-KHAH)
Ritual supervision, most often used in terms of kashrut/dietary laws, although it can also refer to spiritual or moral supervision as in a yeshiva or dormitory [H]

Heichal
(hay-KHAL)
The Holy Place of the Tabernacle (and the Temple), containing the menorah, the table of shewbread and the altar of incense, where the priests would enter to administer set rituals of worship. [H]

Heksher
(hek-shayr)
Kosher certification [H]

Hesed (chesed)
(KHE-sed)
Kindness [H]

Heter
(HE-tayr)
Permission (usually a rabbinic ruling that permits something) [H]

Hiddur Mitzvah
(hee-DOOR MEETZ-vah)
Beautifying physical objects involved in a mitzvah, or otherwise adding to a mitzvah an esthetic sense [H]

Hillel
(hee-LEL)
Rabbi Hillel was a famous Torah teacher in the 1st century AD and a contemporary of Rabbi Shammai.



K
Kabbalat ol Mitzvot
(kab-bah-lat ohl meetz-VOHT)
Acceptance of the yoke of the commandments; Acceptance of commandments as binding; usually a requirement for conversion to Judaism, G"F. [H]

Kabbalat Shabbat
(kab-bah-LAHT shab-BAHT)
Service welcoming the Sabbath [H]

Kadosh
(kah-DOHSH)
"holy." [H]

Kashrut
(kahsh-ROOT)
The system of Jewish dietary laws. [H]

Kavanah
(kahv-vah-NAH)
Intention, devotion, inner concentration during prayer [H]

Kedushah
(ke-doo-SHAH)
Holiness. [H]

Kehillah
(ke-heel-LAH)
"Congregation." Contruct: Kehillat ~ ; as in Kehillat Shalom. [H]

Ketubah
(ket-too-BAH)
Marriage contract presented to the bride by the groom. [H]

Kevah
(ke-VAH)
Fixed; a fixed time; fixed words or prayer (often contrasted with kavanah, inner concertration during prayer) [H]

Kiddush Hashem
(keed-doosh ha-SHEM)
Sanctification of the divine name; martyrdom [H]

Kiddushin
(keed-doo-SHEEN)
Betrothal (for the purpose of marriage) [H]

Klal
(klal)
A general principle [H]

Klal Yisrael
(klal yees-ra-EL)
The Jewish community as a whole [H]

Koach
(KOH-akh)
Strength [H]

Kohelet
(ko-HE-let)
The book of Ecclesiastes [H]

Kol Hakavod
(kohl ha-kah-VOHD)
(literal translation: all honor) Used idiomatically to express praise or congratulations for an achievement [H]

Kol Tuv
(kohl TOOV)
Everything good (may you be blessed with everything good) [H]

Korban
(kor-BAHN)
Sacrifice or offering. [H]

Kosher
(ko-sher)
"Fit to be eaten according to Jewish dietary laws". The noun derived from it is kashrut, the system of Jewish dietary laws.

Kotel
(koh-TEL)
The Western Wall in Jerusalem. [H]

Kulot
(koo-LOHT)
Leniencies [H]

K'vod Hatzibur
(ke-vohd ha-tzee-BOOR)
The honor of the community [H]



L
Leshon Kodesh
(le-shohn KO-desh)
Holy tongue; Hebrew. [H]

Leshon Hara
(le-shohn ha-RA)
"Evil tongue"; Defaming or badmouthing [H]

L-rd
(lord)
A circumlocution for writing the word "Lord." [E]



M
Ma'ariv
(ma-ah-REEV)
Evening; the evening prayer service [H]

Machloket
(makh-LOH-ket)
"Disagreement" or "argument." [H]

Maftir
(maf-TEER)
The aliyah consisting of the last few lines of the Torah reading, or the person assigned that aliyah. The person assigned the maftir aliyah also chants Haftarah. [H]

Mamzer
(MAHM-zer)
A person born from a prohibited union (i.e., from an incestuous or adulterous union) [H]

Mashiach (Moshiach)
(mah-SHEE-akh)
Messiah [H]

Mattan Torah
(mat-tan TO-rah)
The giving of the Torah. [H]

Mechitsa
(me-khee-TZAH)
Division; a barrier separating men from women in the synagogue [H]

Megillah / Megillot
(me-geel-LAH)
"Scroll(s)." Most often used in reference to five books from among the Writings that have been recorded on separate scrolls and are read on certain special days of the Jewish calendar. Esther (on Purim), Song of Songs (on Passover), Ruth (on Shavuot), Lamentations (9th of Av, Tishah B'Av), and Ecclesiastes (on Sukkot.) [H]

Midrash
(MEE-drash)
An interpretation; a story that fills in gaps in the Torah narrative, or answers questions about the narrative; (when
capitalized) any of several volumes of such stories compiled by rabbis of the Talmudic era [H]

Midrashim
(mee-drah-SHEEM)
Name of certain specific collections of commentaries that have utilized the midrashic method of interpretation (e.g., Midrash Rabbah). [H]

Mikveh
(MEEK-veh)
Immersion into fresh running water for the purpose of a ritual cleansing, or an outward sign of a conversion or spiritual cleansing. [H]

Mincha
(MEEN-kha)
The afternoon prayer service [H]

Minhag
(meen-HAG)
Custom [H]

Minhag haMakom
(meen-hag ha-mah-KOHM)
Local custom [H]

Minyan
(meen-YAHN)
Quorum of 10 needed for a public prayer service. In traditional synagogues, only men over the age of 13 are counted towards a minyan. Liberal (non-orthodox) congregations also include women over 12 in the count. [H]

Mishna
(MEESH-nah)
The early core of the Talmud, consisting primarily of case law decisions. (Not capitalized) one unit, typically a single sentence or short paragraph, in the Mishna. [H]

Mishkan
(meesh-KAHN)
Tabernacle. The tent of meeting God commanded the Israelites to set up in the wilderness after they left Egypt. [H]

Mishpat (pl. mishpatim)
(meesh-PAHT)
Law from the Torah that can be rationalized [H]

Mitzvah
(meetz-vah)
Commandment; not "good deed" in Hebrew, but has come to mean that in Yiddish, especially among more secular people [H]

Mo'edim
(mo-eh-DEEM)
The appointed times outlined in the Torah in Lev. 23. Specific times appointed by God, throughout the cycle of the year, for specific purposes. Festivals. [H]

Mutar
(moo-tar)
Permitted [H]



N
Ner tamid
(nayr tah-MEED)
Eternal light [H]

Nigun (pl. nigunim)
(nee-GOON)
Wordless prayer melody, usually repeated many times over to create a spiritual mood [H]

"Nu?"
(noo)
This is an exclamation used in the same sense as "well" "eh" and
"hey." [Y] It could be used in the Hebrew/Yiddish translation of
any of the following:
1. Well, do you want the egg roll or the knish?
2. Hey! Stop throwing paper airplanes in class.
3. My experimental tofu-liver-garlic cholent tastes good, eh?
4. So, Becca, I hear you and Izzy went out last week. Well?
5. A rebuke (on small kids): "Nu, nu, nu, you spilled all the milk!
6. To express doubt: "I heard that Rabin met Asad. Nu."
7. When the news ain't new no more.
8. As "c'mon": Nu B'emet (c'mon - speak truthfully).



O
Olam ha-ba
(oh-LAHM ha-BAH)
The world to come [H]

Omer
(oh-mayr)
"Sheaf". The offering brought to the Temple on the 16th of Nissan (according to Pharasaic tradition) and thus the name of the 50-day period counted between Passover and Shavuot. [H]



P
Parashah
(pa-rah-SHAH)
The weekly Torah portion (pl. parshiot). Parashat Hashavua – The weekly Torah portion, read on Shabbat. [H]

Pasuk / P'sukim
(pah-SOOK, p'soo-KEEM)
A Bible verse(s).

Pikuah Nefesh
(pee-KOO-ah NE-fesh)
To save a life (usually in context of breaking Shabbat, etc.) [H]

Pirkei Avot
(peer-kay ah-VOHT)
"Ethics of the Fathers," a tractate of the Mishnah that contains the famous sayings of some of the most respected Jewish sages of the Tannaitic period (late Second Temple period to about 240 CE).

Posek (pl. poskim)
(POH-sek)
The rabbi one consults for halachic decisions; an authority on Jewish Law [H]

Posken
(pos-ken)
To render an halachic ruling, usually one that clarifies the law in a specific case [H]

Psak
(p'sahk)
Decision, verdict [H]



R
Rechilut
(re-khee-LOOT)
Gossip [H]

Refua Shlema!
(re-FOO-ah shlay-MAH)
"Get well soon!" Said to wish somebody a speedy recovery. [H]

Rega!
(RAY-gah)
"Wait a moment!"

Ribono shel Olam
(ree-boh-no shel o-LAHM)
Master of the universe [H]

Rosh Chodesh
(rohsh KHOH-desh)
First day of the new Jewish month [H]

Ruach
(ROO-akh)
Spirit, wind [H]

Ruach HaKodesh
(ROO-akh ha-KOH-desh)
The Holy Spirit.



S
Seder
(SAY-der)
Home service held on the first night of Passover. It is centered around a special meal and the retelling of the Exodus from Egypt

Sedra
(SED-drah)
The weekly Torah portion [H]

Sefirat HaOmer
(se-fee-RAHT ha-OH-mayr)
"The counting of the Omer."

Shabbat
(shahb-BAHT)
The Sabbath day, referring to Saturday on the Gregorian calendar system (not Sunday).

Shabbat Shalom!
(shahb-BAHT shah-LOHM)
"A Sabbath of Peace," is the greeting used instead of 'hello' or 'goodbye' on Shabbat.

Shacharit
(sha-kha-REET)
Morning; the morning prayer service [H]

Shaliach
(shah-LEE-akh)
Emmisary, appointed agent (male pl. sh'lichim, sh'lichei; fem. sing. sh'lichah; fem. pl. sh'lichot) [H]

Shaliach Tzibur
(shah-LEE-akh tzee-BOOR)
The person leading services [H]

Shalom
(shah-LOHM)
Peace; wellness; hello; goodbye [H]

Shammai
(sham-MAI)
Rabbi Shammai was a famous rabbi and Torah teacher of the 1st century BCE/CE. He was a contemporary of Rabbi Hillel.

Shavua Tov!
(shah-VOO-ah TOHV)
"Have a good week!"

Shavu'ot
(shah-voo-OHT)
"Weeks." The name of the festival that is counted from the day of the Omer, when the first sheaf of the barley harvest was brought to the priest during Pesach.

Sh'lom bayit
(she-LOHM BAI-yeet)
Peace in the home [H]

Shekhinah
(she-khee-NAH)
G-d's presence (often associated with feminine imagery, but not always) [H]

Shir HaShirim
(sheer ha-shee-REEM)
Song of Songs; Song of Solomon [H]

Shemot
(she-MOHT)
The 2nd book of the Torah (Exodus) [H]

Shomer (pl. shomrim)
(shoh-MAYR)
Watchman, guardian [H]

Shomer shabbat
(shoh-mayr shab-BAHT)
Observant of the laws of Shabbat [H]

Shoresh
(SHOH-raysh)
Root of a word (all hebrew verbs have a 3-4 letter root that is the basis of conjugation. many other parts of speach (adj, nouns) are also derived from this same shoresh) [H]

Shmoneh Esreh
(she-moh-NAY ESS-ray)
Central prayer of the three prescribed daily services; also called the Amidah (standing).



T
Taharah (pl. taharot)
(tah-ha-RAH)
Ritual purity [H]

Takkanah
(tak-kah-NAH)
Correction; a rabbinic edict that supersedes the existing halachah (pl. takkanot) [H]

Tallit
(tal-LEET)
The prayer shawl worn during morning prayer in synagogues. Also spelled Tallis.

Tallit Katan
(tal-LEET ka-TAHN)
"Small tallit." This is a four–cornered garment normally worn under ones clothes in fulfillment of the commandment about wearing tzitzit.

Talmid / Talmidim
(tal-MEED)
"Learner" or "student." Disciple.

Talmud
(TAHL-mood)
Two–part compendium of Jewish law and thought.

Talmud Torah
(tahl-mood TO-rah)
Study of Torah.

Tanakh
(ta-NAKH)
Acronym for Torah Nevi'im K'tuvim - Torah, Prophets, Writings) The three divisions of the Hebrew Bible [H]

Tana'im
(ta-ah-NEEM)
Sages of the Mishnaic period [H]

Tefilah
(te-feel-LAH)
Prayer [H]

Teshuvah
(te-shoo-VAH)
Return, repentance [H]

Tehillim
(te-heel-LEEM)
Psalms [H]

Tikkun Olam
(teek-KOON oh-LAHM)
Correcting the world, repairing the world; an action promoting social justice [H]

Torah
(TOH-rah)
"Teaching" or "instruction". The word used to describe the first five books of the Bible.

Torah Misinai
(TOH-rah mee-see-NAI)
"Torah from Mount Sinai." Refers to the doctrine that the entire Torah, including the Oral Law, was given to Moses at Sinai. [H]

Tz'niut
(tze-nee-OOT)
Modesty. [H]

Tzedakah
(tze-DAH-kah or tze-dah-KAH)
Righteousness; used for charitable donations, though the root has a very different sense from the root of "charity." [H]

Tzuris
(TSOO-ris)
Trouble, heartache, problems, difficulties. [Y]



V
Vaiyikra
(vai-yeek-RAH)
"and He called"; 3rd book of the Torah (Leviticus) [H]



Y
Yahrzeit
(YAHR-zight)
Anniversary of a death; a 24-hour candle lit to commemorate the death anniversary of a close relative, also lit on holy days when Yizkor (prayer of remembrance) is recited [Y]

Yasher koach
(yah-shayr KOH-akh)
(Literal translation: meaning unclear, but poss. "straight strength"). Used idiomatically to express praise or thanks for serving in a religious or ceremonial role. Implies "may your stength continue, go on straight", i.e. "You done good! Do it many times more!" [H]

Yeshiva
(ye-SHEE-vah)
Jewish religious school primarily for the study of Torah and Talmud. [H]

Yeshivish
(ye-shee-VISH)
The talk of the frum Jew, also called FrumSpeak. [E]

Yeshua
(ye-SHOO-ah)
"Jesus." The name of the Messiah. [H]

YHVH
(ah-doh-NIGH)
The four–letter Name of God, יהוה, YHWH is used. Traditionally, this Name is not pronounced as it is written, but substituted with either Adonai or Hashem. [H]




Sours: https://www.hebrew4christians.com/Glossary/Common_Terms/Common_Terms.html
Biblical Hebrew For Beginners: The Meaning Of The Lamb In Hebrew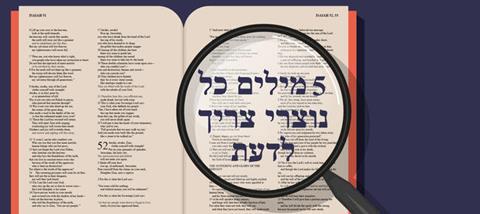 If you had met me five years ago you may have thought I was the poster child for a 'good Christian girl'. I was a friendly pastor's daughter with a Bible degree, working at a church, serving in a film ministry with her husband and helping in her son's Sunday school class. Sounds ideal, right?
Although I did usually say and do the 'right things' with a smile on my face, inside I was secretly riddled with insecurities and fears. A selfinflicted and undiagnosed pressure to constantly please God through performance bubbled under the surface.
For a while this was manageable, as long as I had plenty of time to complete my mental checklist. But as children were added to our family, demands on my time increased. Exhaustion from striving to be 'righteous enough' and 'lovable enough', even in my sleep-deprived state, caught up with my health. I kept falling ill. I was frustrated that there never seemed to be enough hours in the day.
I loved God, my family and my work, but I felt so much internal pressure to balance it all perfectly. I was embarrassed to talk about it because I told myself I should just be grateful for the many blessings that I had in my life.
The overarching stressor in my life – which was tricky to pinpoint – was a deeply rooted belief that I was not good enough at meeting God's high expectations, and therefore a disappointment.
Keen to find relief from my fearful and frenetic inner monologue, a light finally dawned while reading through Romans 8: "For what the law could not do in that it was weak through the flesh, God did by sending His own Son in the likeness of sinful flesh, on account of sin: He condemned sin in the flesh, that the righteous requirement of the law might be fulfilled in us who do not walk according to the flesh but according to the Spirit" (v3-4, NKJV, emphasis mine).
For the first time it clicked for me that Jesus has already met all the righteous requirements of the law for me on my behalf! "Having cancelled the charge of our legal indebtedness, which stood against us and condemned us; he has taken it away, nailing it to the cross" (Colossians 2:14).
This was a massive paradigm shift in my thinking. Because Jesus kept the law perfectly and then traded places with us, we are made righteous in him (see 2 Corinthians 5:21). I could wake up each morning and remind myself that God is already pleased with me because of Jesus. What a weight off my shoulders!
Once this crucial truth was in place, I called out to God to reconstruct my understanding of what he wanted from me and for me. I was ready for a different way to live out this Christian life.
God answered my prayer in an unexpected way – through my studies of an ancient language. Exploring the rich, original meanings of biblical words was not merely a scholarly pursuit for me, but it had intensely practical applications and outworkings in my daily life.
The nature of language and culture means connotations and meanings of a word can shift and evolve. For example, nowadays rarely does a person mean 'holy day' when they say "holiday". Whenever a word is translated from one language to another the precise meanings can be lost, especially when vast time and cultural barriers are crossed. No language is static and no translation is perfect. So there is great value in exploring the original languages of the scriptures, especially when it is the content of our faith at stake.
Here are five Hebrew words I wish I had known decades ago:
1. CHESED
We sing about this every Sunday. Chesed is the Hebrew word for the love God has specifically for his people. Often translated as 'love', 'steadfast love', 'mercy', or 'lovingkindness', chesed requires up to 14 English words to properly encapsulate its potent meaning.
The problem with our English word 'love' is that it lacks power and a backbone. We use this same word to describe both our fondness for pizza and our attachment to our other half. Is it any wonder that it may not mean very much to a person if you tell them about God's love using our wishy- washy English word?
But chesed – found most often in the Psalms – is different. Chesed is a permanent, covenant, faithful love; not changeable, temporary or based on feelings, as it is in our modern culture. This is no cheesy Valentine's Day nicety. This is everything we have ever hoped for and more. Chesed is the security, acceptance and devotion within a committed relationship, which every human heart longs to experience.
How different would our lives be if we truly believed we were already completely and perfectly loved by God?
So often we wander off to seek out love in the wrong places. How different would our lives be if we truly believed we were already completely and perfectly loved by God today? Then we could begin to rest, abide in and enjoy God.
Accepting that God truly loves me with a chesed love had an amazing, unexpected side effect. Suddenly, there was the release of the pressure I had inadvertently placed on my human relationships to provide my sense of value and identity. As wonderful as my husband and children are, no other person can bear the pressure of providing me with my ultimate sense of worth and acceptance. The truth is I am fully loved and fully known by God. Any additional love and goodness in my life is an extra blessing and bonus to enjoy.
2. EZER
"Help!" This one word is the most frequent prayer I pray now. Whenever I need more wisdom or patience as I go about my day, this little word invokes God's generous assistance. But I did not always realise help was so readily available. Nor did I always possess the humility to ask for it.
I used to feel the pressure to manage so much of my life on my own. And I wrongly saw God standing at a distance judging my performance.
Often I would feel overwhelmed with the idea that I may not be able to cope with all the plates I was spinning. I feared that I would drop the ball on the important roles and responsibilities God had entrusted to me. And I so sincerely wanted to get it right.
But God used the little Hebrew word ezer to change my perspective.
Throughout the Bible our compassionate God continually offers himself to us as our ezer. "You are my help (ezer) and my deliverer; Lord, do not delay" (Psalm 70:5).
God gave us the Holy Spirit to be our readily available helper (see John 14:26). I can always call on him and he is not annoyed or disapproving when I do.
We were never meant to do all of life alone. Nor were we designed to depend on ourselves. It is not a badge of honour to be self-reliant and independent. God always intended us to rely on his ezer in order to draw us into a deeper dynamic relationship with him. And hopefully the help of his Church is one way God's help is expressed in our communities.
God delights to be our ezer and that truth gives me new-found confidence to face each day's tasks and trials.
3. SHALOM
Maybe you saw shalom on this page and thought: "Great, I know this one already!" But the biblical concept of shalom involves much more than our typical use of the English word 'peace'. Shalom is not merely the absence of conflict; it actually encapsulates wholeness, wellness, peace, security, welfare, prosperity and more! The Lord is shalom (Judges 6:24), and he blesses his people with shalom (Psalm 29:11). This is what Jesus offers as the Prince of Shalom (Isaiah 9:6). His sweet shalom is meant to infiltrate our entire lives, if we would only invite him in to do so!
I had honestly believed there were certain areas of my life that were not of interest to God – food, exercise and sleep, for example. These felt too mundane for God's intervention. But a proper understanding of shalom, and indeed a thorough reading of the whole Bible, reveal that God actually cares about every single area of our lives. His help and guidance is not restricted to just the 'spiritual' or 'moral' areas.
This was a game-changer for me. God offers us so much choice and freedom, but he also cares and is willing to help. When I opened up new corners of my life to God's direction I was amazed how he flooded in with grace and answers. He showed me I was turning to food for comfort instead of him. Then he showed me what it looked like to instead eat and drink to the glory of God, as it says in 1 Corinthians 10:31. My workout sessions shifted from frantic attempts to better myself, to refreshing times of conversation with the God who loved me so well already. He even showed me I could ask him to help me rest; to "lie down and sleep" in shalom each night (Psalm 4:8) – a huge blessing to a mother of young children!
Though it is still a work of grace in progress, my overall health, eating habits, body image and stress levels have improved drastically. I am so thankful for the complete package of shalom that Jesus was offering me all along.
(Almost) everything you need to know about Hebrew
Most of the Old Testament was originally written in Hebrew. A bit of Daniel and Ezra, and one verse in Jeremiah were written in Aramaic, a language very similar to Hebrew.
Jewish people call the Old Testament the Tanakh. This is an acronym which stands for the first letters of the three Hebrew words Torah (law/instruction), Nevi'im (prophets) and Ketuvim (writings). Jewish scholars divide the biblical literature into these three sections.
Hebrew is read from right to left, instead of left to right like English. Hebrew books even open the opposite way to English books.
Hebrew lay dormant as a spoken language for nearly two millennia, until the late 19th Century when visionary linguist Eliezer Ben-Yehuda spearheaded the unparalleled movement to revive it as the mother tongue of the Jewish people. Today there are about 9 million Hebrew speakers in the world.
Because the Hebrew language died off as a spoken language for nearly two millennia, the revived modern Hebrew language is much more similar to biblical Hebrew than modern Greek is to New Testament biblical Greek.
Hebrew, Aramaic, Arabic and Amharic all belong to the Semitic family of languages. 'Semitic' is derived from the name Shem, one of Noah's sons.
There are a number of acrostic poems found in the Bible that we completely miss in our English translations. For example, each verse in the famous passage about the 'Excellent Wife' in Proverbs 31:10-31 begins with a subsequent letter of the Hebrew alphabet in order. It is the Hebrew way of saying "this is the complete A-Z" on a topic.
4. TIKVAH
In the English language we casually use the word 'hope' with the downgraded meaning of a wishful thought or desire: "I hope it doesn't rain tomorrow", or "I hope our cricket team wins". This can easily cloud our understanding of biblical tikvah which, in contrast, is a guaranteed assurance that if the Lord says it will come to pass, then it will do so. "There is surely a future hope for you, and your hope (tikvah) will not be cut off" (Proverbs 23:18).
Tikvah is an expectant waiting for a desired outcome. It means to gather together, wait for, hope for or bind (by twisting) together. While the idea of hope in English is abstract, this Hebrew root word offers a more concrete expression of hope as an ever-strengthening rope as its strands are collected and then twisted together.
A thin thread may be faster and simpler to make than a shipyardstandard rope, but it certainly would not hold up under pressure. To make a durable, useful rope, the process of binding and twisting many threads together is essential.
As we hope and wait upon the Lord for his direction, his timing and his action, then our faith and character can be built up: "But those who hope/wait expectantly [the verb form of tikvah] in the Lord will renew their strength" (Isaiah 40:31). Our microwave-oven, instant-gratification culture has taught us that waiting is a waste, but the biblical viewpoint values the process and outcome of expectantly waiting.
Hope used to be such a vague word for me, but now I can cling to biblical hope as the sturdy rope that it is! "This hope we have as an anchor of the soul, both sure and steadfast" (Hebrews 6:13, NKJV).
5. YIRAH
Yirah means 'fear'. I felt drawn to study this word because I wanted freedom from the growing number of fears that rattled around in my head. I tried not to dwell on them, but that did not seem to actually make them go away.
I had always found the phrase "fear of God" a strange one to comprehend. And I imagined there must be a different source word behind the fear of God as opposed to other types of fear – especially as the phrase "fear of God" is sometimes translated into English as "reverence" or "awe of God". But this one word yirah is used to speak of both the fear of God and the fear of other things, like enemies or death.
The question is actually whether our fear is rightly directed. We all have an innate drive to fear something. It is impossible to be truly fearless. The scriptures are very clear about who deserves all of our yirah: "You shall fear only the Lord your God; and you shall worship Him and swear by His name" (Deuteronomy 6:13, NASB).
We should realise there are entities more powerful than us and there are circumstances outside of the realm of our control. God wants us to recognise our limitations and then direct our yirah towards him. After all, he is the most powerful one in the universe. So why should we fear anything above him or besides him?
Fear directed towards anything else grows like a weed and then festers like a sore. However, the fear of the Lord is a wellspring of life, goodness and wisdom to those who take hold of it. "The yirah of the Lord leads to life, So that one may sleep satisfied, untouched by evil" (Proverbs 19:23, NASB).
The wonderful news is that we are not stuck. We can ask God to help us uncover the lies behind any ungodly fears and to replace them with biblical truth. The central key to dealing with unhealthy fears is to choose to put all of our fear onto our trustworthy, faithful God.
Now whenever a fear pops into my head, which thankfully is much rarer, I have an effective strategy. I stop and say: "I choose to fear God instead of X. He alone is worthy of my fear" (Isaiah 8:13-14). Then I ask God to give me wisdom about any practical action I may need to take and I move on with my day. Life with our yirah rightly placed on the Lord is so liberating!
A life-changing exploration
The Bible is the most incredible book. All of us have only begun to dip our toes into the vast depths of its riches. Obviously it is an amazing blessing to have the Bible translated into English. But as our language and vocabulary continue to morph, it is worth our time to seek out the original, precise meaning of key words. We want to make sure we are accurately hearing what God is saying.
With so many Greek and Hebrew resources available online now, exploring the Bible in the original languages is more accessible than ever. And the exploration can be life-changing! Although my life now would not look too different to the outsider compared to five years ago, inside the difference is stark.
There is abundant life available in Christ, and these beautiful Hebrew words capture that so well. God loves us with an unshakeable chesed love. He delights to be our constant, supportive ezer help. His shalom peace can bring wholeness and well-being to every area of our life. Our expectant tikvah hope in him is secure. We can put all of our yirah fear onto him, for he alone is worthy.
Further study
Learn online with an 8-week programme tailored to your interests. Or host an "Introduction to Hebrew" day at your church. For more details see explorehebrew.co.uk
Visit hebrew4christians.com where you can read about the meaning behind the names of God, learn the alphabet, print grammar worksheets for children and read explanations of Hebrew verses.
There are a growing number of YouTube channels that offer videos ranging from learning to read and write Hebrew, to more biblical word studies. Start by searching on YouTube for "The Bible Project Word Studies", "Hebrew eTeacher" or "HebrewPod101".
Read Hebrew Word Study: Revealing the Heart of God by Chaim Ben Torah. Or see his insightful blog chaimbentorah.com
Purchase the DVD Kesher Course: Making the Connection: Word Studies, and watch it with your small group or church. This offers biblical teaching on ten significant Hebrew Words. Or stream it online at: cfi.org.uk
Sours: https://www.premierchristianity.com/home/5-hebrew-words-every-christian-should-know/3116.article
Hebrew words religious
9 Hebrew Words to Bring You Closer to God
This post contains affiliate links. I only advertise items I personally recommend and may receive a small commission from qualifying purchases. For more information, visit our Affiliate Information Page.
Studying the Hebrew language can grow our faith through deeper bible study as well as other ways. If studying Hebrew isn't something you've started yet, I fully recommend it! Here are some resources to get you started.
Below are just a few Hebrew words that can be better understood in their original language and context. Not nearly an exhaustive list, these few words better understood from a Hebrew perspective, will illuminate some familiar Christian concepts and bring us closer to the God of the bible.
1. Shalom שָׁלוֹם (pronounced sha-lōm)
Used as a greeting in Hebrew, this is a common one. Upon meeting someone, you'd say "Shalom" and they'd respond with the same. Many Hebrew speakers also say, "Shalom Aleichem" (peace be with you) instead. On the Sabbath, we wish each other "Shabbat shalom" (Peaceful Sabbath).
Not just peace
The word shalom is often translated simply as peace. While this is in part what shalom means, it doesn't fully convey its meaning. The concept of shalom goes deeper than that and brings us to realize the perfection in our holy God!
Shalom is a noun with many meanings. Completeness, soundness, and welfare are included in its definition, along with harmony, prosperity, and tranquility. We're left without an English word to convey all of these but a search through the bible for the word shalom can shed some light on its more profound significance. Believe it or not, understanding shalom can help us to better understand the character of our God!
A Name for God
Shalom is part of one of the names for God in Judges 6:24. Having met God himself and seen firsthand His supernatural power, Gideon built an altar and named it "Jehovah shalom" or "The LORD is peace" to let everyone know that our God is shalom. He is peace and wholeness, completeness and perfection and harmony and prosperity – all of it!
The Way Things Ought to Be
In his book, Not the Way it's Supposed to Be, Cornelius Plantinga of Calvin Theological Seminary says the following about shalom:
"The webbing together of God, humans, and all creation in justice, fulfillment, and delight is what the Hebrew prophets call shalom. We call it peace but it means far more than mere peace of mind or a cease-fire between enemies. In the Bible, shalom means universal flourishing, wholeness and delight – a rich state of affairs in which natural needs are satisfied and natural gifts fruitfully employed, a state of affairs that inspires joyful wonder as its Creator and Savior opens doors and welcomes the creatures in whom he delights. Shalom, in other words, is the way things ought to be."

Cornelius Plantinga
Jesus and Shalom
We can also better know Jesus, our Messiah through an examination of the word shalom. Isaiah calls Jesus the "Prince of shalom" in verse 9:6. All the words above used to define shalom – Jesus not only has those qualities, but he is the Prince of them!
We can also use other words from the same root word to get a better idea of what Jesus is Prince of. "Whole", "it was worth it", "perfect", "was paid for", and "paid for in advance" are meanings of words that come from the same root as shalom. It's no coincidence that those concepts are part of our story as well. The perfect Prince of Shalom found us worth it and paid for our sin, making us whole!
2. Hallelujah הַלְלוּיָהּ (pronounced hal-loo-yah)
You already know this one. It's a word we use in song and otherwise to praise God all the time! Hallelujah is made up of halal and jah. Halal means "to praise", "to shine", "to be boastful", "to act foolish", and other similar terms. Jah or Yah is short for the name of God in the bible, Yahweh. So, hallelujah is to praise God, make Him shine, boast in Him, or even go crazy worshiping Him!
Crazy Worship?!
Is that too much? Well, that depends. Are we just saying words when we praise God or are we approaching the creator of the universe to tell Him just how amazing we think He is? Those in heaven know more than we do about God's awesomeness and this is the word they use to worship Him!
"After these things I heard something like a loud voice of a great multitude in heaven, saying, 'Hallelujah! Salvation and glory and power belong to our God…' And a second time they said, 'Hallelujah! …' And the twenty-four elders and the four living creatures fell down and worshiped God who sits on the throne saying, 'Amen. Hallelujah!' …Then I heard something like the voice of a great multitude and like the sound of many waters and like the sound of mighty peals of thunder, saying, 'Hallelujah! For the Lord our God, the Almighty, reigns.'" Revelation 19:1-6
I don't know about you, but reading these verses always gives me chills. Sometimes we subconsciously fit God into our itty-bitty human box and forget that He's the most awesome supernatural God there ever was. Try to picture this scene. God, on His heavenly throne, in His heavenly throne room, surrounded by heavenly elders and frightening creatures, is being worshiped by them. All the glory is His. The awe of the scene and of God Himself is not lost on them and they burst out with nothing other than repeated hallelujahs!
It seems like the powerful meaning behind hallelujah in our hearts when we worshipmight show Him at least a tiny shred of the praise He's worthy of. I mean, what could we possibly say? It's one of the best words our mortal mouths can offer. Hallelujah!
3. Yeshua יֵשׁוּעַ (pronounced yeh-shoo-uh)
This word is often translated "Joshua" in the Hebrew Old Testament. It's also the name of Jesus, our Savior! So, wait. If his name is actually Yeshua, why do we call him Jesus? Where did that come from?
Why Do We Call Him Jesus?
Where Yeshua is found in the Hebrew Old Testament, it is translated into English as Joshua. It was a male name in bible times and there are a few different Joshuas or Yeshuas in the bible. When translated from Greek to English in the New Testament, it went through a couple transitions, then became Jesus.
There are many now that argue that the name Jesus is incorrect and, therefore should not be used but we should be careful not to get sidetracked by this. The area in which Jesus lived was multilingual and he would have been as well. He probably taught and conversed in different languages as necessary. What's important here, as well as it was in the teachings of Jesus is to make sure the meaning of the word is not lost.
More Than Just a Name
Beyond being a name, the word Yeshua is used throughout the Hebrew scriptures meaning "salvation". It was derived from the Hebrew word yasha, which means "to deliver" or "to rescue". There are many well-known examples of where it's used in the Old Testament but here are a couple of my favorites:
"The Lord is my strength and song,
And He has become my salvation [yeshua];
This is my God, and I will praise Him;
My father's God, and I will extol Him." Exodus 15:2
"He only is my rock and my salvation [yeshua],
My stronghold; I shall not be greatly shaken." Psalm 62:2
Isn't it wonderful that Jesus's name was the very thing he would do for us? Others with this same name in the bible were also saviors of some type. Joshua led the Israelites during a time of numerous victories while conquering the land of Caanan. Yeshua the High Priest was the first High Priest in the re-built Temple following its destruction by the Babylonians. Isn't it amazing that this important High Priest, the bridge from the Israelites to God, shares a name with our High Priest (Heb. 4:14) and way to God (John 14:6)?
4. Chesed חֶסֶד (pronounced che-sed, with the "ch" sound coming from the throat, as in Bach)
Known for its difficulty to translate into English, this word contains a "chet", a letter with a sound called a guttural. Since we don't have true gutturals in English, it can be difficult for us to say this word correctly. Go ahead and practice. Say "Bach". Like the composer. Say it out loud. Listen for the sound at the end of the word, then say it at the beginning of chesed.
Chesed's Meaning
Now that we know how it sounds, what does it mean? It's translated most commonly as mercy, kindness, lovingkindness, and goodness. It's often used to convey God's love toward His people but, somewhat like God, it is much more complex than our first impression shows. Here are some very different examples of chesed's use in the bible.
"Then the Lord passed by in front of him and proclaimed, 'The Lord, the Lord God, compassionate and gracious, slow to anger, and abounding in lovingkindness [chesed] and truth; who keeps lovingkindness [chesed] for thousands, who forgives iniquity, transgression and sin; yet He will by no means leave the guilty unpunished, visiting the iniquity of fathers on the children and on the grandchildren to the third and fourth generations.'" Exodus 34:6-7
"If there is a man who takes his sister, his father's daughter or his mother's daughter, so that he sees her nakedness and she sees his nakedness, it is a disgrace [chesed]; and they shall be cut off in the sight of the sons of their people. He has uncovered his sister's nakedness; he bears his guilt." Leviticus 20:17
Which is it?
In the above verse from Exodus, chesed is commonly translated "lovingkindness". God declares chesed an attribute of Himself. But then the very same word, is used to describe incestuous behavior, translated into English as "disgrace". The contexts of both verses seem to suggest that there are two meanings for the same word, but this is not so.
Chesed being translated as lovingkindness, mercy, charity, or even disgrace doesn't do justice to its full meaning. This complex word conveys instead a type of attitude or behavior that shows an overflow of zeal or a lack of boundaries. Chesed comes from the Hebrew root meaning "eager and ardent desire". It can mean both God-sized lovingkindness and disgrace worthy of great punishment because it is not a specific action but the passion or motivation behind it.
God's Infinite Love
When God describes His love for us using the word chesed, He's telling us that He has a boundless, overflowing love for us! Inside the love He has for us is His infinite grace, His immeasurable love, inexhaustible forgiveness, and unlimited charity. And seriously, Guys? NONE of us deserve that. I don't care how great you think you are. We're nothing but selfish, disobedient specks in this universe. What an awesome God we have that He would extend His chesed to us!
5. Shema שְׁמַע (pronounced shuh-ma)
This is the first word of The Shema, Deuteronomy 6:4-9, which is recited regularly by Orthodox Jews and by many Christians. It's also the verse Jesus refers to when asked what the greatest commandment is.
"'Hear [Shema], OIsrael! The Lord is our God, the Lord is one! You shall love the Lord your God with all your heart and with all your soul and with all your might. These words, which I am commanding you today, shall be on your heart. You shall teach them diligently to your sons and shall talk of them when you sit in your house and when you walk by the way and when you lie down and when you rise up. You shall bind them as a sign on your hand and they shall be as frontals on your forehead. You shall write them on the doorposts of your house and on your gates.'" Deuteronomy 6:4-9
To Hear?
Shema is generally translated as "hear". But right now, I can hear birds singing out the window, my daughter's TV show in the background, and the keystrokes on my laptop. If the word shema is used to call the attention of the people of Israel and is followed by informing them that their lives should be a walking testament to God Himself, the word "hear" doesn't quite convey what's being said. In addition to "hear", shema is also translated elsewhere in the Old Testament as "report", "fame", "tidings, "loud", and "speech".
It Requires Action
If you take the word with its context, however, it means more than even the culmination of these words. In Deuteronomy 6, Shema is a command to not only hear the words God is saying but to act on them. I think of it in the same way as when I tell my children to listen. I don't only mean for them to stop what they're doing and hear what I say. I mean for them to hear and internalize what I say so that they remember and obey it.
This is the same meaning that shema can have. We need to be paying attention – always studying God's Word and spending time in prayer with Him so we can hear His words in the first place. Then we need to internalize what He says, not just read or hear it and forget it. We need to remember it and, when the need arises, obey it and apply it to our very lives.
6. Amen אָמֵן (pronounced ah-meyn)
I know, I know – everyone knows this one. But did you know that it was a Hebrew word? Also, look at the above pronunciation. We can argue all day whether or not it's pronounced ah-men or ay-men or when to use either but for those who want to be purists about it, it's neither!
The Deeper Meaning
This biblical Hebrew word is unique in that its basic meaning hasn't been lost in translation and in culture differences. "So be it" is the usual translation for amen. It is used correctly when we use it to affirm something someone says or after a prayer. Its root is the word aman, meaning "to confirm or support". A related word is amanah, which means truthfulness, confirmation, credence, or belief. By saying amen, we're stating that we confirm what has been said, we believe in it, and we find it to be true.
We say it to conclude our prayers and to signify when we are praying in unison with other people. We also use it in song to affirm the words and the message of our worship. Some even yell it out in church when a pastor says something that really resounds with them.
The Conclusion of God's Word
Our entire bible concludes with this word. The last verse in the bible sums up the entire Word, then affirms this message of truth with the "so be it" we know so well:
"The grace of the Lord Jesus be with all. Amen." Revelation 22:21
Amen is also translated as "truth" as in the following verse.
"Because he who is blessed in the earth
Will be blessed by the God of truth [amen];
And he who swears in the earth
Will swear by the God of truth [amen];
Because the former troubles are forgotten,
And because they are hidden from My sight!" Isaiah 65:16
Each of the words "truth" in this verse are from amen in Hebrew. It says twice here that God is the "God of amen" so this is one of God's attributes or characteristics. He is the God of truth but also of confirmation, faithfulness, support, and affirmation of that truth. How privileged are we to have someone like this as our God?!
7. Mashiach מָשִׁיחַ (pronounced ma-shee-ach)
This word can be translated as "messiah", but more literally means "anointed one". In most places in the bible, the English is "anointed one". Only two places translate it as "Messiah". When used to refer to Jesus as the messiah, Yeshua HaMashiach is used. This means "Jesus the Messiah" or "Jesus the Anointed One".
Why Anoint?
The process of anointing someone with oil served to set that individual apart for service to God. It was used to appoint priests in the Old Testament (Ex. 29:7). It was also used to establish kings over God's people. Saul and David were both appointed in this way (1 Sam. 10:1 and 2 Sam. 16:12-13) and prophecy in the Old Testament speaks of Jesus as mashiach, "anointed one".
"So you are to know and discern that from the issuing of a decree to restore and rebuild Jerusalem until Messiah [Mashiach] the Prince there will be seven weeks and sixty-two weeks; it will be built again, with plaza and moat, even in times of distress." Daniel 9:25
Mashiach in this verse is usually translated as "Messiah" instead of "Anointed one" but the Hebrew word is the same. Jesus is truly our maschiach! He has been anointed by God, chosen, and appointed to be both our king and our high priest!
8. Dabar דָּבָר (pronounced duh-bar)
The most basic translation of dabar is that it means "word". It can also mean "speak", "pronounce", "formalize", "thing", or "establish". Here are some examples of its use in the Old Testament.
"And the Lord spoke [dabar] to Moses, saying, "Go, tell Pharaoh king of Egypt to let the sons of Israel go out of his land." Exodus 6:10-11
"'Is anything [dabar] too difficult for the Lord? At the appointed time I will return to you, at this time next year, and Sarah will have a son.'" Genesis 18:14
"Then behold, the word [dabar] of the Lord came to him…" Genesis 15:4
Although dabar is translated as three different English words in the verses above, it means all of them. The context of each is used to derive the word's meaning in each situation in which it's used so that the essence of the scripture is not lost.
Its Use in the New Testament
But it's when dabar is translated from Hebrew into Greek in the New Testament that things get exciting. This word is translated as two different Greek words: logos, referring to a written word, and rhema, which refers to the utterance or the thing that was said.
Jesus, Our Written Word
At the beginning of the book of John, Jesus is referred to as "the Word". Logos is the Greek word used here, so we can conclude that Jesus is a type of written word. He was here on earth in a physical form and could be "read" as people were able to watch him and listen to him teach about God and himself. Some of these people recorded the events of his life on earth so that we too can "read" him.
"In the beginning was the Word [Logos], and the Word [Logos] was with God, and the Word [Logos] was God." John 1:1
The Power of God's Word
Later in the New Testament, Hebrews 11:3 tells us that it was God's word that created something out of nothing.
"By faith we understand that the worlds were prepared by the word [rhema] of God, so that what is seen was not made out of things which are visible." Hebrews 11:3
In this verse, the Greek rhema is used in place of "dabar" and it's translated into English as "word". But the implication of this verse is to show us just what kind of power there is in God's spoken words! God spoke – dabar – into the nothingness and created order, an entire universe, and even us!
Dabar teaches us that we can "read" Jesus, our "written" Word. He has been there all along, from before creation, but came to earth so we could learn from him and to rescue us from certain destruction. It also shows the power of God's very utterances. He's so awesome that things that previously didn't exist spring into existence, just at His word!
So, it's not surprising, then, when the two of these concepts come together further into the New Testament. 1 Corinthians 1:23-24 calls Jesus "the power and the wisdom of God". The Word, God's dabar, IS His very power and wisdom! Our Savior is the magnificent power and the infinite wisdom of God!
9. Ra' רַע (pronounced rah)
There are many different words for sin in the bible but ra' is used more than 600 times! It comes from another Hebrew word ra'a, meaning evil or bad. When you remove the "a" sound at the end, its meaning encompasses "evil", "harm", "displeasure", or "misery" but it also conveys an aspect of brokenness. It can mean "broken into pieces", like when something's completely ruined or "blemished", like things unfit for presentation to God, such as for sacrifice.
Use in Scripture
The ugly, gaunt cows from Pharaoh's dream in Genesis 41 are described using this word, as is the wild beast that Joseph's brothers claimed devoured him in Genesis 37. It's also the word that was translated into "evil" in describing the tree in the Garden of Eden. It was the Tree of the Knowledge of Good and Ra'.
Brokenness
While we know that sin is disobedience to God, without the aspect of brokenness, we have no reason to turn to our Savior. Everyone knows there's sin in their life but not everyone realizes their brokenness in it. We all know someone who says "Sure, I've done bad things but I'm a good person overall". This is to imply that sin is just part of who we are, but God will surely compare us to one another and forgive the good people for being less evil than the really evil ones.
It sounds great but that's just not how it works. The bible says that we ALL have fallen short of God's glory (Rom. 3:23). He's just too glorious, too perfect, and too holy for us – even the good ones – to ever measure up to Him. HE is what we'll be compared to in judgement, which is why all of us need Jesus, the only person to have kept all of the Law perfectly, as our substitute.
Without realizing that the ra' in our hearts has left us blemished, unacceptable, and broken before God, we are unable to see our need to accept the gift of Jesus. When we get to the point of being devastated by our ra', we can then humbly approach God, genuinely repentant, and be made unblemished, acceptable, and perfect in the eyes of our Creator, fit for communion with Him!
These are just a few examples of Hebrew words that can enrich our faith through an understanding of them in their original form. Imagine what can come to light in the process of learning even more of the Hebrew language! As lifelong students of the bible, learning its main original language will deepen both our faith and our relationship with the God of the universe!
Sours: https://hebrewrootsmom.com/9-hebrew-words-to-bring-you-closer-to-god/
The Hebrew Word For FAITH - Hebrew Words Every Christian Should Know
Hebrew Words and Meanings – What You Should Know
The Meaning of Hebrew Words and Scripture
More and more believers today study the Bible and wonder, am I getting the complete understanding of the Hebrew words?
We have a sea of knowledge at our fingertips, and we can connect with Israel and Hebrew speakers easily. Most of us a have a Bible at home or even several. If you have travelled to Israel, you know how much a trip like that enhances your comprehension of Scripture.
All the blessings above are unique to our generation. And imagine how much deeper you could dive into the Word of God with basic understanding of Hebrew! To get you started, in the coming weeks we want to introduce you to seven Hebrew words every Christian should know. But before we share what they are, let's answer the question WHY.
Hebrew Language and Hebrew People
With the use of the Hebrew language God revealed Himself to mankind. This ancient tongue held the greatest spiritual truths that guided our lives through the ages. And every generation discovers them anew.
It is hard to believe that the language of the Bible for centuries was used only by scholars and in religious practices. Today, it is the official language of a country and the native tongue of about five million people.
Did God really speak Hebrew to the first people He created? We cannot know that for sure (but we do know that the story of creation was written in Hebrew). Nevertheless, there is a very strong argument for it. That is, the names of the first people that appear in the Bible have a specific meaning in Hebrew.
Hebrew Name Meanings
The first man was called Adam, which in Hebrew simply means "man". At the same time, the word adama means earth or soil. Which, coincidentally, that is what God made Adam out of. The name of the first woman, Chava (in English usually Eve or Eva), comes from the word chai – Hebrew for life.
Is that of any significance? Well, it may affect how you interpret some other parts of the Bible as well. Although the New Testament was written in Greek, the context remains the same. The setting and the culture was still very hebraic.
Take for example the fact that Jesus was described as "son of man". In Hebrew you say, Ben Adam. Which means, yes, "son of man". But the Hebrew connects it also with the idea that Jesus was "son of Adam". It sounds consistent with when the apostle Paul calls Jesus in his letters – the second Adam.
But here also we could look at the Hebrew and draw another conclusion. If Jesus was the second Adam, could He also be called "the second man", as the head of mankind? Because if man was the crown of God's creation, that would make Jesus – the second, perfected man – the true crown of creation!
And since we are talking about names. Let us not forget that the name Jesus was not a foreign-sounding word to Mary and Joseph. His name in Hebrew is Yeshua, which literally means "Salvation." It was a powerful word, but it was not unfamiliar. It is thus that much more poignant whenever the word salvation – yeshua – appears in the Old Testament!
Did Jesus Speak Hebrew?
Jesus was born with a Hebrew name and in a hebraic culture. Does that mean He spoke Hebrew as well? Many biblical stories could suggest that Jesus in fact spoke (or at least understood) three languages! Despite being brought up in a small village and a humble family, He would have been exposed to more than just His mother tongue.
It is generally believed that Jesus spoke Aramaic in His everyday life. It was the common tongue of the people in the region at the time. Some of Jesus' statements in the Gospels were recorded in Aramaic, which means His disciples knew it and used it as well. Nevertheless, it is also very likely that the Jewish (as well as Samaritan) families of that day continued to use Hebrew.
We read that young Jesus debated the scholars in the Holy Temple for several days. Those conversations likely happened in Hebrew, considering this was the language of the Holy Scriptures. Additionally, Jesus addressed the apostle Paul in Hebrew when He appeared to him on the road to Damascus.
On top of that, we need to be mindful of the fact that Jesus lived in cities full of foreigners. He encountered Greeks and Romans on His path, as we know from the Gospels. It is safe to assume that He must have known some Greek or even Latin. It is quite unlikely that His conversations with the Roman commander or Pontius Pilate were in Aramaic.
How did Hebrew Survive without a Country?
After the destruction of the Temple and the exile of the Jewish people, Jewish scholars began calling Hebrew a sacred language. As the descendants of Israel moved through foreign lands, they adapted and used local languages in daily living.
In modern history, the Jewish people made several attempts to revive Hebrew as a spoken language. But in the modern age, languages ​​that mixed Hebrew with local languages ​​were much more popular. These included Yiddish in Eastern Europe (merged with German) or Ladino in the Iberian Peninsula and present-day Turkey (merged with Spanish).
Over the centuries, Hebrew survived mainly as a literary and liturgical language. Like Latin, Ancient Greek or Classical Chinese, Biblical Hebrew existed only in writing. That is, until a young Zionist from Lithuania, Eliezer Ben Yehuda, decided to emigrate to Jerusalem and use Hebrew with everyone he met.
Although it did not come easy, most of the inhabitants, in many cases thanks to their religious upbringing, were able to communicate with Ben Yehuda. With time, the young idealist managed to convince rabbis and teachers to use Hebrew in schools to teach not only religious subjects, but all of them.
More and more Jewish people were choosing to return to their Promised Land. There, they realized that choosing any Western language for communication could create unnecessary conflicts. Hebrew proved to be the one common thread…
Bringing Modern Hebrew into Life
Ben Yehuda was truly the father of modern Hebrew. The fruit of his great dedication and persistent work is a seventeen-volume New Hebrew Dictionary, first of its kind, published in 1908. By 1922, British Mandate leaders recognized Hebrew as the official language of the Jews in the land. Finally, in 1948 Hebrew was proclaimed the official language of the new state: Israel.
Today, there are families in Israel who have spoken Hebrew already for three or four generations. It is remarkable that a language, which was just a dream a hundred years ago, is now used every day by millions.
The people of Israel speak the language of God's mysteries today, although many are oblivious to it. Nevertheless, God continues to reveal His truths to us. And one of such revelations is comprehension of Hebrew! The foundational words like Adam and the rich ones like Yeshua (Jesus) – they all invite us to discover the depth of God's word.
Hebrew Words Every Christian Should Know
We know the Bible can be confusing and you want to get more out of it. Which is why we want to teach you selected Hebrew words that will transform the way you read the Bible. Join us at IsraelU to learn seven Hebrew words that every Christian should know!
Dive into the first word (and more will follow)! Do you know what the Hebrew word Shema means? Read about it here and watch the IsraelU video below:
Bless Israel by Transforming Lives
Are you looking for a way to get started blessing Israel financially? FIRM has a simple way to start putting kingdom investment into impacting lives in Israel.
The Tribe is a passionate and faithful group of monthly donors on a mission to transform lives in Israel through the love of Jesus. Join the Tribe today: firmisrael.org/thetribe
Join our community of monthly donors transforming lives in Israel with the love of Jesus
Join Now
Sours: https://firmisrael.org/learn/hebrew-words-and-meanings-what-you-should-know/
You will also be interested:
Whether we realize it or not, when we read scriptures and sing hymns we often say Hebrew words. Our pronunciation may not be quite right, but this observation is true nonetheless. Why don't some of us realize this? Because Hebrew words have successfully made their way into our modern religious terminology without our knowledge of the origin of these words or the process of their transmission. What difference does it make whether we know their origin? Since many of these words are religious terms and titles, knowing their meaning in their original language can instruct and remind us of important concepts every time we use them. But this can only happen if we know what they mean and how they were employed in the Hebrew Bible. We miss a complete dimension of understanding and spiritual reinforcement if we do not know the meaning of these terms. The Prophet Joseph Smith certainly shared this perspective when he commented on the value of studying the scriptures in their original language: "Our latitude and longitude can be determined in the original Hebrew with far greater accuracy than in the English version."[1]
Certain Hebrew words made their way into English through a process called transliteration. A transliterated word is one in which the general sound of the letters (-literate) of a word in one language cross (trans-) into another language, creating a new word, so to speak, in the second language. This process contrasts with "translation," through which a word in one language is replaced by a word with the same meaning in another language but rarely sounds anything like the word in the original language. Biblical names are good examples of words that are routinely transliterated, not translated. For example, 1 Samuel 13:16 begins, "And Saul, and Jonathan his son, and the people that were present with them. . . ." Saul is the transliterated form of the Hebrew name šā'ūl (pronounced shah-OOL), which means "asked," while Jonathan comes into English from yônātān, "Jehovah has given." If these names had been translated, the verse would read, "And Asked, and Jehovah-has-given, his son, and the people that were present with them. . . ." This example sufficiently illustrates the occurrence of transliterated words (in this case names) in the Old Testament. It also shows that some Hebrew letters are not available in English (such as 'aleph, the letter in the middle of šā'ūl/Saul), so there is not always an exact match between the original form and its transliterated counterpart.[2] Furthermore, there are no capital letters in Hebrew, and there is no "j" sound. The Hebrew "y" (yod) ended up being pronounced like a "j" in English due to the linguistic influence of French on Middle English (AD 1100–1500) in the centuries following the Norman invasion of Britain.[3]
The following discussion of six biblical Hebrew words, including the name Jehovah, indicates what these words originally meant and demonstrates how they were employed by biblical authors. It also suggests how knowing the meaning and usage of these words can make our experience more meaningful when reading or speaking them, whatever their context.
The English word Amen (commonly pronounced ay-MEN) is transliterated from the Hebrew אָמֵן/'āmēn, pronounced ah-MEN (or ah-MAIN). It means "surely" or "may it be so" and has the sense of confirming what has just been spoken or done. The Hebrew word 'āmēn derives from the lexical root 'MN, which conveys the sense "to be faithful, to be established, to believe, to be confirmed." This explains why Amen is even used as a title for Jesus in Revelation 3:14: "the Amen, the faithful and true witness."
The confirming nature of 'āmēn /Amen is very evident when David, shortly before his death, gave orders to "cause Solomon my son to ride upon mine own mule. . . . And let Zadok the priest and Nathan the prophet anoint him there king over Israel. . . . For he shall be king in my stead. . . . And Benaiah the son of Jehoiada answered the king, and said, Amen: [may] the Lord God of my lord the king say so too. As the Lord hath been with my lord the king, even so be he with Solomon" (1 Kings 1:33–37). Not only did Benaiah verbalize his consent to David's orders with his "Amen," he also expressed his desire that the Lord ratify Solomon's kingship. About three and a half centuries later, when the Lord instructed Jeremiah to remind his contemporaries about the Lord's covenant promise to their ancestors, Jeremiah responded, "So be it ['āmēn], O Lord" (Jeremiah 11:5). In both of these passages, 'āmēn was spoken to show affirmation of and commitment to what had just been said.
Latter-day Saints regularly conclude their prayers, teachings, and testimonies with the word Amen. When this occurs in a public context, the class or congregation responds, "Amen," in unison. This practice succeeds its antecedent from Mosaic times, as illustrated in several passages in the Old Testament. For example, Moses instructed the Israelites that they should have a covenant-renewal ceremony in Shechem after entering the land of Canaan. As part of that occasion, the Levites would "say unto all the men of Israel with a loud voice. . . . Cursed be he that maketh the blind to wander out of the way. And all the people shall say, Amen. Cursed be he that perverteth the judgment of the stranger, fatherless, and widow. And all the people shall say, Amen. . . . Cursed be he that confirmeth not all the words of this law to do them. And all the people shall say, Amen" (Deuteronomy 27:14–26).
Similarly, when David brought the ark of the covenant to Jerusalem, he delivered a psalm of praise and thanksgiving as part of the public festivities (see 1 Chronicles 16:7–36). When he concluded, "all the people said, Amen, and praised the Lord" (v. 36; see also Nehemiah 5:13; 8:6; Jeremiah 28:6). Several psalms also preserve the liturgical use of this word. Psalm 106 concludes with the line, "Blessed be the Lord God of Israel from everlasting to everlasting: and let all the people say, Amen. Praise ye the Lord" (v. 48; see also Psalms 41:13; 72:19; 89:52). These passages illustrate how the public pronouncement of 'āmēn /Amen was an important part of Israelite worship involving all who were present as they witnessed their acceptance of what was said or done.
Thus, when a Latter-day Saint utters the word Amen after an ordinance, or at the conclusion of their own prayer or testimony, the person declares to the Lord and to others (when uttered in a public setting) his or her approval and acceptance of the preceding action, teaching, or prayed request: "May it be so—or, I am convinced that it is so—just as I have said (or done)." The individual thereby declares personal responsibility for what has been requested, taught, or done in the sacred name of the Lord Jesus. And when other Latter-day Saints respond to a public testimony or prayer by collectively declaring "Amen"—just as ancient Israelites did—they indicate that they are witnesses to and accepting of what has been said: "So be it" or "Let it be so." As such, they become participants in the proceedings, praying the same prayer, testifying of the same truths, renewing the same covenant. Obviously, Amen should not be uttered thoughtlessly.
The expression Hallelujah is always translated, not transliterated, in the KJV Old Testament, so it does not appear therein. But the Hebrew from which it derives, halĕlû-yāh, occurs two dozen times in the Bible, always in the book of Psalms.
Hallelujah (halĕlû-yāh)consists of the plural imperative form (halĕlû) of the verb HLL, "to praise," plus an abbreviated form of the divine name Jehovah (yāh). As noted above, the "j" sound in English is not present in Hebrew. Furthermore, ancient Israelites pronounced the name of their God more like "Yahweh" than "Jehovah" (see discussion below). Thus, yāh, at the end of halĕlû-yāh, represents Yah, a short form of the name of the God of Israel. This form of the divine name occurs independently about twenty times in the Hebrew Bible, but only once in the KJV, in Psalm 68:4, where it is spelled with a "j" and rendered in all capitals: "Sing unto God, sing praises to his name: extol him . . . by his name JAH, and rejoice before him." Elsewhere, it is rendered "the Lord." [4]
Hallelujah thus means "praise Yah/Jehovah." It is translated in the KJV as "praise (ye) the Lord" because English Bibles substitute "the Lord" for the name Jehovah/Yahweh. For example, Psalm 106:48 (quoted above) reads: "And let all the people say, Amen. Praise ye the Lord [halĕlû-yāh]." The Hebrew title of the book of Psalms, sefer te'hillı'm, also derives from the lexical root HLL, "to praise," and literally means "book of praises."[5] Psalm 150:6, the last verse of the last psalm in the book of Psalms, reads, "Let every thing that hath breath praise the Lord [tĕhallēl yāh]. Praise ye the Lord [halĕlû-yāh]." This phrase, halĕlû-yāh, is therefore an ancient and well-attested expression of worship, communicating praise to and for the Lord.
Throughout history, various psalms have been referred to as "Hallel psalms" because they are particularly expressive of praise (HLL) to Jehovah for His saving acts and for His continued blessings (see Psalms 111–18; 146–50). Psalm 136 is often called the "Great Hallel." This psalm proclaims thanks and praise to Jehovah, "for his mercy endureth for ever," the phrase with which all twenty-six verses conclude. By Jesus's day the singing of Hallel psalms was a standard part of the celebration of several Jewish holidays, including Passover. For this reason, it is often assumed that the hymn Jesus and His eleven Apostles sang together at the end of their Passover meal was a Hallel psalm (see Matthew 26:30).[6]
The Hebrew phrase halĕlû-yāh was transliterated into Greek as halle'louia, the form in which it occurs four times in the Greek New Testament (see Revelation 19:1–6). However, in the Greek alphabet there is no letter equivalent to h; rather, the "h" sound is indicated by a "rough breathing" mark that is not represented in the Roman alphabet. Therefore the Greek-to-English form of the Hebrew halĕlû-yāh is Alleluia. So Revelation 19:4 reads: "And the four and twenty elders and the four beasts fell down and worshipped God that sat on the throne, saying, Amen; Alleluia." Just as in the Hebrew Bible, Alleluia occurs here in the context of worship.
The expression halĕlû-yāh/Hallelujah/Alleluia contains the name of the Lord Jehovah, and has functioned as a joyful yet reverent expression of praise for His goodness and mercy for thousands of years. When modern disciples of Christ encounter either form of this phrase—"Hallelujah" or "Alleluia"—in scripture or in hymns,[7] or employ it in some other form of worship, it can only be hoped that they will appreciate the full extent of its meaning, thereby giving heartfelt expression to their gratitude and joy by saying, "Praise the Lord."
The English word Sabbath is transliterated from the Hebrew noun šabbāt (shabbat or shabbath), which occurs over one hundred times in the Hebrew Bible. It is related to a verb from the lexical root ŠBT, which means "to cease labor, rest." The concept of resting from one's weekday labors on the seventh day of the week is first introduced in scripture when the Lord rested after six periods of creative activity: "And on the seventh day God ended his work which he had made; and he rested [wayyišbōt] on the seventh day from all his work which he had made. And God blessed the seventh day, and sanctified it: because that in it he had rested [šābat] from all his work which God created and made" (Genesis 2:2–3). The seventh day is not specifically called the Sabbath in this passage, but the verb indicating the cessation of God's labor [šābat] is the basis for the day's name, which provides an apt description of one purpose of the day—resting from regular productivity. Genesis 2:2–3 therefore provides a practical model for humans (resting after six days of work), based on divine example (God's resting), and teaches the nature of the day—it was "sanctified," making it literally a holy day.
These features are reiterated in the fourth of the Ten Commandments: "Remember the sabbath day, to keep it holy. . . . The seventh day is the sabbath of the Lord thy God: in it thou shalt not do any work. . . . For in six days the Lord made heaven and earth . . . and rested [wayyānah] the seventh day: wherefore the Lord blessed the sabbath day, and hallowed it" (Exodus 20:8–11). Interestingly, the Israelites were practicing this pattern even before the revelation at Mount Sinai (see Exodus 20), since the manna the Lord provided for them was not given on the seventh day of the week (see Exodus 16:22–30). When Moses recounted the Ten Commandments in Deuteronomy 5, he provided an additional reason for the Israelites' Sabbath observance: their families, slaves, and livestock were to rest in remembrance of God giving them rest by delivering them from their servitude in Egypt (see vv. 12–15). Sabbath observance is thus connected in these two renditions of the Ten Commandments with the significant acts of creation and redemption by Jehovah, who is Jesus Christ.[8]
By virtue of being "sanctified," or "hallowed," by the Lord, the Sabbath takes on greater significance than just a day of rest. Exodus 31 is an important indicator of the Lord's view of the Sabbath:
And the Lord spake unto Moses, saying,

Speak thou also unto the children of Israel, saying, Verily my sabbaths [šabtōtay] ye shall keep: for it is a sign between me and you . . . that ye may know that I am the Lord that doth sanctify you.

Ye shall keep the sabbath [šabbāt] therefore; for it is holy unto you. . . . Six days may work be done; but in the seventh is the sabbath of rest [šabbat šabbātôn], holy to the Lord. . . .

Wherefore the children of Israel shall keep the sabbath [šabbāt] . . . for a perpetual covenant.

It is a sign between me and [them] . . . for in six days the Lord made heaven and earth, and on the seventh day he rested [šabāt], and was refreshed. (Exodus 31:12–17)
The Lord indicates in this instructive passage that Sabbath observance is a sign of His covenant relationship with His people, and that Sabbath observance demonstrates recognition that it is He, Jehovah, who sanctifies His people.
These scriptures outline the following sequence: (1) Jehovah rested on and sanctified, or made holy, the seventh day (see Genesis 2:3); (2) He has commanded His disciples to keep the Sabbath holy (see Exodus 20:14)—it comes to us already holy, we are charged to maintain its holy status; and (3) our Sabbath observance—maintaining the sanctity of the day—is both a sign of our commitment to the Lord and a reminder to us that it is He, and only He, who has the power to sanctify us (see Exodus 31:13). This means true Sabbath observance is not just resting from labor, but is a major means through which we enter into the "rest of the Lord," which is a "state of peace . . . [and] spiritual enjoyment resulting from the power or presence of the Lord. Ultimately, it is the fulness of God's glory (D&C 84:24)."[9] Moving beyond worldly rest to divine rest on and through yôm haššabbāt, "the day of Sabbath," brings the blessings of heaven in various and powerful ways, as promised by the Lord in Isaiah 58:13–14 and elsewhere.
After Jesus's Resurrection and Ascension to heaven, members of Christ's Church transitioned to observing the first day of the week, the Lord's day, as holy.[10] Our weekly observance of the Sabbath is thus a combination of celebration and worship. As we call the Sabbath "a delight" (Isaiah 58:13), we rest from our weekday labors, we gather to worship and renew covenants, we commemorate the mighty acts of God (in the lives of our ancestors as well as our own, and especially Jesus's atoning sacrifice and Resurrection), and we participate with the Lord in the rest and sanctification of our souls (see D&C 59:8–13).[11]
Not to be confused with the word Sabbath, which looks somewhat similar in English, ṣĕbā'ôt/Sabaoth[12] is a plural Hebrew noun meaning "hosts, armies." It occurs only twice in the KJV in its transliterated form, both in the New Testament: Romans 9:29 ("the Lord of Sabaoth") and James 5:4 ("the Lord of sabaoth").[13] But ṣĕbā'ôt/Sabaoth and the collective singular formṣābā' occur about five hundred times in the Hebrew Bible.
Sometimes "host(s)" refers collectively to the inanimate creations of the Lord, such as the stars and planets, as in Moses's warning to the Israelites about false worship: "Take ye therefore good heed unto yourselves; . . . lest thou lift up thine eyes unto heaven, and when thou seest the sun, and the moon, and the stars, even all the host of heaven [ṣābā'haššāmayim], shouldest be driven to worship them, and serve them" (Deuteronomy 4:15, 19).
More often, "host(s)" refers to large numbers of people (see Exodus 12:41), particularly an army, as in David's statement to Solomon: "Moreover thou knowest also what Joab the son of Zeruiah did to me, and what he did to the two captains of the hosts [ṣib'ôt] of Israel . . . whom he slew" (1 Kings 2:5).[14] The concept of a nonmortal, heavenly host fighting for and with Israel is also attested in the Old Testament. For example, the being who appeared to Joshua shortly before the Israelite attack on Jericho said, "As captain of the host [ṣĕbā'] of the Lord am I now come. And Joshua fell on his face to the earth, and did worship. . . . And the captain of the Lord's host [ṣĕbā']said unto Joshua, Loose thy shoe from off thy foot; for the place whereon thou standest is holy" (Joshua 5:13–15).[15] Such passages clearly demonstrate the use of the singular ṣĕbā' and the plural ṣĕbā'ôt/Sabaoth to designate human and heavenly armies. Such usage is not surprising, since the Lord, Jehovah, is depicted as a warrior several times in the Bible, such as in Exodus 15:3–4: "The Lord is a man of war: the Lord is his name. Pharaoh's chariots and his host [h with a dot under] hêl, "army, strength"] hath he cast into the sea."[16]
The Lord's heavenly host is not just composed of fighters, but all the holy beings who surround Him and do His will: "The Lord hath prepared his throne in the heavens. . . . Bless the Lord, ye his angels, that excel in strength, that do his commandments. . . . Bless ye the Lord, all ye his hosts [ṣĕbā'āyw]; ye ministers of his, that do his pleasure" (Psalm 103:19–21). Likewise: "Praise ye him, all his angels: praise ye him, all his hosts [ṣĕbā'ô]" (Psalm 148:2). This is perhaps the main connotation of yhwh ṣĕbā'ôt, "the Lord of Sabaoth," a phrase that occurs almost 250 times in the Hebrew Bible, most commonly in prophetic texts. Jehovah as King of heaven is Lord of all the many heavenly beings and spirits, as well as of people on earth.
While the specific sense of "hosts" in the designation yhwh ṣĕbā'ôt is not certain in every biblical passage (divine beings in general, heavenly fighters, stars, some combination of these), it is evident that the expression "the Lord of hosts"—"Lord of Sabaoth"—is meant to encapsulate and convey Jehovah's exalted status in the midst of other heavenly beings and His power to accomplish all His purposes in heaven and on earth. It is therefore not surprising that this phrase occurs a few times in uniquely Latter-day Saint scripture.
The transliterated word Sabaoth is attested four times in the Doctrine and Covenants (see D&C 87:7; 88:2; 95:7; 98:2), always in relation to a prayer that has or will "come up into the ears of the Lord of Sabaoth." For example, Doctrine and Covenants 95:7 emphasizes the Lord's creative power: "Call your solemn assembly, that your fastings and your mourning might come up into the ears of the Lord of Sabaoth, which is by interpretation, the creator of the first day, the beginning and the end." The phrase "by interpretation" here does not indicate that the word Sabaoth literally translates to "creator of the first day," but rather it correlates the concepts of creation and hosts. This, of course, makes good scriptural sense, based on Genesis 2:1 ("Thus the heavens and the earth were finished, and all the host of them [ṣĕbā'ām]") and Doctrine and Covenants 45:1 ("give ear to him who laid the foundation of the earth, who made the heavens and all the hosts thereof").[17] Doctrine and Covenants 87:7 correlates with the military sense of many of the occurrences of yhwh ṣĕbā'ôt in the Hebrew Bible: "That the cry of the saints, and of the blood of the saints, shall cease to come up into the ears of the Lord of Sabaoth, from the earth, to be avenged of their enemies." These attestations of "Lord of Sabaoth" (from yhwh ṣĕbā'ôt) in the Doctrine and Covenants provide a demonstrable link between modern revelation and an age-old concept and tradition of scripture language, although in this case represented in the KJV Old Testament only in translation—"the Lord of hosts"—not transliteration.
The phrase "Lord of Sabaoth" expresses the majesty and dominion of the Lord, who reigns over all. Our use of this phrase expresses our conviction of the Lord's supremacy and conveys worship and confidence. The Lord and His righteous host, both in heaven and on earth, will not be defeated.
The name-title Satan is the transliterated form of the Hebrew common noun śāṭān (pronounced sah-TAHN), which means "adversary, slanderer." [18] The related Hebrew verb from the lexical root ŚŢN means "to accuse, slander, be an adversary."[19]
Perhaps surprisingly, the Hebrew noun śāṭān occurs in the following passages to designate humans who were adversaries to someone else: David (see 1 Samuel 29:4); Abishai and his brothers (see 2 Samuel 19:22); and the collective enemies of Solomon, from whom the Lord had given him rest (see 1 Kings 5:4; Hebrews 5:18). Specific enemies of Solomon who harassed him later in his reign are also labeled śāṭān/"adversary": "Then the Lord raised up an adversary [śāṭān] against Solomon, Hadad the Edomite. . . . God raised up another adversary [śāṭān] against Solomon, Rezon son of Eliadah. . . . He was an adversary [śāṭān] of Israel all the days of Solomon, making trouble as Hadad did" (1 Kings 11:14, 23, 25; New Revised Standard Version; hereafter cited as NRSV). Thus, in the Hebrew Bible, śāṭān is sometimes used in reference to human "satans," enemies who posed a political or military threat to the well-being of a person or nation.
The Hebrew noun śāṭān also refers to nonhuman adversaries in the Bible. In such cases, it occurs three times without the definite article (see Numbers 22:22, 32; 1 Chronicles 21:1) and twenty-three times with the definite article (ha-): haśśāṭānn, literally, "the satan" (see Job 1; 2; Zechariah 3:1–2). Demonstrating the wide-ranging use of this common noun, even an "angel of the Lord" acted as a śātān: "And God's anger was kindled [against Balaam] because he went [with Balak's messengers]: and the angel of the Lord stood in the way for an adversary [lĕśāṭān] against him. . . . And the angel of the Lord said unto him, Wherefore hast thou smitten thine ass these three times? behold, I went out to withstand thee [lĕśāṭān], because thy way is perverse before me" (Numbers 22:22, 32; the NRSV reads, "I have come out as an adversary," in v. 32).
Only 1 Chronicles 21:1 contains the noun śāṭān without the definite article in what can be considered a proper name-title for the demonic Satan, the adversary of God and His people: "Satan stood up against Israel, and incited David to count the people of Israel" (NRSV). This of course is the way the term śāṭān is usually used in post–Old Testament Jewish and Christian literature. Latter-day Saints generally understand haśśāṭān ("the adversary") in Job 1 and 2 and Zechariah 3 to also be "the Adversary," Satan, the one who slandered Job's integrity and acted as an adversary to that righteous man. The KJV and most other modern translations render haśśāṭān as "Satan" in these passages, ignoring the definite article.[20]
The name-title Satan occurs numerous times in the New Testament and in Restoration scripture as a designation for the adversary of the Lord.[21] When Latter-day Saints use the term Satan to refer to the devil, they will hopefully recall that, even more than human adversaries, this being is an eternal enemy. He rebelled against God, is "the father of all lies," and seeks "to deceive and to blind" people "to lead them captive at his will" if they choose not to follow the Lord (see Moses 4:4). No wonder he is labeled "adversary."
Surprisingly, the name Jehovah occurs only four times in the King James translation of the Old Testament. It is printed in capital letters, as in Psalm 83:18: "That men may know that thou, whose name alone is JEHOVAH, art the most high over all the earth" (see also Exodus 6:3; Isaiah 12:2; 26:4).[22] It also occurs three times as a component of altar or place names: "And Moses built an altar, and called the name of it Jehovah-nissi" (Exodus 17:15; see also Genesis 22:14; Judges 6:24). The name Jehovah does not appear in the KJV New Testament at all. Despite this minimal indication, the Hebrew form of this name, יהוה/yhwh, occurs about 6,500 times in the Hebrew Bible! It is important for students of scripture to understand the cause of this great disparity.
Jehovah does not appear more often in the King James Version and other translations of the Bible because the translators were influenced by a Jewish custom, developed sometime after 500 BC, of not pronouncing the divine name yhwh out of respect for its sacred nature. This necessitated substituting a title in its place when reading the biblical text (the consonants yhwh were still written when biblical texts were copied). This development contributed to the eventual loss of the pronunciation of yhwh.[23] The substitute title most often used was, and still is, 'ădōnāy, "lord" (literally, "my lords," but conventionally translated "Lord" or "my Lord"; the independent form is 'ădōn, "lord"; 'ădōnîis "my lord").[24] Copies of the Hebrew Bible print the letters of the divine name, yhwh, but usually place the vocalization "points," or vowel indicators, for the word 'ădōnāy around these four letters to remind readers to substitute the title Lord for the divine name(יהוה).[25] This substitution is exhibited in English translations every time the divine name yhwh is printed as "the Lord." [26] Printing "Lord" in all capitals allows readers of the English translation to distinguish between the occurrences of yhwh in the Hebrew text, which would be read 'ădōnāy, and actual occurrences of the noun 'ădōn, "lord." The latter term sometimes refers to God and is printed "Lord" in translation and sometimes refers to human rulers and is printed "lord" (except at the beginning of sentences, when the "l" is always capitalized and context must indicate who the Lord is). This practice is evident in many passages, such as 1 Kings 1:36 ("And Benaiah . . . answered the king, and said, Amen: the Lord [yhwh] God of my lord ['ădōnî] the king say so too") and Exodus 4:13–14 ("And [Moses said to God], O my Lord ['ădōnāy​], . . . and the anger of the Lord [yhwh] was kindled against Moses").
The consonants in the name "Jehovah" are transliterated from the four Hebrew letters of the divine name yhwh (again, the Hebrew "y" is represented in English as "j").[27] And the vowels in "Jehovah" are derived from the vowels in the substitute title 'ădōnāy, with a slight variation in the first vowel.[28] Thus, the name Jehovah, which is very familiar to us, is a hybrid form that was written as early as he twelfth or thirteenth century, but is not well attested in English until the early sixteenth century.[29] It was never actually pronounced "Jehovah" in antiquity. Based on evidence such as the shortened forms of yhwh that appear in Israelite personal names[30] and in the Hebrew Bible (for example, Yah/JAH in Psalm 68:4, and the last portion of the expression halĕlû-yāh, discussed above), scholars postulate that the divine name was originally pronounced "Yahweh" or something similar.[31]
The name Yahweh/Jehovah seems related to the Hebrew verb "to be," and is usually translated "he is" or "he causes to be." Those who favor the meaning "he is" correlate it with the form of the name Jehovah Moses was taught at the burning bush: the eternal "I AM" (Exodus 3:14).[32] Understood this way, the name Yahweh/Jehovah does not mean "He is . . . (something, like love or mercy)," but rather "He exists," which conveys the duration of the Lord's power, superiority, and eternal dominion—Yahweh/Jehovah just is. This is the reason Church-related publications sometimes translate "Jehovah" as "Unchangeable One" or "Self-existent One."[33] But based on the preserved vocalization of short forms of the divine name, many scholars translate "Yahweh" as a causative, "he causes to be/exist."[34] This emphasizes Yahweh/Jehovah's ongoing power to create and uphold all things. The last phrase in Doctrine and Covenants 88:41 nicely captures the sense of the divine name when understood this way: "all things are by him."
The tradition of rendering Hebrew yhwh as "the Lord" has produced some unusual combinations, such as "the Lord God," a phrase that occurs about three hundred times in the KJV. One well-known example is "Surely the Lord God will do nothing, but he revealeth his secret unto his servants the prophets" (Amos 3:7). In such cases, the Hebrew reads 'ădōnāy yhwh, literally "(my) Lord, Yahweh/Jehovah." But since the translators were rendering yhwh as "the Lord" and not as Yahweh/Jehovah, and since they wanted to avoid the odd-looking "Lord Lord," the name yhwh in these passages was rendered as "God." Printing it in all capitals indicates that the underlying Hebrew word is the divine name yhwh. [35] This phrase, "Lord God," should not be confused with the well-attested phrase "the Lord God," which renders the Hebrew words yhwh 'ĕlōhîm, as found in Genesis 2:4 ("the Lord God made the earth and the heavens"), Psalms 106:48 ("Blessed be the Lord God of Israel [yhwh 'ĕlōhê yisŕā'ēl]"), and hundreds of other passages.
The name Jehovah is not limited to the Bible. It occurs twice in the Book of Mormon, six times in the Doctrine and Covenants, and twice in the book of Abraham.[36] It often occurs in Latter-day Saint prophetic statements, hymns, and other Church contexts, including the temple. Even though Jehovah is a nonancient, hybrid version of the name of God the Son, Latter-day Saints and the Lord continue to use it because it represents the form of His name in our Restoration religious heritage. Similarly, English speakers do not use the original pronunciations of John (Yohanan/yôānan), or Jesus (Yeshua/yēšûa'), or the names of any other ancient Saints whose names have come to us in transliteration, impacted to a lesser or greater degree by their transition to English.
As Keith H. Meservy has observed, "We can find Jesus Christ in the Old Testament by substituting Jehovah for Lord whenever it appears. Then something wonderful happens. Jehovah, who is Jesus Christ, appears from beginning to end of this great book as the God of the Old Testament."[37] Additionally, the meaning of Jehovah can remind us of the enduring nature of His love, His plans, and His creative and saving power. When ancient Saints "called on the name of the LORD [yhwh]," they employed yhwh, Yahweh/Jehovah, the one of whom it is rightly said there is no other name under heaven by which salvation comes (see Acts 4:12; Mosiah 3:17).
Biblical names, terms, and titles that have been transliterated into English all have meaning in their original Hebrew form. Our scripture study is much richer and more productive when we know how these words are used in scripture so we can reflect on their meanings. This discussion of terms that have been transliterated from biblical Hebrew to English has sought to demonstrate this premise. Thoughtful consideration of transliterated terms employed in our worship of Jehovah (Hallelujah, Sabbath), that express faithful involvement with and commitment to Him and His teachings (Amen), and that convey His power and superiority over all opposition (Sabaoth), including the Adversary (Satan), can be instructive and edifying to Latter-day Saints, whether we encounter these terms in scripture, hymns, or preaching. The importance of understanding the meaning and significance of Jehovah, a name of our Redeemer, cannot be overstated. Other Hebrew terms that appear in transliterated form in scripture and in our religious language that could have been discussed here include hosanna (hộša'-nā'), cherubim (kĕrubîm), seraphim (śĕrāpîm), Sheol (šĕ'ôl), and Messiah (mašîa[h]). But these must await your own study, a future article, or both.[38]
I express thanks to my colleagues Gaye Strathearn and Charles Swift, and to my wife, Jane Allis-Pike, for reading and commenting on drafts of this article.
[1] Joseph Smith, Teachings of the Prophet Joseph Smith, comp. Joseph Fielding Smith (Salt Lake City: Deseret Book, 1976), 290–91 (commenting on the "images of beasts" in Daniel 7 versus actual beasts mentioned in the book of Revelation). Consider also this comment from Joseph Smith in History of the Church of Jesus Christ of Latter-day Saints, ed. B. H. Roberts, 2nd ed. rev. (Salt Lake City: Deseret Book, 1957), 2:396: "Attended the school and read and translated with my class as usual. My soul delights in reading the word of the Lord in the original [Hebrew], and I am determined to pursue the study of the languages, until I shall become master of them, if I am permitted to live long enough."
[2] Note, for example, that the Hebrew letter ש (shin) is represented by š in transliteration and has the sound "sh." Occasionally, this "sh" sound is carried through the transliteration process into English, as in the name Shelemiah/šelemyāh, but oftentimes (for various reasons) it becomes "s", as in Sabbath (fromšabbāt) and Saul (from šā'ūl). Transliteration schemes, including the one used in this article, often require extra symbols to indicate sounds not natively available in the alphabet into which the original word is transliterated.
[3] The Oxford English Dictionary, s.v. "J," http://dictionary.oed.com/ (accessed April 19, 2006), provides an informative overview of the history of the pronunciation and shape of the letter J. Originally, j was an i with a tail on it. This can be see in a number of English publications, including the 1611 edition of the KJV in which, for example, the number eight is printed in lowercase Roman type as viij rather than viii. I thank Royal Skousen and Don Chapman, both in BYU's Department of Linguistics and English Language, for sharing their insights on this matter. See further discussion of this issue below, in connection with the name Jehovah.
[4] See, for example, Exodus 15:2; 17:16; Isaiah 38:11.
[5] The Hebrew title tĕhillǐm was translated into Greek as psalmoi, "songs of praise." This was transliterated into Latin as Psalmorum, which was eventually transliterated into English as Psalms.
[6] See Steven R. Swanson, "Hallel," in Anchor Bible Dictionary, 3:30, for a convenient overview and discussion.
[7] A number of hymns in the Latter-day Saint hymnal contain one or more forms of Hallelujah/Alleluia/"Praise the Lord." Classic examples include Hymns 72 and 200.
[8] That Latter-day Saints believe Jehovah is Jesus is well attested in both canonical scripture and latter-day prophetic statements. For example: "The God of Abraham, and of Isaac, and the God of Jacob, yieldeth himself . . . to be lifted up . . . to be crucified. . . . The God of nature suffers; . . . they crucify the God of Israel" (1 Nephi 19:10, 12–13); "the Lord, . . . even the voice of Jehovah, saying: I am the first and the last; I am he who liveth, I am he who was slain; I am your advocate with the Father" (D&C 110:2–4); "we commemorate the birth of Jesus Christ two millennia ago. . . . He was the Great Jehovah of the Old Testament, the Messiah of the New" ("The Living Christ: The Testimony of the Apostles," Ensign, April 2000, 2). See also LDS Guide to the Scriptures (www.lds.org), s.v., "Jehovah" and "Jehovah is Christ."
[9] M. Catherine Thomas, "Rest of the Lord," in Book of Mormon Reference Companion, ed. Dennis L. Largey and others (Salt Lake City: Deseret Book, 2003), 679. See also Robert L. Millet, "The Holy Order of God," in The Book of Mormon: Alma, the Testimony of the Word, ed. Monte S. Nyman and Charles D. Tate Jr. (Provo, UT: Religious Studies Center, Brigham Young University, 1992), 61–88, especially 71–75.
[10] LDS Bible Dictionary, "Sabbath," 765.
[11] Latter-day prophets have repeatedly emphasized the importance of appropriate Sabbath observance and worship. See, for example, the First Presidency letter on "Sabbath Day Observance," dated September 28, 1992, which was to be read in Church sacrament meetings.
[12] The s with a dot under it, [s], represents the Hebrew letter [s]ade, an emphatic s. It is sometimes transliterated as "ts," and has a sound similar to the two zs in pizza.
[13] Most modern translations, such as the NRSV, render "Sabaoth" in these verses as "hosts."
[14] Readers will notice that in this example the spelling is a little different. This is due to the particular grammatical construction of the word in relation to other words in the sentence. Other passages in which "host(s)" refers to a human army include Judges 4:2, 7; 8:6; 2 Kings 5:1; and Psalm 60:10.
[15] 2 Kings 6:16–17 recounts the appearance of the heavenly host/army, but this passage does not contain the word host.
[16] Some other examples of this concept include Exodus 14:14; Judges 5:4; 2 Samuel 5:23–24; Psalm 68:7; Habakkuk 3:9–12.
[17] See also Nehemiah 9:6; D&C 38:1. For comments on D&C 95:7 see Joseph Fielding McConkie and Craig J. Ostler, Revelations of the Restoration (Salt Lake City: Deseret Book, 2000), 691; and Stephen E. Robinson and H. Dean Garrett, A Commentary on the Doctrine and Covenants (Salt Lake City: Deseret Book, 2004), 3:209. I strongly disagree with the suggestion of Robinson and Garrett that "Sabaoth" in D&C 95:7 is not a transliteration of [s]ĕbā'ôt, but of šabbāt, Sabbath, and with their conclusion that "creator of the first day" indicates that Jehovah is Lord of the Jewish Sabbath on Saturday and the Christian Sabbath on the first day of the week.
[18] The other two common name-titles for Satan—devil and Lucifer—have their own interesting etymological histories. In brief, the word devil is an anglicized, transliterated form of the Greek term diabolos, which means "accuser, slanderer," thus having a similar range of meaning as "satan," and can be seen as a translation of śāṭān. Lucifer was transliterated into English from Latin (lux + ferre, "light-bringer"). It is a translation of the Hebrew in Isaiah 14:12: "How art thou fallen from heaven, O Lucifer [hêlēl ("bright/shiny one")], son of the morning [ben-šā[h]ar]!"
[19] The verb occurs only six times in the Hebrew Bible: Psalms 38:21 (38:20 in English versions); 71:13; 109:4, 20, 29; and Zechariah 3:1.
[20] Textually, this is a complicated situation because other nouns, such as 'ĕlōhîm (elohim; God), sometimes occur with the definite article hā'ĕlōhîm as in Job 1:6, similar to haśśāṭān. The definite article is not translated in these cases when it is understood that 'ĕlōhîm refers to God, not "the gods," as it sometimes does in the Hebrew Bible (see, for example, Exodus 12:12; Joshua 24:15; Judges 10:6).
[21] This raises a tricky issue. Given the paucity and late date of most attestations of the concept of a demonic Satan in the Hebrew Bible, one can more easily understand why some scholars, without the benefit of a Restoration view, accept a developmental or evolutionary approach to the human invention of Satan. Linguistically, it is clear that English Satan is a transliteration from Hebrew śāṭān. But it may not be clear to everyone what should be made of the fact that the "fallen one" is called "Satan" in premortal (see Moses 4:3–4) and early mortal (see Moses 5:13, 18) contexts. Presumably, this indicates that śāṭān was part of the vocabulary of the Israelites from at least Moses's day onwards. Since it is not certain what the link between the Adamic language and Hebrew is, occurrences of Satan in Moses 4 and 5 should not be taken as evidence that Satan was called "Satan" in the language(s) of heaven or Adam.
[22] There are no capital (uppercase) letters in Hebrew. The practice of rendering JEHOVAH in all capitals represents a decision on the part of the translators and printers to show respect for the divine name.
[23] It seems that the divine name yhwh was pronounced until after the Babylonian Exile and building of the Second Temple in Jerusalem 515 BC. According to the traditional explanation, in the following centuries the full form of the name was only pronounced by the Aaronic high priest alone in the Holy of Holies on Yom Kippur (the Day of Atonement), and eventually became lost to all. (As a point of interest, Yom Kippur is transliterated from Hebrew yôm kippūrîm and translates as "Day of Atonement.") The divine name yhwh is sometimes called the Tetragrammaton, a Greek term that means "four letters."
[24] This ('ădōnāy) is the most common form of 'ădōn used in relation to deity in the Hebrew Bible. The grammatical plural ("my lords") is generally thought to convey majesty.
[25] Actually, only the first and last of the three vowels are usually indicated in print. The Hebrew alphabet consists only of consonants. Vowel sounds are part of the language but not originally indicated in written texts since there were no vowel letters. Systems were developed in the second half of the first millennium AD to indicate vowel sounds by placing dots and other small marks in relation to the consonantal letters.
[26] The word the in the phrase "the Lord" is not in the Hebrew text, but is added to make sense in English, since the name is replaced by a title. Technically, the "L" in "Lord" is capitalized and the "ord" are printed as small capitals: Lord.
[27] Because the Hebrew letter waw (ו) is pronounced vav in modern times (and because the pronunciation of "w" and "v" alternates in other languages as well; for example, "w" in German is pronounced "v"), the four letters of the divine name are variously written as YHWH, YHVH, JHVH, and so on. Whatever the variations in English, the Hebrew letters are always the same: יהוה.
[28] The first vowel in English is different because the first vowel in 'ădōnāy is a shortened sound that would normally be represented by a short "eh." But because 'ădōnāy begins with the letter 'aleph, what would be a short "eh" is pronounced as a short "ah."
[29] The Hebrew yhwh went into Latin as IHVH, the form by which it transferred into English and other European languages. The letter J "is, in its origin, a comparatively late modification of the letter I. In the ancient Roman alphabet, I, besides its vowel value [in certain words] had the kindred consonantal value of modern English Y" (Oxford English Dictionary, s.v. "J" (accessed April 19, 2006). On the historical relationship between the letters u and v, see the discussion in Oxford English Dictionary, s.v. "U" and "V."
The Oxford English Dictionary indicates that "Jehovah," spelled "Iehouah," appeared in William Tyndale's translation of the five books of Moses, the Pentateuch, in 1530. This form, sometimes with minor variations, is how it was commonly spelled in other attestations at that time. In the first edition of the KJV (1611) the block Roman print of the divine name in Exodus 6:3 is "IEHOVAH," while the blackletter script of the rest of the biblical text utilizes a capital J, (an I with a tail), illustrating the ongoing process that eventually culminated in the distinction between these two letters.
It is often claimed that the English word Iehouah/Jehovah was first used in the early 1500s, however, it has been observed that "the writers of the sixteenth century, Catholic and Protestant (e.g. Cajetan and Théodore de Bèze), are perfectly familiar with the word [Iehouah]. Galatinus himself (Areana cathol. veritatis, I, Bari, 1516, a, p. 77) represents the form as known and received in his time [early 1500s]. Besides, Drusius (loc. cit., 351) discovered it in Porchetus, a theologian of the fourteenth century. Finally, the word is found even in the Pugio fidei of Raymund Martin, a work written about 1270 (ed. Paris, 1651, pt. III, dist. ii, cap. iii, p. 448, and Note, p. 745). Probably the introduction of the name Jehovah antedates even R. Martin" (Catholic Encyclopedia, s.v., "Jehovah (Yahweh)," www.newadvent.org/cathen/08329a.htm [accessed April 19, 2006]; I thank Stan Thayne for this reference). Similarly, Henry O. Thompson "Yahweh," in Anchor Bible Dictionary, 6:1011–12, claims, without providing support, that "this confused usage [the hybrid Iehouah/Jehovah] may, however, have begun as early as 1100 a.d." For other remarks on this issue, see, Kent P. Jackson, The Restored Gospel and the Book of Genesis (Salt Lake City: Deseret Book, 2001), 6, 15–16.
[30] A very brief description of this is contained in the LDS Bible Dictionary, "Names of persons," 737. See also Dana M. Pike, "Names, Theophoric," in Anchor Bible Dictionary, 4:1018–19.
[31] This is briefly mentioned in the LDS Bible Dictionary, "Jehovah," 710–11. See also Henry O. Thompson, "Yahweh," in Anchor Bible Dictionary, 6:1011–12.
[32] Hebrew yhwh is related to yihyeh, the Qal third masculine singular imperfect form of the verb "to be." Exodus 3:14 contains the Qal first singular imperfect form of this verb, 'ehyeh. The imperfect aspect, or tense, in Hebrew conveys present, ongoing, and future action. So, "I AM," is a translation, not a transliteration of the Hebrew.
[33] See, respectively, LDS Bible Dictionary, "Jehovah," 710. See also James E. Talmage, Jesus the Christ (Salt Lake City: Deseret Book, 1981), 36. Talmage's rendition "Self-existent One" is probably the basis for all later uses of this in other Church-related publications.
[34] See for example, Jackson, The Restored Gospel and the Book of Genesis, 7; and Thompson, "Yahweh," in Anchor Bible Dictionary, 6:1011–12.
[35] Rendering 'ădōnāy yhwh as "the Lord God" is based on the practice of the Hebrew Bible, which in these cases places the vocalization of the word 'ĕlōhîm, "God," in conjunction with yhwh, rather than the vowels of 'ădōnāy, to remind readers to say this substitute for the divine name. Combinations that are more rare than "Lord God" in the KJV include: "Lord God" (in Isaiah 3:15 and Zechariah 9:14; the rendering of Hebrew 'ădōnāy yhwh, which is "Lord God" elsewhere in the KJV); "Lord JEHOVAH" (the KJV rendition of Hebrew yh yhwh, the short and full form of the divine name, in Isaiah 2:12; 26:4); and "O God the Lord" (Psalms 109:21; 141:8; the Hebrew here is yhwh 'ădōnāy, literally "Yahweh, Lord," or "Lord, Lord").
[36] See 2 Nephi 22:2 (where it is rendered in all capitals as in the KJV of Isaiah 12:2); Moroni 10:34; D&C 109:34, 42, 56, 68; 110:3; 128:9; Abraham 1:16; 2:8. It is presently impossible to know how many times yhwh/Yahweh may have been written in Nephite scripture prior to its translation into English.
[37] Keith H. Meservy, "Lord= Jehovah," Ensign, June 2002, 29.
[38] These terms can be further researched by consulting the LDS Bible Dictionary and other more in-depth resources such as The HarperCollins Bible Dictionary (1996), Eerdmans Dictionary of the Bible (2000), and Anchor Bible Dictionary (1992), as well as a good concordance. Some are also discussed in Book of Mormon Reference Companion.
Sours: https://rsc.byu.edu/vol-7-no-3-2006/biblical-hebrew-words-you-already-know-why-they-are-important
447
448
449
450
451