Charm Packs are an easy way to make a simple baby quilt with a large variety of different but coordinated fabrics.
To make a 42″ x 42″ charm pack baby quilt you will need 64 5″ squares – usually 2 Charm Packs is perfect. (Moda Charm Packs have 42 squares in them, other companies vary. Check the back of the packaging for the exact number.)
Lay out the 64 squares in 8 rows of 8 squares each. There's no right or wrong here, just play with the squares until it looks good.
Then stack the squares in each row, starting left to right, on top of each other.
Take the top square (square 1) and lay it face up. Pick-up the square 2 and lay it face down on top of square one. Pin the right side together.
Bring the paired-up squares to the machine. Sew the squares together with a 1/4″ seam allowance. This usually means lining up the edge of the fabric with your presser-foot.
**A consistent seam-allowance is the KEY to good-looking piecing – just always keep the edge of your fabric lined-up with your presser foot. **
Now open up that pair and pin square 3 facing square 2. Sew a 1/4″ seam. Repeat for the next 5 squares and for rows 2-8.
Pressing may seam tedious, but it really makes a difference in how your quilt turns out. Press your seams to one side (not open). Then turn over and press from the top to make sure the seams are nice and flat.
Alternate directions the seams are pressed for odd and even rows. This illustration shows rows 1 and 2 with seams pressed alternating directions. Continue to do that in the rows that follow.
Place the two rows facing each other, matching up seams. The pressed seams should butt up against each other.
Pinning at the seams will help the square points to match up.
Repeat this process to sew all the rows together and then press the pieced part of the quilt. There you go – not too bad so far, right?
Now for the borders you will need four strips of fabric measuring 3 1/2″ x 42″ (or the width of the fabric.) This means you will need 14″ of yardage – or just over 3/8 of a yard (by 1/2″). If your fabric store is nice, they will measure that 3/8 yard generously and give you that extra 1/2″.
It's a good idea to measure the length of the quilt sides before you sew, rather than just sewing a strip on and cutting-off the excess after. Your quilt will be more square, which will make it easier to quilt and to lie flat.
This is the easiest and fastest way I've found for measuring your border lengths. Before you measure your borders, carefully trim off the selvage edges. Then lay 2 of the border strips across the middle of your quilt, lining-up one end of the strips with the edge of the quilt. The other strip edges will hang over the side. (Below)
Place a pin in the border strips where the quilt ends.

And then carefully trim with your ruler and rotary cutter where that pin marks.
Then fold the border strip in half end to end to find the center. Pin the center of your strip to the center of your pieced quilt top and pin the ends of the strip to the ends of the quilt. Then space pins along the strip to secure the strip. (It is not bad if your strip is slightly smaller than the pieced part of the quilt, but this is why pinning at this point is important.)
Pin opposite side of quilt, sew borders on, and press them open looking at the front of the quilt.
Now you will repeat this process for the last two sides of the quilt. Lay the last border strips across the center of the quilt.
Mark length with a pin to trim off excess.
When strips are trimmed to the right length repeat process above. Find center of the strip and pin to center of the side of the quilt. Pin ends and then space pins throughout before sewing strips to opposite sides.
Press open again from the front and voila!
Your top is finished and ready to quilt however you like. You will need 1 1/4 yards for the back. There is great tutorial here for quilting with your own machine. Or you might like to hand quilt it or tie it. Or you could take your charm pack baby quilt to someone who will professionally machine quilt it for you. 🙂
There is a follow-up tutorial for Binding or finishing a quilt here. You will need 3/8 of a yard (or 10″ of fabric) for binding.
Related
baby quilt
Sours: https://www.diaryofaquilter.com/charm-pack-baby-quilt-tutorial/
How to Make a Baby Quilt from Receiving Blankets
A few months ago I shared the how-to on this easy baby quilt made from receiving blankets, in a guest post at View from the Fridge.  Katie had just welcomed baby boy #3, and I thought this was the perfect post to share while she was enjoying some time off to spend  with her precious new man. Today, I'm going to share it with you!
This blanket takes very basic sewing skills, so don't run just yet!
My four-year old has one and he drags it all over the house. It is the perfect size at 36″ X 44″, for him to snuggle up with.
To make this quilt, I started with a pack of coordinating flannel receiving blankets:
These are perfect because the flannel will wash up super soft and cozy, and the fabrics are already coordinated perfectly.
I did need to purchase a few more things:
The chenille adds a bit of fun texture, but I'll warn you that it does get everywhere when cutting it. I thought it was worth the trouble, but it's not necessary. (I used it in place of one of the blankets.)
Let's get started…
Create a Pattern
I created a pattern to use as a guide. You can use this one; just substitute your own abbreviations, or create your own.

Cut Squares
The best tools for cutting even squares, are a rotary cutter, straight edge, and cutting mat. You can purchase them in a kit at your fabric or craft store. I use my set ALL the time!
I cut my squares 4 1/2 X 4 1/2. As you can see also, I folded my fabric prior to cutting as the rotary cutter will cut through a few layers very easily, allowing you to cut several pieces at once.
Sew Squares Together
Keep your pattern handy as you'll be referring to it often. Start with your first square (top, left hand corner), and attach it side-by-side to the next square. I started with "BW", big whale and attached it to "Ch" for chenille.
You could then add the next square, which for me would be "Cir" for Circles and so on until you have the top row complete. Then move onto the next row and so on.
I started with the same two squares, but instead of adding the third square, I moved to the next row down and sewed those first two pieces together. I continued until I had all of the first two squares of each horizontal row sewn together.
Then I added the third square to each row (following my pattern) and worked my way down.
The reason for assembling the squares this way is so that I can "butt" each piece behind the next, through the machine which saves time and thread.
Either method yields the same results…a set of 11 rows, 9 squares each:
When you have all of your horizontal rows complete, iron each row.
Then referring to your pattern, sew each row together. You'll end up with something that looks like the picture below. Be sure to iron all of your seams in the same direction.
Assemble Quilt Layers
Next lay out your quilt batting and place the quilt top face up on top. Pin in place.
Sew around the outer edge. Trim any excess batting.
Place flannel fabric for backing face down on top and pin in place:
Sew around the outer edge again, this time leaving several inches open to flip quilt right-side-out. Trim any excess fabric.
Clip the corners to get a nice sharp corner before turning:
Turn right-side-out and pin opening closed. Sew a seam 1/4″ around the outside edge. This should close up your opening too.
This is a cheater's way of getting out of making a binding for the edges!
To keep things together, I added knots in several places using embroidery thread. I knotted it on the front…
…and on the other side:
Stand back and admire, you did it!
I made this for my neighbor to match her nursery and she loved it! I'm hoping it will become her baby's favorite "blankie" too. (Update: She loved it.)
Ours has had a gazillion washes (and looks like it too), but it is so soft and snuggly!
Don't worry if your squares don't align perfectly. Those little imperfections are what make it special.
Hand-made gifts are a gift from the heart.
Here is a similar blanket I just made for my niece, Eva, who is due to arrive in October:
Her mama is not a fan of the color pink so this was a pretty alternative for a girl.  Only two of the patterns in this particular blanket are receiving blankets though. I purchased the flannel butterfly  fabric and the dots and hearts fabric from JoAnn Fabrics to give it a more feminine feel. I used the pretty aqua butterfly fabric for the back:
I did a few things differently on this one.
I kept this one more simple and just used all flannel instead of adding the chenille for texture. It was  a bit easier to put together.
Another thing I did differently for this one was I changed up the pattern and I think I prefer this one:
 Ci=Circles  Qu=Quatrefoil  Po=Polka dot  Bu=Butterfly
And lastly, I added a stitch about 1/8th of an inch from the seam along one side of each row, lengthwise and widthwise, on the top layer only. (Before stitching, be sure the seams are all ironed to face the same direction and that this additional stitching runs over top of the folded-over seam. I hope that makes sense?!)
It makes the squares sit more neatly.
I still love the idea of using a pack of receiving blankets to make a quilt. There is the perfect amount of fabric, and everything is perfectly coordinated, which means you don't have to spend an hour in the baby flannel aisle trying to make up your mind. 🙂
You can see what else I made for my niece's nursery here.
I'm hoping she enjoys this cozy blanket as much as I enjoyed making it for her. 🙂
XO,
Don't Miss a Thing!
If you like what you see, there are several ways to follow along!
Email * Facebook * Pinterest * Twitter *Instagram
Filed Under: TutorialsTagged With: baby, blanket, flannel, quilt
Sours: https://www.confessionsofaserialdiyer.com/how-to-make-a-baby-quilt-from-receiving-blankets/
"Woven" Baby Blocks Quilt: 28.5" x 28.5"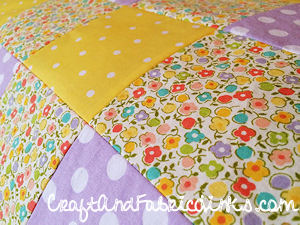 This quilt uses three different fabrics to create a look that resembles a weave. The baby quilt measures 28.5" x 28.5", and is made up of 4" blocks. The lap quilt is made the same as the baby size, but measures 42.5" x 42.5" because it is made up of 6" blocks. The crib quilt measures 28.5" x 52.5". Like the crib quilt, it is made from 4" blocks, but it contains six additional rows. The baby quilt is shown on right (7 rows of 7 blocks).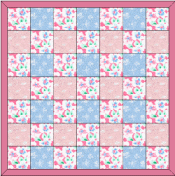 All sizes are constructed in the same way. Blocks are stitched together to create a row, then rows of blocks are stitched together. The difference of size and/or shape is due to the number of rows (baby vs. crib), or the size of the block (the lap quilt uses 6" blocks, rather than 4" blocks). Customize your quilt by adding rows or changing the size of the blocks.
Lap & Crib Size
Basic instructions for constructing the quilt are included on this page, as well as cutting and size information for the baby quilt. Refer to crib size or lap size for specific instructions for the other two sizes.
Sours: https://www.craftandfabriclinks.com/babyblanket/babyquilt.html
Quilts for Kids - A Baby Quilt From the Heart
.
Baby quilt tutorials youtube
.
Easy Baby Quilt Tutorial Intro
.
You will also be interested:
.
446
447
448
449
450