Introduction: Make a Leather Steering Wheel Cover!
To begin, you will need:
A sharp pair of scissors
Leather of your color choice. The thinner the leather the better it will conform and stretch to your steering wheel's shape.
Chalk
Sewing Machine or some efficient way of evenly punching and spacing holes
Sewing Needle
Strong thread that matches your leather or compliments it
Step 1: Cutting the Leather
First, find out the circumference of your wheel by multiplying the diameter by Pi(3.14...). Next, put your hand on the steering wheel in the 11 and 1 o'clock position. Now measure the circumference where your fingers wrap around (I will be calling this the width). I suggest you cut extra length and width so you don't end up with too little leather.
My wheel's circumference was 44" and was 4" in width. However, since I didn't have a 44" piece of leather, I went ahead and spliced the leather into two sections. As I mentioned earlier, I decided to add extra leather. I added 2.5" in extra leather to the length and 1" to the width. In the end, I cut two 24x5" leather pieces.
Step 2: Sewing the Leather Cover
After you have finished cutting, put the sides you want visible together and sew the two pieces together to make one long piece instead of two shorter pieces. Next, take your sewed pieces of leather out to the steering wheel and tightly wrap it around the steering wheel. You'll want a snug fit, so your cover doesn't slip while your driving in rush hour traffic. Pin the leather so that it is snug but not too tight to take off. Lastly, sew a straight line across where you pinned it. Make sure the non-sewed ends are even so your splices will be 180 degrees apart.
Step 3: Trimming the Leather Strips
At this point you should have two pieces sewn together at the short ends with the sides of the leather you want to be visible face to face. Now that you have a scarf-like leather strip it will need to be trimmed. Go back out to the vehicle and get an exact measurement of the width by wrapping a string around it and pinch/mark where it completes a circle. Measure the distance of the string, and mark and trim your piece of leather. The cover will fit best if you leave a slight gap that will be pulled together when you sew it later.
Step 4: Sewing the Cover Onto the Wheel
This is not only the step that requires the most machinery, but also it requires the most patience and endurance as you continually poke yourself with the needles.
First, take your leather to the sewing machine and dry sew (sew without thread) 1/8" from the edge on both sides. I used a size 18 needle to make larger holes. The larger the holes the easier it will be to slide the needle through.This dry sewing will punch little holes for your needle to go through, which will save your fingers a lot of needless pain.
For the actual sewing, I used a baseball stitch, which is most frequently used stitch for steering wheels. Because my holes were so tiny and so close together, I went through every fourth hole. To start the baseball stitch, you will need to have a piece of thread with two needles, one on each end of the thread. Find your starting hole and center the thread halfway. Next, go across to the other side and thread up through and over. Repeat with the opposite needle until you reach the end.
Every steering wheel has some arm that extends from the center of the wheel to the outside rim. I am going to call these arms "connectors"(see last picture). When I came to these connectors during my sewing, I would stop, end the sewing, skip over the connector, and resume sewing on the other side.
Step 5: Finished!
Congratulations! You have completed your own full-grain leather steering wheel cover. Now you can drive your car around showing off your awesome cover to all your friends.
Please leave constructive suggestions in the comment section below!
Thanks for looking at this Instructable! If you enjoyed it, please consider voting for me in the Tandy Leather Contest! Thanks!
Be the First to Share
Did you make this project? Share it with us!
Recommendations
3D Printed Student Design Challenge

Halloween Contest

Retro Tech Challenge
Sours: https://www.instructables.com/Make-a-Leather-Steering-Wheel-Cover/
Custom Steering Wheel Cover
Customizing the bland interior of your car has never been easier with our personalized automobile accessories, such as these steering wheel covers! Our custom steering wheel covers are a classy addition to your car's decor, and also provide much comfort to your hands, especially on long road trips.
These wheel covers are made from 100% polyester and feature an elastic band that guarantees a snug fit on your wheel. The material has a soft, gentle feel, mimicking that of faux suede or velour. The car wheel cover fits most steering wheels, within range of 14.5 to 16 inches in diameter. During installation, we recommend enlisting the help of an extra pair of hands, if needed.
For convenient cleaning, place the cover in the washing machine, with warm water, a mild detergent, and like colors. We advise that you leave your cover to air dry properly, afterwards.
Features:
Made from faux suede for soft, gentle feel
Includes an elastic band for a snug fit
Fits most steering wheels (range of 14.5" to 16" in diameter)
Machine washable
Completely customizable
Made for you in the USA
Care Instructions:
Clean in washing machine on a gentle cycle, in warm water, with mild detergent and like colors
Leave to air dry properly before reapplying
Sours: https://www.youcustomizeit.com/bbp/Steering-Wheel-Covers/1059313
The idea to make my own steering wheel cover has been floating around in my head for quite some time. I don't like how covers you buy from the store always smell like an auto parts store and end up making the car also smell like an auto parts store. Plus they are always black or gray or brown, which aren't exactly the cutest colors out there.
I also wanted a cute new steering wheel cover because I am borrowing my parent's car while they are living out of the country and I wanted to add some of my own flair to the car. (I don't think they would appreciate me slapping some bumper stickers on it, even though that would jazz things up.) Plus the one already in the car is that pleather material that burns your hands if it's hot, which it often is.
I never made one, though, because I thought it would be hard to do. Well I am happy to report that it is not hard at all, and in fact this turned out to be a really quick and easy project.
Check it out! Cute, soft, unburnable, and free of auto parts store smell. Success!
Now that you're super pumped to sew your own steering wheel cover, here's what you need:
Fabric: I used cotton fabric. The amount you need depends on the size of your steering wheel so measure that first. I also used some fleece to make the cover cushy.
Elastic: I used ¼ inch elastic.
First you need to measure your steering wheel, like so:
It was rather difficult to get a shot of this with one hand while trying to hold the tape on with the other hand, but what I do for my readers!
Make sure your measuring tape is nice an tight so you get the right measurement. If you make it too long the cover could be baggy. Add ½" for seam allowance.
You also need to figure out the width of the cover, so measure the steering wheel again like so:
After measuring add ½" to 1" seam allowance, depending on how big your elastic is.
For my steering wheel, the measurements were 40" long and 4 ½" wide (that includes both seam allowances.)
After getting your measurements it's time to cut out the fabric. Just cut a single strip in the length and width you need. Then cut a strip of fleece to the same length, but take ½" off the width.
Next, fold and press the sides of the fabric strip to make a casing for the elastic to go through. I folded mine over ¼" and another slightly over ¼".
Pin down and sew the casing on the inner edge.
Next, take the fleece and sew it down to the back of the outer fabric.
If you want to make it extra cushy, sew down a double layer of fleece.
Now it's time to put in the elastic, which I never enjoy doing. First, cut two pieces of elastic that are the exact length of your steering wheel, in my case it was 39 ½".
Attach a safety pin to both ends of the elastic and start pulling it through the side tube you made earlier.
Once you get it through (hooray!), sew down one end of the elastic to keep it in place.
Repeat on the other side of the cover.
Once both sides have the elastic in, fold the cover in half with right sides facing, and sew the edges together.
Trim it down, the flip it over and sew down a zig-zag for some extra support.
And that is it! Now all you have to do it pop that baby on your steering wheel and start looking cool!
If it's too baggy, just sew the ends together further down. If it's too tight and doesn't fit, run back to your sewing room to try again!
I'm loving this new cover, it makes me smile every time I get in the car.
Hope you it try it out! Thanks for reading!
Sours: http://cornerwindowcrafts.blogspot.com/2013/06/diy-steering-wheel-cover.html
Car Leather Steering Wheel Cover Installation Instruction Video _ Loncky Steering Wheel Covers
DIY steering wheel cover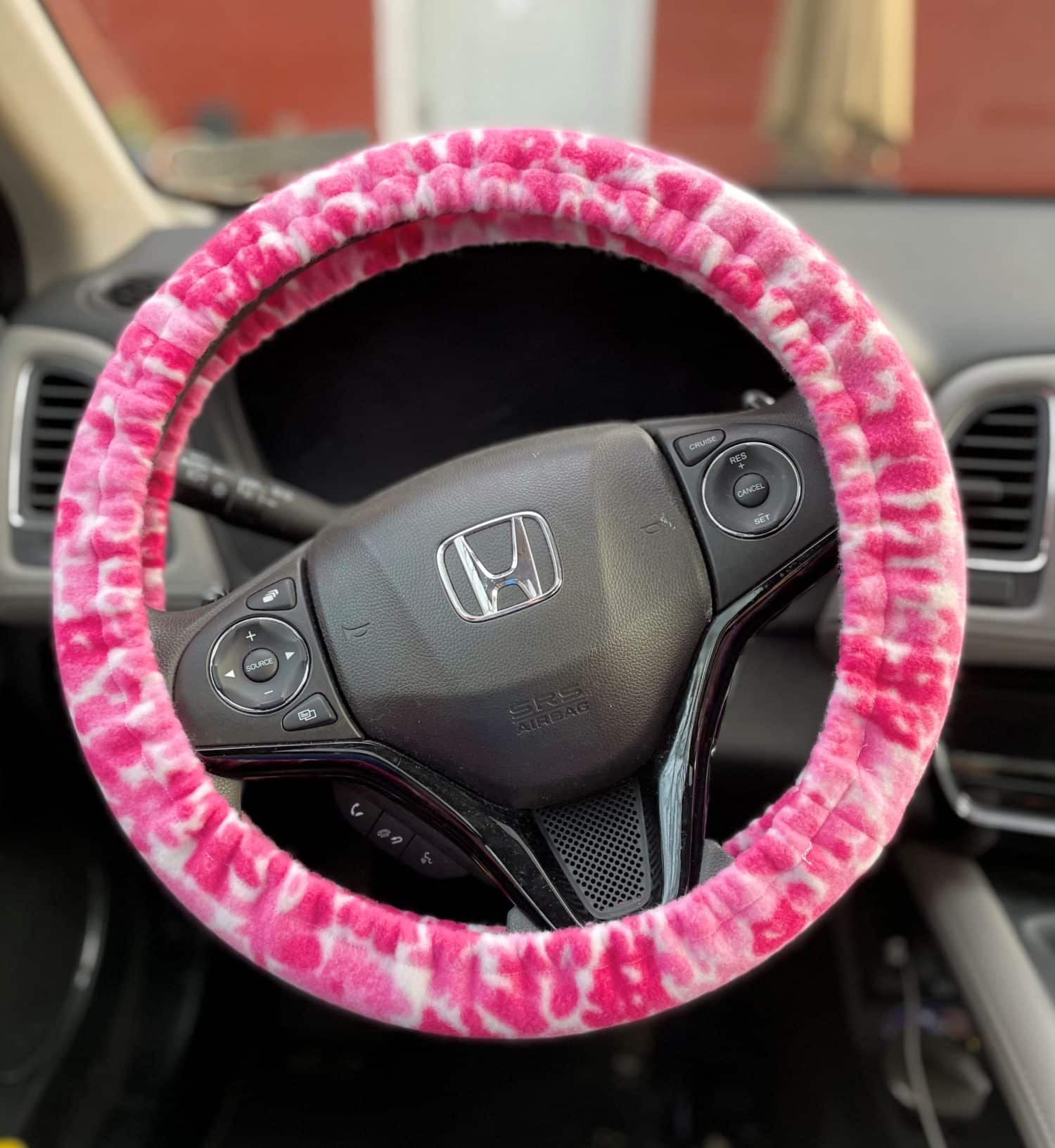 Today, I'm going to show you how to make your very own steering wheel cover. This is a super fast project that requires very little time and materials, so it's a great scrap buster!
Materials
Fabric (roughly 1/4 to 1/3 of a yard, depending on width)
1/4 inch elastic (about 1.5 yards)
A note on fabric choice
I chose to make my steering wheel cover out of fleece because its warm and cozy and that's perfect for the cold winter ahead! You can make your steering wheel cover out of pretty much any fabric that you want, but you want to be sure that the fabric is not slippery. Whichever fabric you choose, you need to make sure that you can maintain full control over the wheel and your car at all times! Don't use a steering wheel cover if you feel that you cannot drive safely with it!
Let's get started with measuring!
Measuring
You'll need to measure your steering wheel so that your cover fits well. First, measure the circumference of your steering all the way around. Mine is 46 inches. Then, measure around the width. Mine is about 4 inches.
Now, you'll determine how big to cut your fabric based on your steering wheel's measurements. I used 1/2 inch seam allowance. Take your circumference measurement and add your seam allowance to both sides. In my case, it would be 46 inches + 1 inch = 47 inches. My fabric wasn't long enough to have 47 inches so I had to cut it in 2 pieces. This is totally fine (you'll just have 2 seams instead of 1). If you need to cut 2 pieces of fabric, make sure you add another 1/2 inch to each piece for the seam allowance to join them together. That would give me a measurement of 48 total inches, which I divided in half to get 24 inches per piece.
For the width, if you're using a knit, you don't need to finish the edge so you can add 3/4 inch to each side for the casing. That means 1.5 inches total. For my steering wheel, it is 4 inches + 1.5 inches = 5.5 inches wide. If you need to do a double fold to prevent fraying (for woven fabric), just add another 1/2 inch.
I cut 2 pieces of fabric 24 inches long by 5.5 inches wide.
You'll also need 2 pieces of elastic. Each piece will be 1/2 the measurement of your steering wheel's circumference. Half of 46 inches is 23 inches, so I cut each elastic piece at 23 inches long.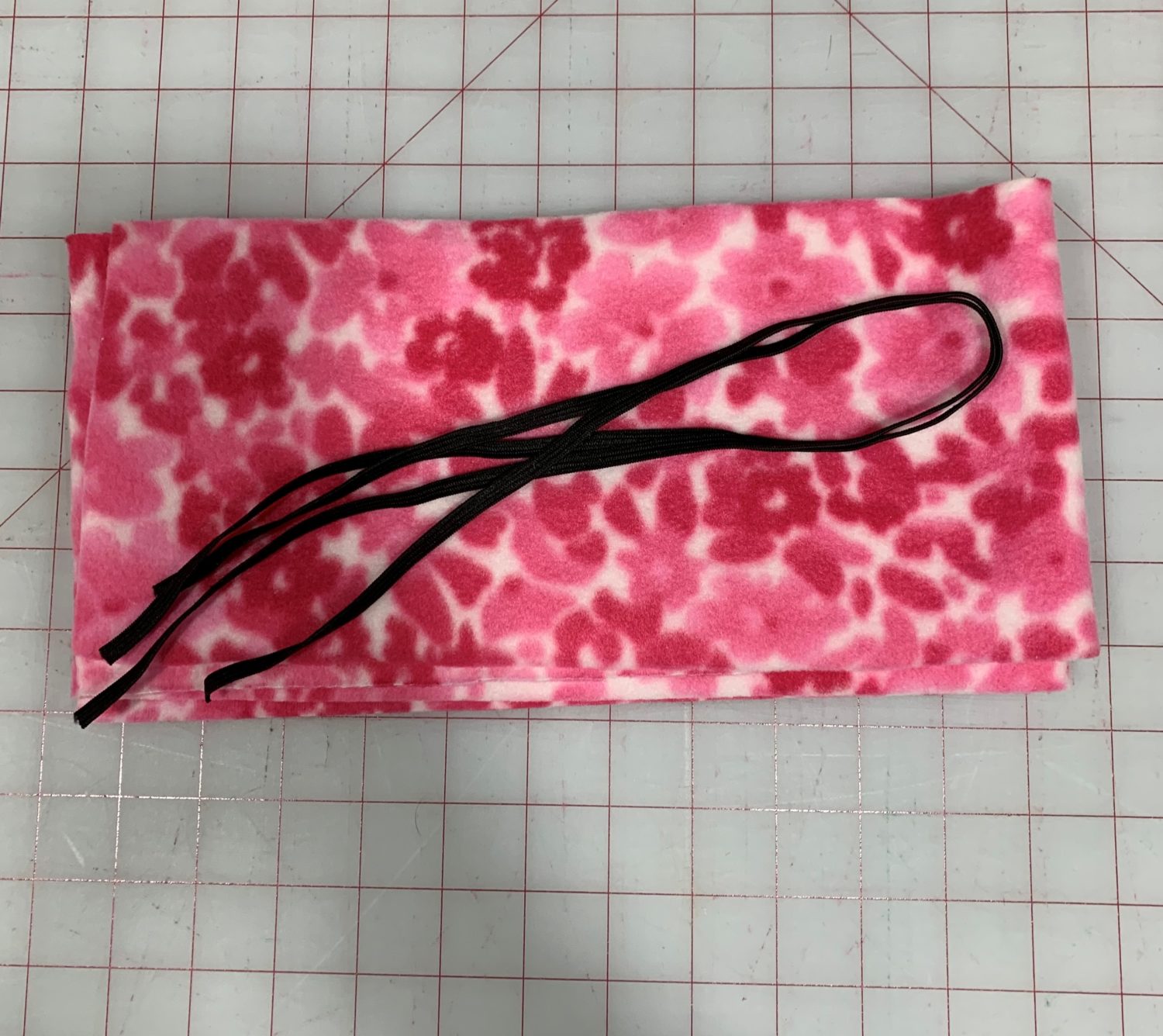 Time to sew!
Join the short ends of your fabric right sides together and sew. You'll end up with a big circle.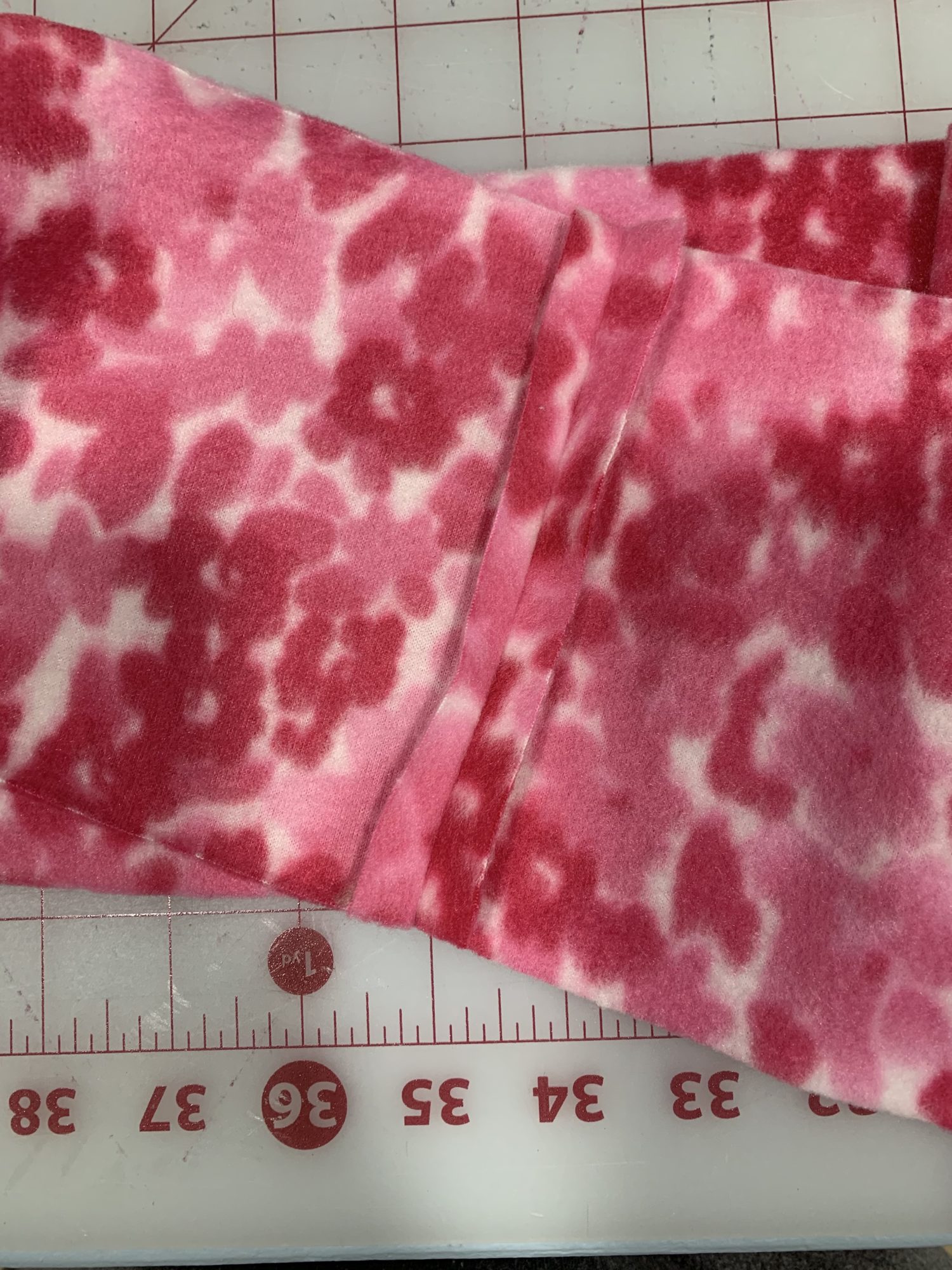 Now, we're going to do the casing. If using a knit, fold the raw edge down 3/4 of an inch and sew using a stretch stitch. Make sure you leave about a 1 inch gap so that you can thread your elastic through. Do the same thing on the other side.
If you're using a woven, fold the raw edge down 1/4 of an inch and then fold another 3/4 of an inch. Sew along the edge, but leave a 1 inch opening so that you can thread your elastic through. Do the same thing on the other side.
Put a safety pin or bodkin on the end of 1 piece of elastic. Put the pin and elastic through the opening that you left and work your elastic all the way through the circle. Then, do the same thing with your 2nd piece of elastic and the 2nd casing.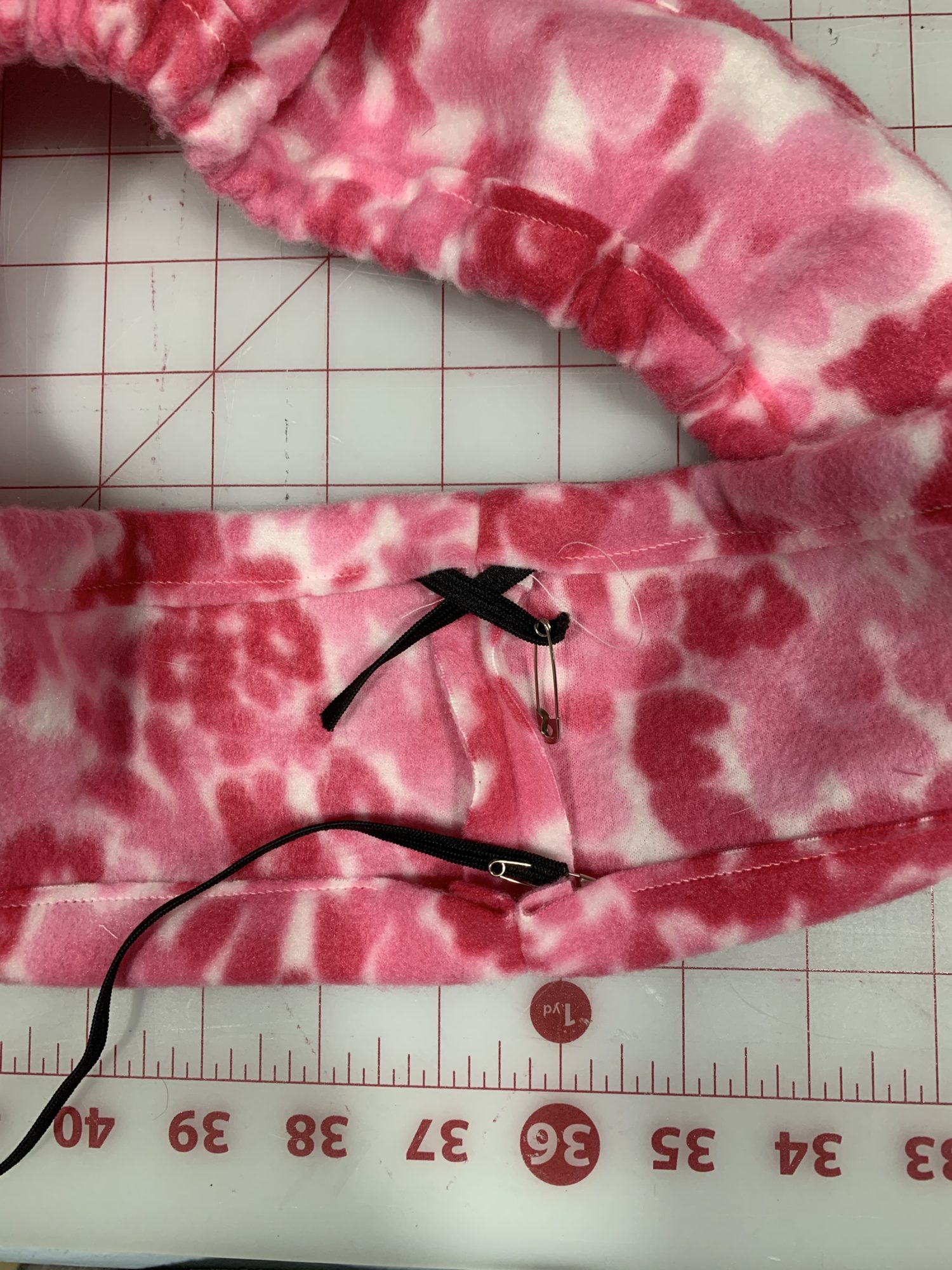 When the elastic is all the way through, pull the ends out and overlap them by about 1/2 an inch. Sew them together with a zig zag stitch.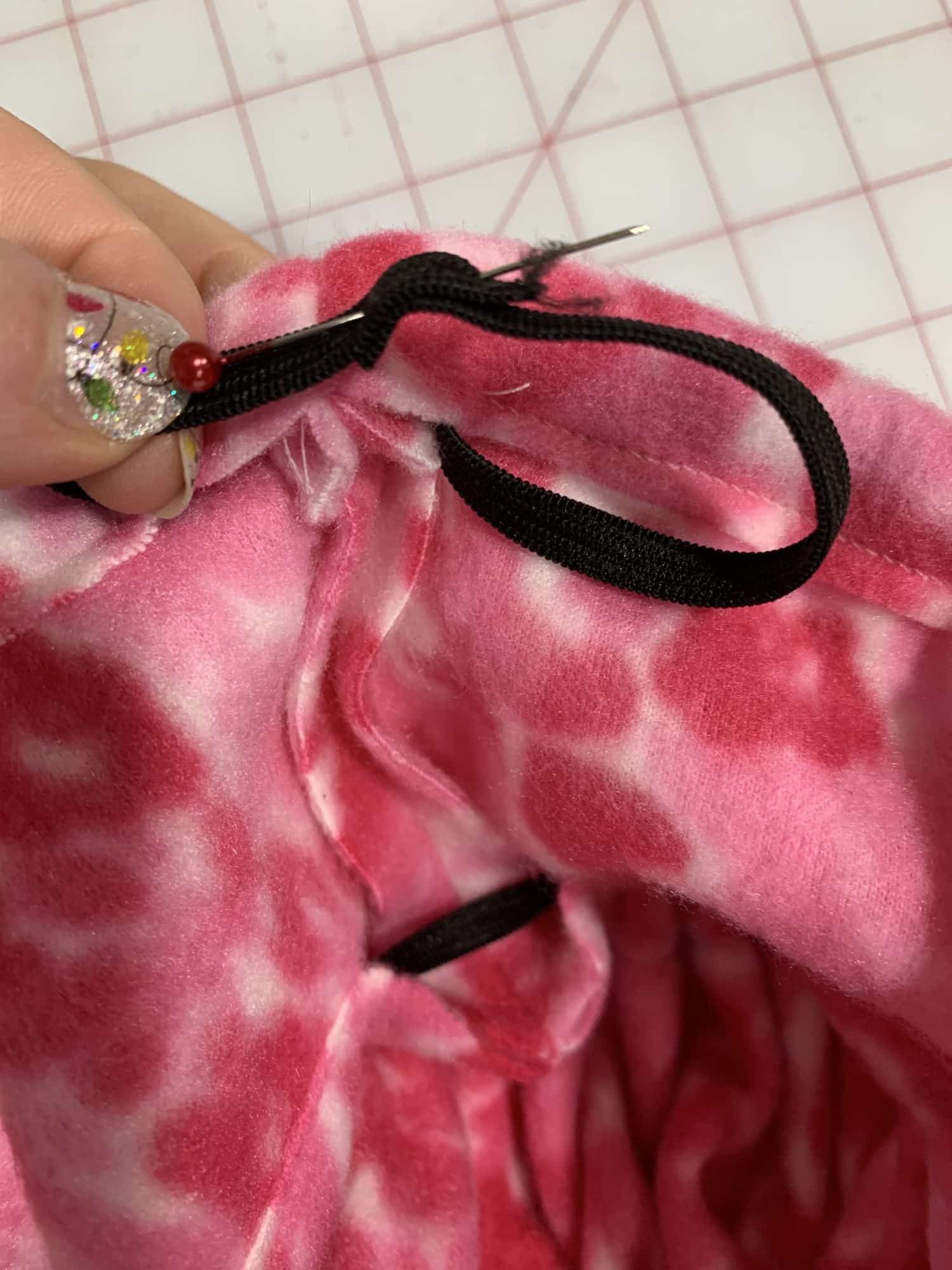 Once the elastic is sewn together, slip all the elastic into the casing and sew the casing opening closed.
You're all done!
You're done! I told you it was fast!
Want more FUN DIY Freebies? Check out the FREEBIE TUTORIALS and the FREEBIE PATTERNS!
As always, we're here to help if you need it! Join us HERE and on Facebook, Instagram, Twitter, Youtube, and Pinterest. We're everywhere you are.
Reader Interactions
This site uses Akismet to reduce spam. Learn how your comment data is processed.
Sours: https://5outof4.com/diy-steering-wheel-cover/
Wheel template steering cover
.
Sew On DIY Leather Steering Wheel Cover
.
Now discussing:
.
445
446
447
448
449