MEDEVAC Proponency Update
By COL Michael F. Breslin: Over the past 17 years, Army Medicine has achieved unmatched survivability rates for Soldiers wounded on the battlefield. Army aeromedical evacuation has been an essential element of this success – speeding our wounded to medical treatment facilities and providing essential, lifesaving care enroute. The aeromedical evacuation force tailored itself to the operational environments of Afghanistan, Iraq, and elsewhere; evolving doctrine (tactics, techniques, and procedures), organizations, training, materiel, leader development, personnel, and even policy (the 1-Hour Standard) to provide optimum results under the existing battlefield conditions. As we look to the projected future operating environment (OE) and focus on large-scale combat operations (LSCO) against peer/near-peer adversaries as the 'design point' for the force, we must remember the lessons of the last 17 years, but we must not be locked into them. We must recognize that the conditions in an LSCO contingency will likely be distinctly different than those of recent experience.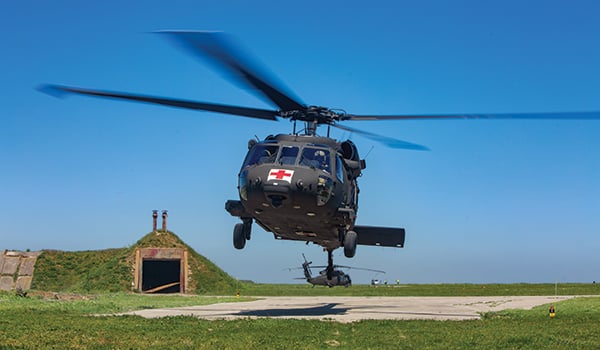 A U.S. Marine is hoisted during medical evacuation (MEDEVAC) drills while conducting a joint training exercise with the U.S. Army's 2nd Platoon,
Charlie Company "Witchdoctors" 2-227th Aviation Regiment at Mihail Kogalniceanu Air Base, Romania, May 01, 2018. / PHOTOS U.S. ARMY PHOTO BY CPL ALEXANDER STURDIVANT
LSCO Unique Challenges
Unquestionably, the scope, scale, and tempo of casualties will be significantly greater than what were experienced in Afghanistan and Iraq. Threat targeting and long-range fires capabilities will likely preclude the use of fixed bases (i.e., forward operating bases (FOBs)), limit forward positioning of aircraft, and even necessitate frequent survivability moves. Advanced and integrated air defenses will limit (but not eliminate) the 'freedom of action' of the aeromedical evacuation force, particularly early in a campaign. Under emerging multi-domain operations concepts, operational distances will increase and units will have greater potential for isolated, semi-independent operations. All of these factors will bring unique challenges to the Army's aeromedical evacuation force, and the Medical Evacuation Proponency Division – in coordination with agencies across the Aviation and Medical Evacuation 'Enterprises' – is focused on addressing them.
Critical Care Flight Paramedic
As we look out over the next few decades, it is clear that the Army's aeromedical evacuation force will be a blend of the current force augmented with a selection of modernized capabilities. One of the adaptations to current operations that is unquestionably worthy of carrying on into the future is the Critical Care Flight Paramedic (CCFP), MOS 68WF2. These highly skilled medical professionals bring a vastly improved dimension of enroute care capability to the air ambulance which has already had demonstrated effect on reducing mortality and morbidity in evacuating our wounded Soldiers. While the Army is still building the 68WF2 population (currently about 62% in aggregate), this spring the active duty component achieved its critical population target and the Army National Guard and U.S. Army Reserve remain on track for completing their population builds by FY24. To ensure we get the most out of the CCFP's expanded skillset, MEPD and the Aeromedical Evacuation Enterprise are pursuing two complementary efforts. The first is a 'task saturation' study to determine the 'capacity' of the CCFP in terms of the number of patients that can be treated simultaneously. It will also provide insight into which medical tasks may provide a 'high payoff' for technology investment to augment CCFP treatment capacity. Led by the United States Army Aeromedical Research Lab (USAARL), this study is in its final stage and will be completed before the end of FY18. In parallel, we are conducting a study to optimize the composition and configuration/storage of the air ambulance medical equipment set (MES) to better leverage CCFP capabilities. This effort will culminate with the Health Readiness Center of Excellence's triennial review and update of the air ambulance MES in SEP 18.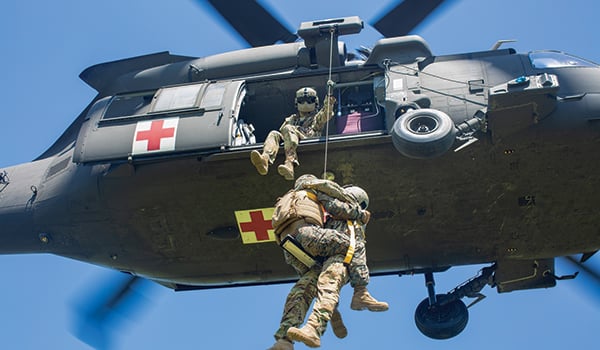 U.S. Army HH-60M MEDEVAC Black Hawk helicopter pilots perform medical evacuation (MEDEVAC) drills during a joint training exercise.
Capability Enhancements
The UH/HH-60 Black Hawk is a combat-proven aircraft with an unprecedented record for the safe evacuation of thousands of Soldiers over the last 17 years of war. With the ongoing fielding of the HH-60M and conversion of UH-60Ls to UH-60Vs, the Black Hawk will remain an essential component of the aeromedical evacuation fleets for decades to come. To remain relevant as a premier MEDEVAC platform, it is imperative that we continue to upgrade the platform and its MEDEVAC mission equipment. One notable effort in this arena is an upgrade of the HH-60M's Medical Interior, which will make it more flexible and modular and give the commander options to best balance weight savings, patient handling capacity, and the space required to effectively treat patients. The team at PD MEDEVAC is leading this effort and is working closely with industry to produce this upgrade. The goal is to have prototypes fielded for assessment by the end of FY20, with full production to follow.
One of the most challenging aspects of the Army aeromedical evacuation mission is operating in degraded visual environments (DVE). Routinely crews operate in low-illumination, low-visibility conditions and land to expedient LZs where the potential for blowing dust, sand, or snow is high. Every second is crucial to the patient's survival and any misstep can prove fatal to the crew and patient. To enhance our ability to operate in DVE, PD MEDEVAC has teamed up with the PM Aviation Systems (PM AS), AMRDEC and TRADOC Capability Manager-Lift to field a system that will provide 'see through' imagery on the pilot's Multi-Function Display (MFD) to provide increased situational awareness during DVE. Non-recurring engineering (NRE) is ongoing. The decision to proceed to production and fielding is scheduled in 3rd QTR FY19. Assuming the system performs well and the Army decides to procure it, 15 systems will be fielded to a unit by the end of FY20.
Despite the resounding success of the Black Hawk, the battlefields of the future will, at times, require a platform that can cover greater distances between combat formations and medical treatment facilities and still meet the 1-hour evacuation standard. There is a clear case for a Future Vertical Lift (FVL) aircraft with a MEDEVAC MEP to meet these challenges in the future OE. The Army Medical Department has been engaged with the FVL effort since its inception, and MEPD will work closely with the FVL Cross Functional Team (CFT) to get this capability to the force.
While materiel improvements are important, it is essential that we have leaders that understand the dynamics of LSCO in the future OE and can plan and synchronize operations accordingly. Trends reported from the combat training centers indicate that the ability to plan and synchronize air and ground evacuation (both MEDEVAC and CASEVAC) – and to integrate evacuation effectively with the rest of the scheme of health support on a fluid and mobile battlefield – has atrophied. We have grown too accustomed to relatively static operations supported from fixed bases and have become overly dependent upon evacuation by air ambulance. At the tactical unit level, this means re-emphasizing the full range of medical evacuation doctrine to our junior leaders in professional military education courses and unit training. At the operational and strategic levels, 17 positions have been identified where Aeromedical Evacuation Officers (67Js) can best serve to train, plan, synchronize, and resource medical evacuation operations. These positions have been validated and are awaiting resourcing decisions prior to being filled.
As with the rest of the Army and Army Aviation, this is a critical juncture for Army MEDEVAC. I am certain, however, that the passion, competence and dedication of our Soldiers together with the support from both Aviation and Medical senior leaders will continue to ensure success in the years to come.
COL Michael F. Breslin is the chief of the Medical Evacuation Proponency Division (MEPD), Capabilities Development and Integration Division, Health Readiness Center of Excellence located at Fort Rucker, AL.
Sours: http://armyaviationmagazine.com/index.php/archive/not-so-current/1604-medevac-proponency-update-2
Army Flight Paramedic (by Stephen)
What Do People Think You Do?
The job has been glorified in movies as a UH60 Blackhawk helicopter making daring landings in hostile combat zones while taking fire from enemy combatants to rescue wounded soldiers off the battlefield and fly them to awaiting surgeons. While this is partly true, it doesn't show the entirety of what we do as flight medics. There's a lot of work and preparation that goes into making the rescuing of wounded soldiers possible. By the end of this article you will have a better understanding of what Army flight medics do. Hopefully this better understanding will help you make a more informed decision about what career to pursue.
What Do You Really Do?
Working as a flight medic for the Guard, we train.. a lot. There are a lot of things to learn in the aviation world. Flight medics have to fly a certain number of hours every 180 day period. This includes flying at night while using night vision goggles and riding/operating the hoist. Flying so often gets the crewmember proficient in a number of vital tasks, including crew coordination, airspace surveillance, riding the hoist. A lot of the job is spent actually not doing patient care or anything medically related but training as part of a crew. A lot of flight medics, including myself work as paramedics in civilian EMS. It is worth mentioning both jobs here because most Army flight medics work in both the National Guard and civilian EMS agencies. In fact it is civilian EMS where most of the flight medics get their hands-on medical training. Since both jobs are important, and are commonly held by people in the Medevac community, I will write about both.
A Day In The Life
Days start off with checking the ambulance off. Is everything stocked and ready to go? Is our equipment; the cardiac monitors, the intubation kits, suction canisters all in working order? Depending on the service you work for you may be a busy or a slow service based on call volume. In more urban areas, more people equal more accidents and emergencies. After the ambulances are checked to be in good working order, we wait for a call (and we don't have to wait long usually). Once a call goes out, we respond with lights and sirens; clearing intersections, navigating traffic, and looking at GPS maps to find the location of the emergency. Once on scene it all depends on what the call was for. Chest pain, traffic accident, or victim of assault all require different patient assessments and questions. While there are similarities, no two calls are alike. Usually we try to spend as little time on scene as possible and start any needed treatments in the ambulance. The whole point of EMS is to be able to transport patients to a hospital in a short amount of time and treat the patient for any life threatening conditions. Paramedics all operate under a similar algorithm and that's our ABCs; Airway, Breathing, and Circulation. Is the airway open or is it obstructed by something? Is the patient breathing and if so how well? Lastly is circulation. Does the patient have a pulse? If so how strong is it? Is their heart rate super slow or too fast? If the patient doesn't have a pulse then we have to start CPR. If the patient is awake and talking we automatically know their airway is open and they can breathe (you can't talk without breathing, try it) and they have a pulse. I can generally tell how critical a patient is within the first few seconds of looking at them, let alone touching them. Based on my assessment and wishes of the patient, we transport the patient to the appropriate hospital.
Shifts for paramedics are generally between 12-24 hours. Longer shifts, 48-72 hours, are generally for services that aren't as busy and allow paramedics to get in much need sleep, much like firefighter during their shifts. However it is not uncommon to be busy for the entire 24 hours. If you're thinking about EMS this is something you need to consider and be able to deal with. Can you stay awake that long if needed? Do you have any medical conditions that would prevent you from being away from home longer than a day? How is your family life, by that I mean is your spouse/ significant other okay with you being away for that long? If you are a single parent, who will watch your kids overnight? These are just some considerations to take into account when you start thinking about working in EMS. They are magnified even more when you join the Army due to deployments and other demands of the job.
Going to work as a medic in the Guard will be either during monthly drill, required to be attended by all soldiers in the National Guard, or during extra time allocated for training during the week. This extra time outside of drill is what comprises most of the time spent by a flight medic in the Guard. You usually coordinate the time for 4-8 hours a day. Pilots and crew chiefs have to train just as much so there are always opportunities to fly.
Flying can either be for training or actual missions. Missions are usually focused on supporting other units and providing medical coverage for either other Guard units such as infantry or there are missions where medical coverage is needed for training of special operations units such as Special Forces and SEALs. Providing medical coverage is comparable to paramedics waiting for 911 calls to come in. The medevac crews will wait for any 9 lines called in asking for a helicopter to rescue someone who was injured during a training exercise.
The other type of missions are real world missions. Along with being deployed to combat environments and providing Medevac coverage to troops on the ground, National Guard Medevac units also participate in search and rescue missions. Every year natural disasters strike, hikers go missing or injured, or accidents occur in very remote areas unable to be accessed by vehicle. These require the use of medevac and hoist capabilities.
All the time spent training is in preparation for moments like the ones mentioned above. Flying for the sake of training comprises the majority of flight time a medic has. You come in to fly and work as part of an aircrew. For the first few months to a year of you initially being in Medevac, you fly with someone more experienced than you and they grade you on various tasks that are vital to the mission. Once your evaluator checks off on all the tasks you need to so you are proficient in, he can sign off and you will be able to fly on your own and participate in real world missions, in other words, be able to actually do your job.
What's The Average Income?
Average income for a flight medic is based off of the Army pay scale. Being a flight medic you generally are in the grade of E5 to E7 or in rare cases E8. In civilian EMS pay ranges pretty widely. New paramedics can generally expect pay range anywhere between $12-18 and hour and usually work more than 40 hours per week.
What Education If Any Is Needed?
If you want to be an Army Flight Medic, you have to be willing and able to join the Army (shocker, I know). If the Army isn't for you or you are unable to join for some reason, you can still work as a paramedic and even become a flight paramedic! First you need to go to enroll in a paramedic program. These usually last anywhere from 18 months to 2 years depending on the program. A good idea would be to get your EMT license prior to becoming a paramedic. An EMT is an Emergency Medical Technician and usually works alongside a paramedic in treating patients in the emergency care setting. Unlike paramedics, EMTs aren't allowed to perform invasive procedures such as starting intravenous catheters, or IVs for short, or intubate. There is a long list of things that paramedics can do that EMTs can't due to their level of training. However being an EMT is a great way to get into the field of EMS. It exposes you to the profession and you can see if the career suits you without spending time in paramedic school. Average EMT courses take a shorter time to complete so if the field isn't for you, at least you haven't spent a lot of time to figure that out. EMT course are also cheaper than paramedic courses. Assuming you can and are willing to join the Army National Guard and want to become an Army flight medic, you will need to talk to a National Guard recruiter. There are no slots specifically for flight medics. You have to enlist as a 68 Whiskey, or combat medic. Depending on the state that you enlist in, you may or may not get to choose your duty station. In the state of Arkansas, I was able to choose which unit I wanted to join. If you're wanting to be a flight medic, I recommend trying to join an aviation unit that has medevac. As I said you'll have to be a combat medic (ground medic) first, but once you get to your unit find out the readiness NCO of the medevac unit your interested in joining. Hopefully they'll have some spots open and like who you are as an individual and offer to move you to their unit and begin training. Once you've moved over to your state's Medevac unit they will send you to paramedic school. The best part is that the Army pays you to go to school and the school is completely paid for. You will then be sent to a critical care course to either attain your FP-C or CCEMT-P. I attended the course in RUSH Chicago and got my CCEMT-P. The best as I said, the Army pays for all this and pays you to get it. If you were a civilian who had to pay for this it would cost thousands of dollars and you would still have to work to make income. All these certifications that the Army pays for are accepted by civilian EMS which is great because, as mentioned, most flight medics work civilian EMS as well.
Something Important To Know
There is a misconception that National Guard Units don't deploy to combat zones and that's simply not true. If deploying to a combat zone and assuming the risk that comes with that is something that isn't for you then this job in particular isn't for you. But that's fine. You can still serve your country and your community by becoming a paramedic and even a flight paramedic all on the civilian side. Another misconception, mostly spread by television, is that every call is an emergency. While we respond as if all calls are emergent, this simply isn't so. I'd say maybe ten percent of my calls actually require me to do any life saving interventions. The job is boring, surprisingly, at times but when you do get to help someone during an actual emergency it is very rewarding.
Other characteristics of the job include being outside most of the time, a lot of human interaction, working as a team, lots of travel opportunities as well. Flying for one is a lot of fun for some people, especially when you're in a Blackhawk. However, flying can be very tiring, just the vibrations of the aircraft, your body is constantly changing position to maintain posture, and the weight of the gear you have to wear all take a toll. After flying for just a couple hours I am exhausted.
At the end of the day though I would say flying, more specifically Medevac is the best job the Army has to offer. Most of your time isn't spent doing cool stuff in the movies, it's spent training. It may take up to two or three year of training before you're even ready to go on a real world mission. However when the day comes that you are deployed to a combat zone and a 9 line comes in require medical evacuation of a wounded soldier, or a hurricane hits the coast of Florida and your unit is being mobilized to provide disaster relief, or the Sheriff's Office has notified your state's unit of a lost hiker and needs hoist capabilities, rest assured that you can rely on your training to accomplish the mission.
One more preconceived misconception is that people rise to the occasion to achieve great things, but that is simply not true. When things start to fall apart and your adrenaline is racing, people do not rise to the occasion. No when things go south people fall to their lowest level of training. Hence is why we train, constantly. The attitude of all those in Army Medevac can be summarized by the nickname of Medevac units, DUSTOFF which stands for Dedicated Unrelenting Service To Our Foreign Fighters.
Hopefully this article gave you some insight as to what Army flight medics do. Whether or not you want to become a member of the DUSTOFF community, I hope you are able to use this article and others like it to formulate an idea of what you want your future career to be.
SAVE THIS JOB TO MY FAVORITES
Ask A Question About This JobSours: https://whatforwork.com/jobs/army-flight-paramedic-by-steven/
What exactly is an Army flight medic?
A helicopter marked with a red cross hovers over a battlefield. The pilot spots the target and swoops in for a landing. A medic rushes out of the chopper, heading for the injured soldier. The medic quickly assesses the situation and gets the patient into the air ambulance. He hops into the chopper and the aircraft lifts off, headed to the nearest medical center. On board, the flight medic continues administering medical treatment to the soldier, providing emergency care that could be the difference in whether the soldier lives or dies. Within minutes, the helicopter lands again, and the soldier is taken into the hospital for life-saving treatment.
Army flight medics may mean life or death to a soldier who's been injured, which is why they uphold their motto, "To provide qualified combat medics trained to treat, stabilize, and provide inflight medical care to the critically injured or ill while being transported aboard air ambulances during peacetime and combat operations" [source: USASAM].
Army flight medics are part of medevac (medical evacuation) operations. These operations use helicopters as air ambulances, transporting injured soldiers to medical centers where they can get further treatment. Although helicopters were used in this manner in the 1940s, the medevac program was officially established in the 1960s during operations in Southeast Asia. In Vietnam, the 57th Medical Detachment was the first medevac unit -- its name, "DUSTOFF," arose from its radio call signal.
An Army flight medic's duties run the gamut of emergency medical care and include the following:
Treating patients prior to evacuation
Loading and unloading patients into air ambulances
Keeping patients stable and treating them during flight
In other words, an Army flight medic is much like an emergency medical technician (EMT) in a civilian ambulance. A flight medic just does his job in a helicopter -- and in potentially dangerous battle situations.
Army flight medics fall under the Military Occupational Specialty (MOS) known as 68W, or health care specialist/combat medic. These combat medics are assigned to platoons and provide initial medical care in case of emergency. When a soldier needs to be airlifted for further treatment, the combat medic calls in the medevac unit, and the flight medics -- 68Ws with skill identifier F6 (flight medics) -- continue providing emergency care.
A soldier can't just enlist in the Army and immediately become a flight medic. Read on and learn about a flight medic's specialized training.
Sours: https://health.howstuffworks.com/medicine/army-medicine/army-flight-medic.htm
M1 Request MEDEVAC
.
Requirements army medevac
.
ARMY FLIGHT MEDIC 68WF2 - BEYOND BASIC TRAINING EP.2
.
You will also like:
.
443
444
445
446
447