Try a New Signature Crafted Recipe Sandwich From McDonald's Today! #McDMadeFresh
Eat Even Fresher at McDonald's!
Last week I was invited to a behind-the-scenes event at McDonald's in Boston to learn about the new fresh beef Quarter Pounder and Signature Crafted Recipe burgers first-hand.  Unfortunately, I couldn't attend, but I was able to experience the Fresh new burgers for myself from a McDonald's near my home.
Quarter Pounders have always been my go-to sandwich from McDonald's.  Now that they are going to be made to order with FRESH (not Frozen) beef, I think I may have to visit a little more often!
Fresh Beef Quarter Pounders:
McDonald's USA just recently announced that fresh beef, cooked right when ordered, in all Quarter Pounder and Signature Crafted Recipe burgers is now available in New England and is on track for roll out to all participating restaurants in the contiguous U.S. by early May.
The move to fresh beef quarter-pound burgers is the latest in McDonald's food journey to build a better McDonald's. It's also one of the latest customer-led initiatives in the U.S. that builds on several other recent milestones, including All Day Breakfast, committing to only sourcing cage-free eggs by 2025 in the U.S. and serving chicken not treated with human antibiotics.
"The switch to fresh beef quarter-pound burgers is the most significant change to our system and restaurant operations since All Day Breakfast," said McDonald's USA President Chris Kempczinski. "Over the past two years, we have been listening to our customers and evolving our business to build a better McDonald's. We are proud to bring our customers a hotter and juicier quarter-pound burger at the speed and convenience they expect from us."
In March 2017, McDonald's USA announced the switch to fresh beef, cooked right when ordered, quarter-pound burgers as a part of a broader commitment to bring customers more craveable and delicious food offerings. Over the next month, the company will be rapidly completing the transition to fresh beef quarter-pound burgers, cooked right when ordered, with full rollout to participating restaurants by early May.
All McDonald's fresh beef quarter-pound burgers use 100 percent beef with absolutely no fillers, additives or preservatives. Quarter-pound burgers include the Quarter Pounder with Cheese®, Double Quarter Pounder with Cheese® and Signature Crafted Recipe® burgers.
New Signature Crafted Recipe Sandwich
McDonald's continues to innovate its Signature Crafted Recipe sandwiches, which feature premium ingredients and unique flavor combinations. This month, McDonald's introduces another flavorful, premium sandwich – Garlic White Cheddar. This Signature Crafted Recipe sandwich is available on a fresh beef, quarter-pound burger or chicken (Buttermilk Crispy Chicken or Artisan Grilled Chicken) and is available at participating U.S. restaurants.
Garlic White Cheddar:A mouthwatering, savory combination of creamy garlic aioli and crispy garlic chips piled up with a juicy tomato slice, crisp iceberg lettuce and real white cheddar cheese. Freshly prepared on a fresh beef quarter-pound burger or your choice of chicken (Buttermilk Crispy Chicken or Artisan Grilled Chicken) on a toasted Artisan Roll.
My hubby, son and I got a few Signature Crafted Recipe Burgers to-go at our local McDonald's.  My son and I got the Garlic White Cheddar Quarter Pounder and my hubby got the Garlic White Cheddar Buttermilk Crispy Chicken Sandwich.  I know ours were hot and fresh as we had to wait in the drive-thru spot for them to bring in out.
We LOVED the Garlic sauce and white cheddar cheese.  I could taste the difference between the last quarter pounder and the one I had today.  I definitely had a fresher taste- almost like homemade! Of course, they didn't look as pretty as the pictures on McDonald's website, but nothing ever does.  It's the taste that matters!
Other new Signature Crafted Recipes sandwiches  available are Sweet BBQ Bacon and  Pico Guacamole.  We can't wait to go back to try them both!
Which Signature Crafted Sandwich do you think you would like the most?  Let us know in the comments below.
Filed Under: Featured, food not recipeTagged With: food, mcdonalds, Signature Crafted sandwiches
Sours: https://www.momdoesreviews.com/2018/05/06/try-a-new-signature-crafted-recipe-sandwich-from-mcdonalds-today-mcdmadefresh/
We tried the fancier, pricier burgers McDonald's is betting on to boost its sales — here's the verdict
McDonald's lineup of premium burgers is helping the fast-food giant's sales numbers, it said in April.
These premium burgers use select ingredients and are marketed as higher-quality menu options.
We tried them all and found that they are, on the whole, a higher quality than McDonald's classic burgers, and they have a price to match.
---
McDonald's is betting on better burgers.
In the company's most recent earnings call in April, McDonald's CFO Kevin Ozan said that sales are being buoyed, in part, by sales of the chain's Signature Crafted line of premium burgers, which are about $1-2 more expensive than the rest of McDonald's burger lineup.
The Signature Crafted line has experienced a rocky history. It started out as a highly customizable, create-your-own burger system called "Create Your Taste," which was rolled out with the ordering kiosks in 2016. It was an ambitious part of the chain's turnaround plan, but it never really ironed out the kinks that came with it — custom burgers slow down kitchens and complicate orders, leading to longer wait times.
McDonald's unceremoniously dumped the program later that year, turning it into the Signature Crafted menu, which kept a handful of the most popular burger builds but nixed the customization. As of this week, all of McDonald's Signature Crafted burgers are made with fresh beef, not frozen. You can also order them with chicken — grilled or fried — instead of beef.
But here, we're interested in a juicy burger. So how is this premium burger selection? If it's giving a boost to the chain's sales numbers, clearly there's something to it. We decided to try the Signature Crafted burgers to see what the fuss is all about:
There are three burger "flavors" to choose from: sweet BBQ bacon, pico guacamole, and garlic white cheddar.
Let's start with the sweet BBQ bacon burger. The stoic brioche bun is impressive, especially for McDonald's.
The previous custom burger iteration, Create Your Taste, offered brioche buns as an option — and frankly, it was a great move. They're much better than the normal sesame seed bun, especially when they're toasted.
This burger has bacon, white cheddar, grilled onions, fried onions, and sweet barbecue sauce — which sounds like a lot, but actually isn't all that much in reality.
As you can see, the bun is toasted perfectly. That's a nice touch.
Apart from being a smidge sweet for a savory burger, this is a wholly satisfying burger. The quality is several notches above what one expects from McDonald's — the only thing that reminds you you're eating at the Golden Arches is the patty, which more or less tastes the same.
Next, we have the pico guacamole burger. A version of this existed in the Create Your Taste menu, and frankly, it was hugely disappointing.
It was a sopping, gloppy nightmare oozing sub-par guacamole and so much tomato juice that it was akin to just plopping salsa in a bun.
This new incarnation is roughly the same in terms of construction, but much better in terms of quality. There's guacamole, a much less watery pico de gallo, a ranch sauce, and cheddar — flavorful, but fairly simple.
The burger tastes remarkably fresh — the tomatoes are vibrant and firm, and the guac is a big improvement over the previous guac. The whole thing comes with a lime wedge to squeeze into the burger, which I assume is meant to add some acidity to the otherwise very mellow sandwich.
Sours: https://www.businessinsider.com/mcdonalds-signature-crafted-burgers-cost-2018-5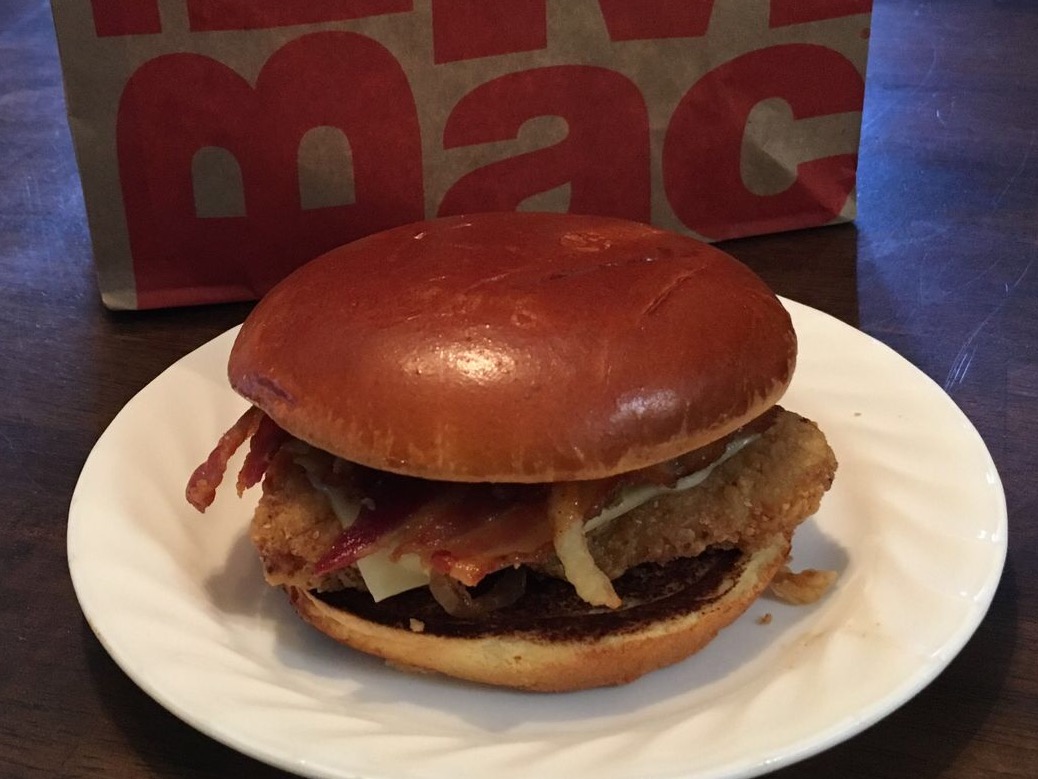 Today for lunch I had the pleasure of enjoying a new burger from McDonalds. It was the Signature Crafted, Sweet BBQ Bacon Burger.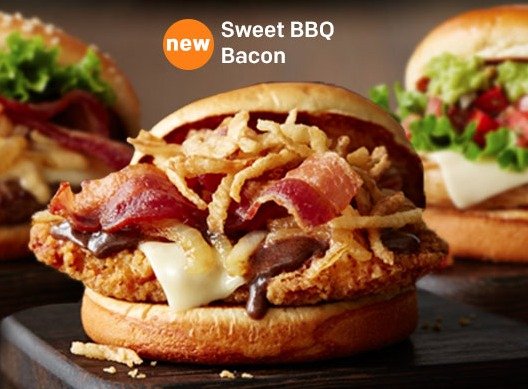 Photo source McDonalds
It cost five dollars and was pretty good, on a scale from 1-10 I give it a 7, and that's pretty good for a burger from McDonalds! When I first took a bite I got a mouthful of BBQ sweetness.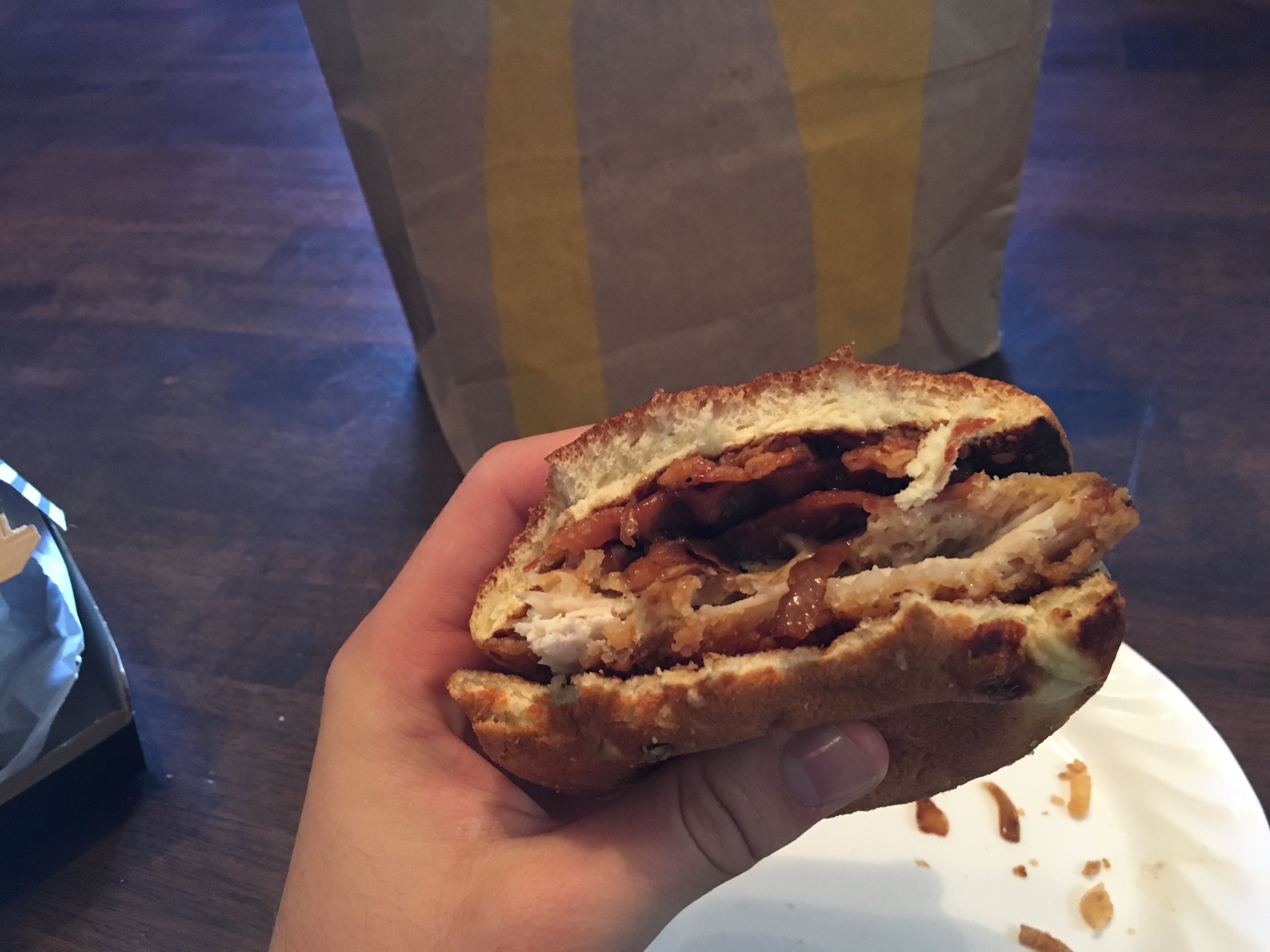 The burger can be made with different ingredients, such as choosing a burger patty or grilled chicken instead of fried, and a sesame bun instead of an Artisan roll, but in this case I just went with what I saw on the drive thru menu.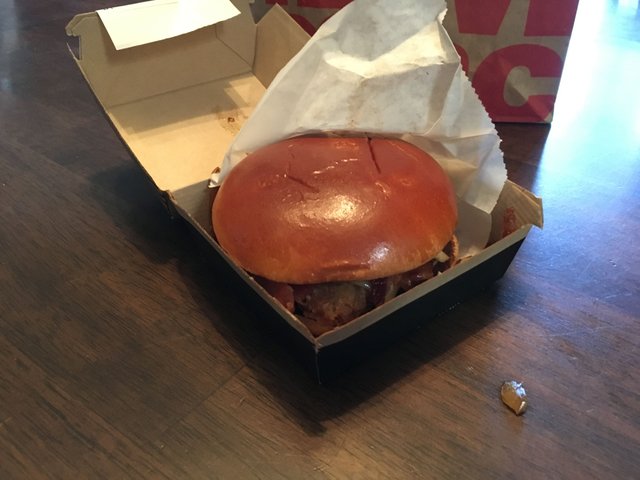 The rest of the toppings on the burger are part of the Sweet BBQ Bacon recipe, and come with whatever meat and bun you choose. These toppings include:
Grilled Onions- A bit slimy in texture but add a nice touch to the flavor of the burger
Crispy Onions- Essentially small onion ring pieces, a good addition to the burger in my mind.
Bacon- Gives the burger a good smoky taste
BBQ Sauce- sweeter than your average BBQ sauce, compliments the rest of the burger quite well.
White Cheddar Cheese I do not usually like cheese with chicken products, however this white cheddar cheese went very well with the burger because it wasn't too overpowering.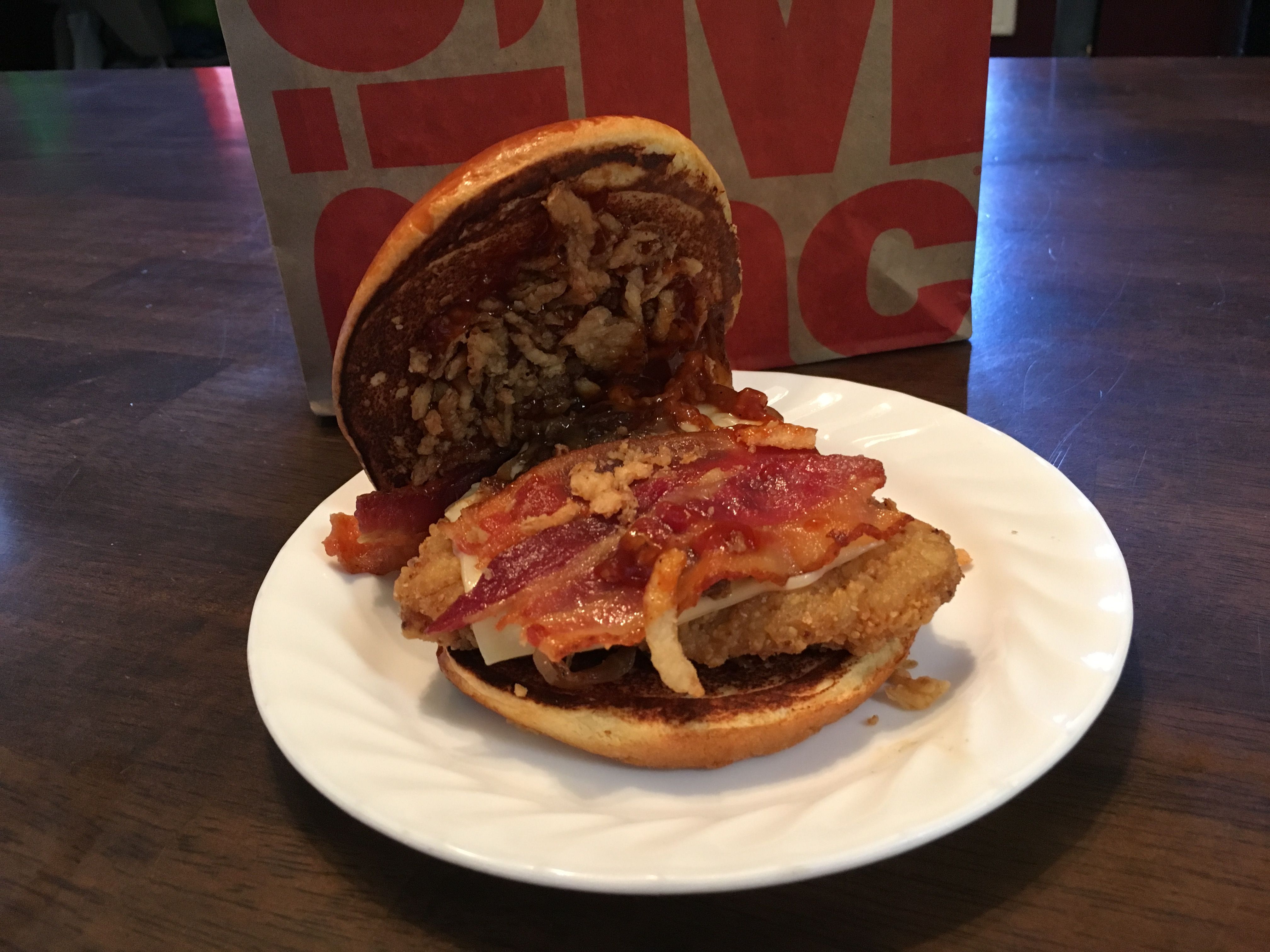 This burger contains 800 calories, 39 grams of protein, and 36 grams of fat.
Would I buy this burger, or one of the other Signature Crafted burgers again? The answer is: probably not. The sweet BBQ Bacon burger was good, but it wasn't worth spending five dollars on. If I had to give it a price I would say it should cost around three dollars. But I do say that it is worth at least trying, so until the McRib comes back, why don't you stop by and grab yourself a Signature Crafted Burger? ;)
Stay Hungry my friends!
Sours: https://steemit.com/food/@moonie/mcdonalds-signature-crafted-sweet-bbq-bacon-review
McDonald's® Artisan Grilled Chicken Sandwich Review! - 🚫 Signature Crafted
Baseball has been deemed "America's pasttime" since these uniforms (photo attached) were en vogue, but now the typical game takes longer than an actual marathon.
MLB is engaging in steps to improve interest in their game, like the intentional walk signal. But their best move has been a change to their vaunted 7th inning anthem: "We'll buy you nuggets in 4 or 6 packs."
The Mid-Atlantic teams have partnered with the Golden Arches to bring free McNugget promotions on their app. The beleaguered Phillies have offered a free 4-piece whenever they score three runs. Their more successful counterparts, the Orioles and Nationals, have higher standards along with bigger rewards: four runs nets you a 4-piece, with six, ten, and twenty nuggets also attainable. (Notably, the Nats have restricted their rewards to home games, presumably due to road games in Colorado). Rest assured, if either club surpasses the 20-run plateau, I will make my way through the Chesapeake region, with a tank full of gas and a bunch of "burner phones."
McDonald's isn't just trading nuggets for bloated ERA's. They're also giving you a chance to be a manager of the toppings on your own sandwich. The new Signature Crafted Recipes line attempts to emulate quick-service burger joints like Five Guys and SmashBurger by allowing you to customize your sandwich.
Just don't expect a plethora of choices. The options are limited to two bun choices, three protein choices, and three topping styles. That's still enough combos to fill out a lineup card for both teams. We here at the Impulsive Buy selected the three featured options — the Mays, Mantle, and Snider of the bunch, if you Will(ie).
Batting leadoff was the Pico Guacamole with grilled chicken on the artisan roll. Discovering the first major fast food sandwich adorned with a lime wedge was like taking a big lead off first base. However, finding out that my hands would become messier from this sandwich than holding a rosin bag was something of a detraction.
The grilled chicken patty was relatively standard, although there was some spice and it wasn't dry, so there were positive attributes. The artisan roll was soft but not mushy. I enjoyed the guacamole -— it fell short of feeling homemade, but was far better than Subway's recent offering. The lime gave everything a fresh feel, even after I brought the sandwich home for inspection before consuming.
This sandwich was not a five-tool player. It did have holes in its game. Namely the pico de gallo, which was not a distinguishable flavor with the much stronger flavored guac. The white cheddar cheese was also invisible, as I would soon find out it was on all three sandwiches.
On deck was the Sweet BBQ Bacon, with Buttermilk Crispy Chicken, also on the artisan roll (why they didn't "load the bases" with three bread options as well is perplexing). The chicken patty was somewhat like a McChicken patty, but with a little more TLC. However, the size of the patty was only marginally thicker than the bun, which pales in comparison to the also recently released KFC Zinger. Conversely, I might say this sandwich exceeds the Zinger in spiciness. The heat builds as you eat and made me enjoy this more as I dug in.
The sandwich was onion heavy, which I appreciated (I'll often order extra on fast food). There were two types. The sautéed onions, that tasted legit, and frizzled onions, which largely just added to the overkill of breading from the patty and bun.
The bacon was the final detail. It was nice and salty on its own, but its impact was suppressed by the other ingredients when eaten together.
In the hole was the Maple Bacon Dijon, with a beef patty (perhaps "burger" is on Vince's McMahon's list) on a sesame seed bun. Dijon was a new, interesting taste, although it appears in some bites and vanishes in others. Otherwise, this was the most familiar flavor combination for Mickey D's. As for the maple? None was detected. It was indicated that maple seasoning was added to the bacon, but when I tried the bacon solo it appeared to be standard.
I suppose these were the same grilled onions that appear on the BBQ version, but against the backdrop of the stronger flavor beef patty, they did not stand out nearly as much.
The bacon wasn't that noticeable here either amidst a sea of lettuce and again the stronger tasting burger. It seemed a little wimpier this time, although before you start computing the WAR (Working As Refreshment) stat, I did order each sandwich from a different location, so maybe the differences can be attributed to that factor.
In the end, the concept of "premium crafted sandwiches" is no different than Wendy's LTO offerings, but with three released at the same moment. If McDonald's wants a premium line to last, they will have to consider a larger product. "Fast foodies" do exist these days, but they still want to be satiated by the food. When it came to these members of the lineup, I didn't get a complete game out of them. I still had to trust the bullpen (value menu) to finish it out.
(Nutrition Facts – Pico Guacamole Grilled Chicken – 520 calories, 160 calories from fat, 18 grams of fat, 6 grams of saturated fat, 115 milligrams of cholesterol, 1540 milligrams of sodium, 50 grams of carbohydrates, 12 grams of sugar, 4 grams of fiber, 40 grams of protein. Sweet BBQ Bacon Buttermilk Crispy Chicken – 800 calories, 320 calories from fat, 36 grams of fat, 9 grams of saturated fat, 0.5 grams of trans fat, 95 milligrams of cholesterol, 1820 milligrams of sodium, 80 grams of carbohydrates, 18 grams of sugar, 5 grams of fiber, 39 grams of protein. Maple Bacon Dijon Beef Patty – 640 calories, 330 calories from fat, 36 grams of fat, 14 grams of saturated fat, 1.5 grams of trans fat, 110 milligrams of cholesterol, 1260 milligrams of sodium, 40 grams of carbohydrates, 10 grams of sugar, 3 grams of fiber, and 37 grams of protein.)
Purchased Price: $4.79 to $5.29
Size: N/A
Rating: 6 out of 10 (Pico Guacamole Grilled Chicken)
Rating: 8 out of 10 (Sweet BBQ Bacon Buttermilk Crispy Chicken)
Rating: 5 out of 10 (Maple Bacon Dijon Beef Patty)
Pros: Sauteed onions. Building BBQ heat. Lime wedge freshness. Hunter Greene's potential to join the 20 HR / 20 SB / 20 win club.
Cons: None of the options are large enough. White cheddar is irrelevant. Gusto de pico es pequeno. The Twins passing on Greene with the number one pick.
Related
Sours: https://www.theimpulsivebuy.com/wordpress/2017/05/24/review-mcdonalds-signature-crafted-recipes/
Signature review sandwich mcdonalds crafted
McDonald's Signature Crafted Mushroom & Swiss Burger
features a quarter pound fresh-beef patty, seasoned mushrooms, creamy bistro aioli, Swiss cheese, and crispy onion strings on a toasted artisan roll.
I paid
$5.39
for one.
There were some good-sized sliced mushrooms in my burger. They were tender and added a nice flavor. That flavor was enhanced by the bistro aioli, which offered a creamy, savory base tinged with mushroom and garlic notes.
The onion strings are the same as can be found in the Bacon Smokehouse Signature Crafted sandwichesand layer on some season onion-y crunch. They're actually pretty good out of the burger as well (why are seasoned onion strings/rings not a thing?).
The Swiss cheese got mostly lost in the mix given it's mild quality but has an enjoyable taste if you nibble at the edges (or pinch off a piece).
The beef patty was moist with a coarse grind that comes apart more easily when compared to McDonald's frozen patties (the ones in the regular hamburger and its variants as well as the Big Mac). The bun was soft but not too soft with a dense crumb.
Taken altogether, McDonald's Signature Crafted Mushroom & Swiss Burger turned out really well. The crispy onions in particular keep it interesting while the mushroom and Swiss are solid.
Nutritional Info - McDonald's Mushroom & Swiss Burger
Calories - 660 (from Fat - 320)
Fat - 36g (Saturated Fat - 12g)
Sodium - 920mg
Carbs - 52g (Sugar - 10g)
Protein - 33g
---
Sours: https://www.brandeating.com/2018/12/review-mcdonalds-signature-crafted-mushroom-and-swiss-burger.html
McDonald's New Signature Crafted Sweet BBQ Bacon Burger - Food Review
Less than a football field away from the closest McDonald's to my apartment is a Wendy's. Said Wendy's has a sign touting fresher is better. Said sign corresponds to a commercial Wendy's runs about their fresh never frozen beef. Said frozen beef is a reference to the McDonald's 90 yards away.
Correction: Was.
In case you haven't heard, McDonald's is making the great leap forward. And, apparently, that leap to fresh beef starts with the rollout of the Signature Crafted Garlic White Cheddar Burger.
Which is convenient because if the moon is made out of cheese, and the cow jumps over the moon, it really is one small leap for mookind. But I digress.
Say what you will about fast food burgers in general, but McDonald's burgers have (had?) a specific taste and texture that some people happened to like in a kind of lowbrow comfort fast food sort of way.
The new patties are definitely a step away from that. With visible surface browning and what appeared to be sea salt on the patty, the beef looked like something I could have made at home. And the taste is altogether beefy —- more nuanced, rounded, and meaty than I remember. But the patty, aside from tasting drier than the average Quarter Pounder I've had in the past, didn't taste well-seasoned or particularly succulent. As someone who grills a lot of burgers myself, I'd compare it to ground sirloin. Beefier, yes, but noticeably leaner and less flavorful.
The good news is the burger construction is engineered for what my friend calls the executive bight. Carefully placed lettuce and tomato, as well as the slightly sweet bun, do wonders to round out the taste. Meanwhile, the garlic chips and aioli leave a distinct and savory garlic flavor that brings together all the flavors and makes your breath smell like the equivalent of three roasted heads of garlic.
While I wanted to love (and I mean LOVE) the sharp white cheddar cheese, its flavor on the burger is less impressive than its flavor on its own. Unlike past McDonald's "cheddar" cheeses, the slice actually has a bit of funk, but within the burger it gets lost amidst the beef and the garlic aioli and chips. It's not a bad thing, but it's sort of a waste of an otherwise perfectly good slice of cheese.
There was a time when I might have said $5.19 is too much for a burger. Well, that time was in college and considering I'm about to be 30 and no longer use "adult" as a verb, I'm willing to pay $5.19 for a good fast food burger. And make no mistake about it, the Signature Crafted Garlic White Cheddar Burger is a good burger by fast food standards.
Just be prepared to eat a Tic-Tac afterwards.
(Nutrition Facts – 620 calories, 300 calories from fat, 33 grams of total fat, 12 grams of saturated fat, 1.5 grams of trans fat, 95 milligrams of cholesterol, 95 milligrams of sodium, 49 grams of total carbohydrates, 3 grams of dietary fiber, 12 grams of sugars, and 31 grams of protein.)
Purchased Price: $5.19
Size: N/A
Rating: 8 out of 10
Pros: Beefier fresh beef patty than traditional McDonald's burgers. Excellent double whammy of garlic taste. High quality ingredients make $5.19 price tag a bargain.
Cons: Leaner-tasting patty lacks juiciness and richness. Quality of cheese is lost against garlic flavor.
Related
Fast FoodMcDonald's
Sours: https://www.theimpulsivebuy.com/wordpress/2018/04/11/review-mcdonalds-signature-crafted-garlic-white-cheddar-burger/
You will also like:
Review of McDonald's Three New Signature Sandwiches
New Sandwiches From McDonald's
McDonald's is offering three new sandwiches. They are supposed to be a little more sophisticated, add flair and provide an alternative to the Big Mac or Quarter Pounder. They are a little more expensive.
The three new sandwiches are the Maple Bacon Dijon, the Sweet BBQ Bacon and the Pico Guacamole. You can order them with the beef patty (the same used in the Quarter Pounder), the crispy chicken or the grilled chicken. You also get a choice of bun: sesame seed or artisan bread.
Quite a few decisions to make in order to request a simple sandwich, but is it worth it? It's a little more expensive—which is to be expected. The new variety of sandwiches also helps McDonald's compete with some of the higher-end fast-food burger establishments, like Carl's Jr.
Your Favorite Fast Food Restaurant
McDonald's Is Convenient
Certainly there are a few good things to say about McDonald's. They are definitely convenient, and like most chain restaurants they are comfortable because when you dine there, you know what you will get. The menu doesn't usually fluctuate too much, and the prices are usually fairly reasonable. You can pick something up in your car, grab a bag for take-out, or sit inside and dine comfortably in an air-conditioned room.
The food isn't certainly high quality or extremely healthy, but it is palatable and there is always something available. You can go there for a nice quick breakfast, lunch, dinner or a snack. There are salads if you want to avoid the fried food, as well.
I won't spend too much time going into the history of the restaurant because most of what has to be said about the "founder," Ray Croc, you can find out through a more reliable source. There is a book called Fast Food Nation, and the McDonald's story is explained there. If you haven't picked it up, give it a read. It is well worth it and will enlighten you about what a large impact (and control) these conglomerates have on the American economy. (Croc actually didn't found—as in create—the restaurant. He stumbled upon it—in that sense, found—and he made it popular.)
McDonald's has been around for many years. You may recall the signs that often stated "Over 100 billion served," which is the population of the planet many times over. That is quite a few hamburgers, and of course, this new variety of sandwiches deserves some examination.
Signature Burger Health Info
| Sandwich | Calories | Fat | Carbs | Sodium (mg) |
| --- | --- | --- | --- | --- |
| Beef | 840 | 45 | 62 g | 1,580 |
| Crispy Chicken | 920 | 45 g | 81 g | 1,980 |
| Grilled Chicken | 750 | 31 g | 62 g | 1, 940 |
| French Fries (med.) | 340 | 16 g | 44 g | 230 |
The New Sandwiches
I already mentioned the options you have when you order your sandwich. My personal favorite flavor is the BBQ Bacon. I like barbecue sauce and I love bacon. The little onion chips are a nice addition, and there is a usually also a lighter cheese—Swiss I believe. I always opt for the sesame seeded bun because I like sesame.
I've had both the beef and the chicken—fried not grilled. I am not that that much of a fan of the grilled chicken sandwiches since McDonald's changed the recipe several years ago. However, chicken is a pleasurable alternative when you are looking for something other than beef.
Their beef version of this signature sandwich doesn't taste much different than their regular burger—they use the same patty that is in the Quarter Pounder. In other words, the upgrade is not that magnificent. Even with the extra toppings, there is nothing fancy (or signature) about them.
The grilled chicken version of this sandwich, however, is remarkably good. Everything tasted like it was fresh grilled. The onion strands were crispy, and the sandwich was warm and resembled the picture quite accurately.
Perhaps this was due to the workers, though, and not the corporate quality management.
My Sandwich Rated
| Restaurant/Sandwich | Main Sandwich Ingredients | Toppings | Overall |
| --- | --- | --- | --- |
| McDonald's/BBQ Bacon Crispy Chicken | 8.5 | 7.5 | 8 |
| McDonald's/BBQ Bacon Beef | 7 | 7.5 | 7.3 |
| Carl's Jr./Western Bacon | 9 | 9 | 9 |
| Red Robin/BBQ Bacon | 9.5 | 9.5 | 9.5 |
| Denny's/Burger | 8 | 7.5 | 7.8 |
| In and Out/Any Burger | 9 | 9 | 9 |
| Chick Fil-A/ Chicken Sandwich | 8.5 | - | 8.5 |
| Arby's/Regular Roast Beef etc | 9 | 8 | 8.5 |
My Observations
Was my initial McDonald's experience with these sandwiches better? I'm not really sure. I bought these when the concept was still new. It is my belief that when a company promotes a new product, it makes better samples available in the beginning in order to hook an audience.
Initially, the company provides a better quality product. As soon as the consumers start become attached to the new item, the company loosens its quality control and finds ways to cut costs and produce a similar product, with less expensive (and not as tasty) ingredients.
This is a bit of an assumption on my part; however, there are other factors to consider. Familiarity often leads to boredom. Once you become used to something, the novelty wears off and that new meal that was fine and tasty becomes blase because you are accustomed to it. This could be the case with the sandwich.
The first time I tried it, I thought it was spectacular—but then it started to lose its taste and flair. When I tried the sandwich a second time, it actually seemed to be absent of any flavor, and some of the texture seemed almost like rubber. I was actually surprised my chicken patty had passed inspection.
Your Opinion Again!
Your Opinion
Fast Food, McDonald's and the American Appetite
One of the things I can say about fast food is that speed doesn't always ensure quality. That should be a given. But is the fact that fast-food restaurants can be found on every corner a symptom of our need for instant gratification or a result of corporate greed? Perhaps a combination of both.
We want what we want and we want it now: movies, e-books (forget actually going to a bookstore or library), music, the latest fashions, food, etc. Everything about us today seems to be about right here and right now. Fast-food restaurants used to be a convenience and an occasional luxury when we were too tired to cook and eat at home. One look at the climbing obesity rates, and it seems no surprise that this new ubiquitous monster called the fast-food restaurant awaits us.
Fast food isn't cheap as it used to be, either. Of course, we are living in an economy where prices are rising much faster than our wages. What I paid for a hamburger, French fries and a refillable soda, I could have gotten a decent meal and desert and perhaps left a tip at a sit-down restaurant 15 years ago.
Overall, I would probably pass on the sandwich and just save my money. The onion strings were not crispy, the bacon was minimal, the cheese almost invisible and the chicken breast patty had fatty fillers included. Not what I expected or anticipated.
McDonald's Signature Sandwich Commercial
My Overall Rating on the BBQ Bacon Crispy Chicken
Sours: https://delishably.com
422
423
424
425
426