Fantasy Name Generators
(fiction > name generators > fantasy)
Writers and gamers need names for charactersto use in stores and online role-playing games. Thankfully, there are online tools available that will generate characters. These online tools can do more than just randomly offer character names. They can create character names under a variety of different parameters. This article will describe several different fantasy name generators to help in your fiction writing and gaming scenarios.
The Fantasy Name Generator
When writing an epic fantasy novel, there is a lot of work to be done regarding names. So how do you come up with those names, especially all those minor characters? Why not check out the
Fantasy Name Generator
to get you started? You give the software interface some parameters about the kind of name you want (consonant-heavy, vowel-heavy, really long names, names with apostrophes, names of Greek origin, names of Latin origin etc.) and let it rip. You can also do things like require certain consonant and vowel combinations.
We asked the generator to give us some good fantasy-inspired insults. Twerpclod, Twerpfumble, Footnit and Skullthimbletwit immediately popped up, which will all come in handy the next time we need to insult someone at the local tavern.
More Fantasy Name Generators
Fantasy Name Generators: This site lives up to its name. It has over different generators available for many different types of characters including pirates, trolls, detectives, twins and dragons.


Behind the Name Generator: This generator from Behind the Name will generate a name for. You can restrict parameters to certain mythologies. There are also options for creatures like fairies and witches.


Name Generator: This generator aims to help you find the perfect fantasy name. One option is to have it create a fantasy name based on a human name. You can also have it generated names limited to a certain category. Some of the categories include gnomes, dragon, trolls, elves, centaurs, imps, sea monsters, giants and werewolves.
Fantasy Name Generators for Specific Classes
The generators can also be used for specific types of fantasy characters, including elves, dragons, orcs, wizards and more. Here are a few of the available options:
Dragon Names
: Fantasy Name Generators has a dragon generatorthat will create 10 random dragon names for you. You can narrow the results by male names, neutral names and female names.
Demon Names
: Fantasy Name Generators provides a demon name generatorthat gives you ten names at a time. You can generate random angel/demon names at Seventh Sanctum. Another demon names generator is available at Best Name Generator.
Elf Names
: Seventh Sanctum provides an elf name generatorthat create up to 20 names at a time. Names can be high elves or wind elves. They also have a generator for dark elves. You can also generate elf names at Fantasy Name Generators.
Orc Names
: You can generate Orc names with the Orc name generatorprovide by Fantasy Name Generators. It create ten names at a time. You can select to generate just male or female names.
Vampire Names
: Seventh Sactum has a vampire name generatorthat can be used to create modern or fantasy vampire names. You can also generate 10 random vampire names at Fantasy Name Generators.
Witch Names
: One of the many options available with Behind the Nameis to generate a witch name. You can also generate a brief life story. Some of the character names it generated through our attempts include Hateweed Wartsnarl, Demonreek Blackgoo and Henrot Boilbite.
Wizard Names
: Fantasy Name Generator also helps with wizard names. Generate ten names at a time. They can be male, neutral or female names. You can also get random wizard fantasy names at Best Name Generator.
Sours: https://www.writerswrite.com/fiction/name-generators/fantasy/
Ever got stuck at the "Your name here" part of a role playing character sheet or video game? Are you the GM of a pen & paper RPG, currently in urgent need of names for a group of elves, dwarves, orcs, etc.? Or perhaps you're writing a fantasy novel? This site can probably help.
Select a name type and length:
Some tips:
Fantasy surnames work well only as short names, as medium or long ones will probably sound ridiculous (e.g. Stormwolfblade). Unless that's your intention, of course.
Apostrophes (') and dashes (-) only appear in medium and long names.
English names are in the format "name surname" (short) or "name middle-name surname" (medium or long, which in this case are the same).
For place names, fantasy titles, superhero / supervillain names, rock band names, or military operation names, the length selection doesn't affect anything.
A list of suggestions may not have exactly what you're looking for, but may inspire you to think of it on your own -- possibly a variation of one of the suggestions.
Questions? Suggestions? Keep up with new features?
Visit the FNG blog.
Tweet
Sours: https://www.fantasynamegen.com/

By Samuel Stoddard - Version
One of the perks of creating fantasy stories -- whether by writing a story or game or by role-playing -- is you get to make up the names. Some people relish the task while others are frustrated by it. Some like it but can't seem to create names that are diverse enough. Fantasy Name Generator is a tool that can help you. It can generate an endless number of random names (of people, places, or anything) that would be suitable for use in a fantasy setting. It can generate names on its own, or you can tell it what kind of name you're looking for. Feel free to use this tool and any name that comes out of it (assuming it doesn't accidentally generate a legally protected trademark or something).
In addition, this tool can be fairly amusing to use even if you don't have any name creating to do. Once in a while, the names it can generate are downright comical.
You can use the fantasy name generator below. Here's instructions for using the generator. You can also read about the history of the name generator, which discusses name generators in general and how I came to write this one.
Sours: http://rinkworks.com/namegen/
Fantasy Name Generator with Machine Learning - 1. Basic Name Generator
Fantasy Name Generator
Name Generator>Fantasy Names
Are you in need of adventure? Do you want to visit distant, exotic lands? Are you convinced that you have an ultimate destiny? If so, then it's time to voyage to strange and unusual places with our fantasy name generators!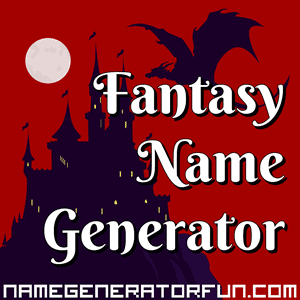 About Our Fantasy Names
Are you the seventh youngest son of a seventh youngest son? Were you swapped at birth by the fairies? Do you have an unusual birth mark? Did your mother get into a tight spot and make a deal with a wicked fairy in exchange for her first born child? If so, you've come to the right place!
Creating a Fantasy Name
You have the chance here to either create a random alter ego, or one that's uniquely generated from your own first and last name. You can choose male or female fantasy names, and you will also get a description of your strange adventures, including where you originally hailed from, and the curious things that happen to you on your journey! It's ideal if you're looking for a new character for a tabletop RPG, a screen name for a online game, or just to add a little wonder and magic to your day! Either way, we hope you like our fantasy names!
There are a few fantasy generators around already, but we couldn't find one that gave the option to create both random names, and names unique to the user of the generator. Many are very serious and create gobbledegook words. With this page, we aimed to create magical names that were easy to remember and that conjured up romantic images, with many first names based on old Celtic names, second names based on real words, interesting social titles, and descriptions of mysterious and inspiring far off places that sound like they are from fairy tales.
Castle with dragon adapted from a design by Freepik.
Sours: https://www.namegeneratorfun.com/
Generator unisex fantasy name
Gender Neutral Name Generator
Use this Gender Neutral Name Generator to find countless random unisex names for your next gaming adventure, story or any other kind of project. Enjoy!
Copied!
Add to Home Screen
See previous results (<% prevResults.length %>)
New Story Shack tool
Taleforge: Creative writing exercise
Expect the unexpected. Set a timer and complete prompts while you write. The more you manage, the higher your score.
Start writing
Looking for a quick overview?
Check out a list of random unisex names.
Discover more random names
Show moreless
Can I use the random unisex names that this tool creates?
Yes you can. The Story Shack claims no copyright on any of these names, but it is of course possible that some of the values this name generator provides are already owned by anyone else, so please make sure to always do your due diligence.
How many ideas can I generate with this random Gender Neutral Name Generator?
The Gender Neutral Name Generator can generate thousands of ideas for your project, so feel free to keep clicking and at the end use the handy copy feature to export your unisex names to a text editor of your choice. Enjoy!
What are good unisex names?
There's thousands of random unisex names in this generator. Here are some samples to start:
| | |
| --- | --- |
| Idea #1 | Kelly |
| Idea #2 | Rebel |
| Idea #3 | Arden |
| Idea #4 | Rylan |
| Idea #5 | Campbell |
| Idea #6 | Jazz |
| Idea #7 | Tandy |
| Idea #8 | Reilly |
| Idea #9 | Grey |
| Idea #10 | Jaylen |
Sours: https://thestoryshack.com/tools/gender-neutral-name-generator/
my fantasy name generator
.
Similar news:
.
412
413
414
415
416