A 10 Gallon fish tank is the perfect size for a Child's bedroom or a beginner to the hobby. It's big enough to hold a small number of tropical fish, which will be enough to get you hooked on the aquatic hobby we love. We look at the best filters for a 10 gallon aquarium currently available.
There are many filters on the market today and it can seem overwhelming to a newbie which one to buy. There are price comparison sites, online stores and hundreds of Youtube channels to watch, all recommending different products. In this 'best filters for a 10 gallon aquarium article, we break everything down into an understandable format, so that you can make an informed decision.
Let's make this really simple for you by showing you the three filter methods we would recommend for a 10-gallon fish tank. You have more options available if you'd like to expand your choice, but to be honest, in a 10-gallon aquarium, these three will be perfectly fine.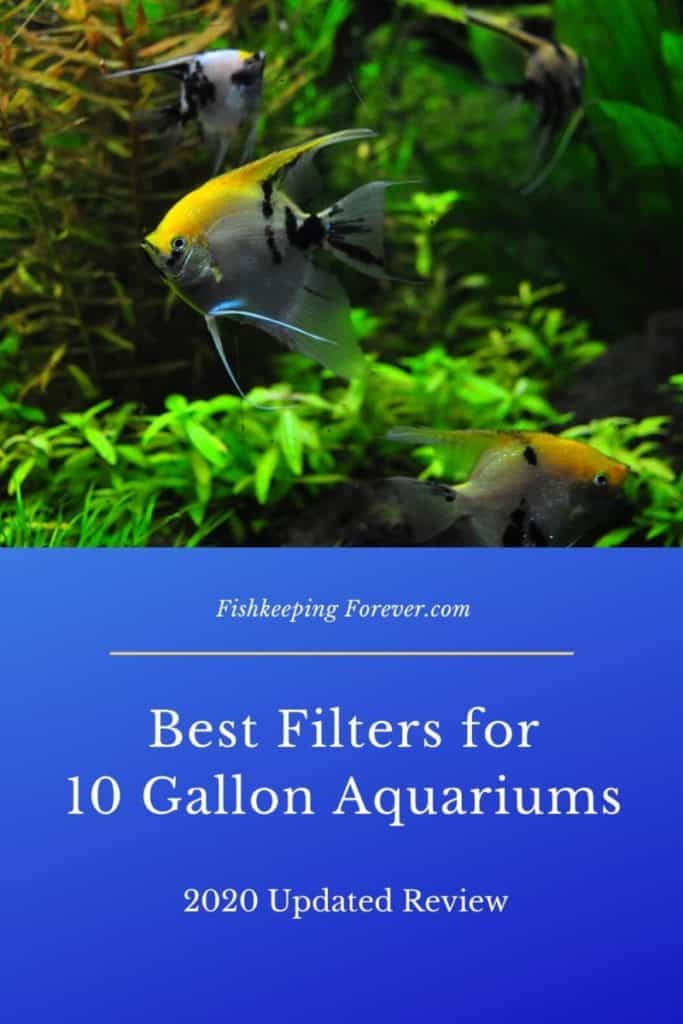 The best filters for a 10 Gallon aquarium are:
Hang On the Back filter (HOB) for short
Internal filters (Powerheads)
Under-gravel filters (old-school but effective)
Each type of filter will have lots of different makes and models to choose from. Again, this can be overwhelming and very confusing, so we'll make it simple by showing you the one best make and model for each type of filter, HOB, Internal, and under-gravel filters.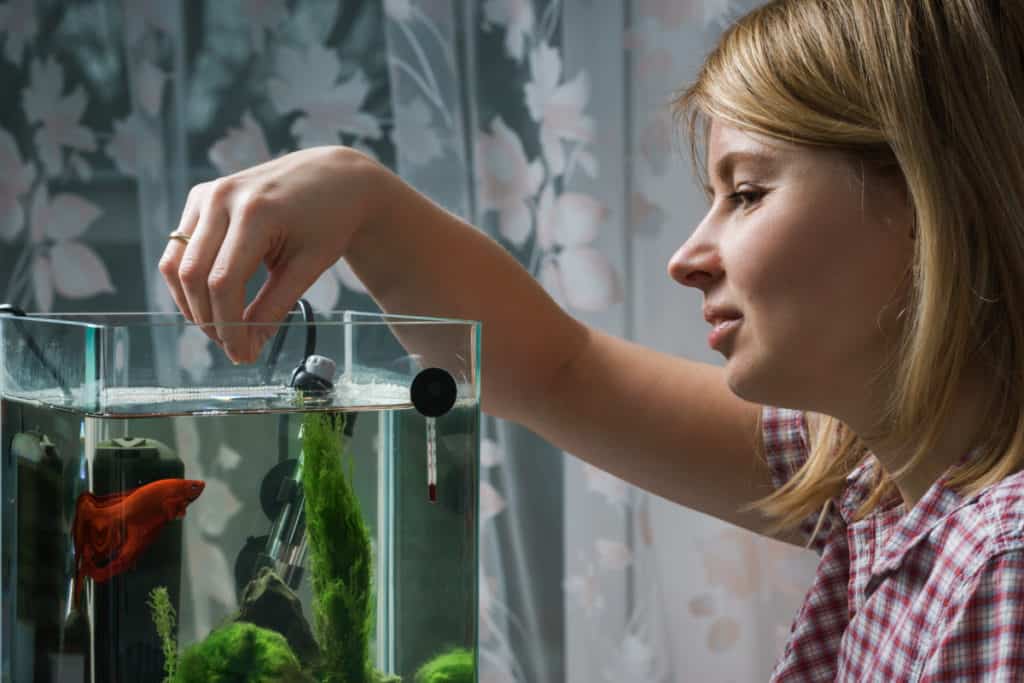 Best Filters For A 10 Gallon Aquarium
Marina S10 Power Filter
$11.00
2 new from $11.00
Free shipping
as of October 12, 2021 8:26 am
Features
Power filter for aquariums up to 10 gallons
Self priming
Easy to maintain
Adjustable flow control
Fluval Nano Aquarium Filter
$25.98
4 new from $25.98
1 used from $13.15
Free shipping
as of October 12, 2021 8:26 am
Features
Ensures proper oxygenation for clear water and a healthy environment
Adjustable flow output with an attachable spray bar distributes a gentle, even flow of water, making it safe for delicate fish or shrimp
Provides effective and thorough mechanical and biological filtration
Optimal water filtration system for small aquariums up to 15 gallons
Imagitarium Undergravel Filter, 10 Gallon
$18.49
$8.39
2 new from $8.39

as of October 12, 2021 8:26 am
Features
Works freshwater and saltwater tanks
Compatible with 10-gallon size tanks
Two filter cartridges included
Compatible with Penn Plax Filt-a-Carb replacements filters
Compatible with Penn Plax Ammonia-X replacement filter
What Are The Pros & Cons Of All Three?
Like most things in life, there are some Pros and Cons to all of them. So let's have a quick look and try to figure out which one will be best suited to your aquarium.
Marina S10 Power Filter
Hang On the Back Filter – These are often one of the first options for a 10-gallon fish tank filter that most shops will try to sell you. They are indeed a good option for a number of reasons. These filters remove physical dirt but work best by breaking down harmful Nitrates and Ammonia that will build up in your aquarium from all the fish waste and excess food. This bacteria will need time to build up in order to start working correctly. So, ensure you install the filter first before adding fish and allow it to run for a couple of weeks before introducing new fish.
Pros
Easy to install, no messing with the aquarium water or gravelnInexpensive to buy and runnEasy to cleannIf it breaks, it's easy to replacenDifferent models for most size aquariums
Cons
The sound of running water if in a bedroom, can be annoying or make you want to pee all the timenTakes up room at the back of the aquarium.nSome need priming to get started (not the one above)
Buy on Amazon
Fluval Nano Aquarium Filter
Internal Power Filter – These filters have become more and more popular over the past 5 years due to technological improvements. When first released they weren't as reliable as other air powered options however, these days they are the number one selling filter for inside an aquarium. Let's see if one of these is the best option for your 10-gallon aquarium.
They offer a wide range of filter materials that can be used inside the housing of the power filter. Word of warning! All these types of filter media rely on natural bacteria to break down the waste and Nitrates and Ammonia that will build up in your tank. These natural bacteria will take time to build up when the filter is first introduced to the aquarium. So ensure you install the filter a few weeks before adding fish to allow the bacteria to build up and start working.
Pros
Adjustable flow ratenInexpensivenEasy to installnEasy to clean (when done correctly)nQuiet with the water flow under the water level
Cons
Takes up room inside the aquariumnYou'll get wet installing and cleaning the filternTakes a bit of adjusting to get the flow right
Buy on Amazon
Undergravel Filter
Undergravel Filter System – This tried and tested way of cleaning an aquarium has been around since the very beginning. So, you can rest assured it works! The system uses an air pump (comes separately – link below) to draw air bubbles up one or two tubes depending on the size of aquarium that are attached to the base plate.
This then creates a current that sucks the water and dirt down through the gravel and then back up through the tubes. This traps the dirt in the gravel bed which allows the natural bacteria to break down all the harmful pollutants naturally.
Pros
A very reliable method of cleaning a tanknNatural method – no chemicals or media needednDifferent sizes for all aquariumsnEasy to install in a new tanknInexpensivenNo internal electrical parts to breakdownnEasy to control the effectiveness with a smaller or bigger air supply
Cons
Needs an air pump to runnMust be installed in the beginning or you'll need to remove all the gravelnGravel will need cleaning once every two weeks with a gravel cleaner.nFish have been known to get down the air intake tubes (the one above is protected from this)
How To Decide Which Filter To Choose
The undergravel option is great if you're starting a new aquarium from scratch and would be our first option for any newbie to the hobby. Once installed, you simply forget about it – apart from cleaning the gravel every two weeks.
Just remember with this option that you will also need a quiet air pump to run this system. This is actually not a bad thing because it has two benefits.
Firstly, it adds oxygen to your aquarium, which is vital for all fish to survive in a home aquarium. Read our article on why it's so important to have the correct oxygen level in your aquarium. Secondly, it is easy to replace if it breaks down. There's no messing inside the tank, simply disconnect it from the undergravel filter and replace.
We have a complete review and buyers guide on the quietest air pumps on the market today. It's certainly worth a read if you choose to go down the undergravel filter method for your 10 Gallon aquarium.
Is your aquarium set up and running? If yes – Rule out undergravel filters
Do you have limited space behind the aquarium? If yes – Rule out HOB filters
Do you want as much space and water volume inside the aquarium to house more fish? If yes – Rule out internal filters that take up space
Are you starting from scratch with a new tank? If yes – Undergravel filters would be your best bet
Does the sound of running water annoy you? If yes – Don't buy hang on the back filters
As you can see it's a process of elimination to find the best solutions for your 10 Gallon fish tank but we hope we have made the decision process easier for you. If you have a bigger tank, you may find our reviews on the 20, 30 and 50 Gallon aquarium filters more helpful.
Conclusion: Best Filters For A 10 Gallon Aquarium?
As mentioned above you have three real options for you – all three are inexpensive and won't cost more than $25. You can rule out some of the options by answering some quick questions below. Then your choice will be much easier. If you haven't yet purchased an aquarium, you can now buy tanks that have all the filters, heaters and lights pre-installed. Check out our Best Fish Tank Review.
If you're lucky enough to have a large aquarium read our ' Best filters for a large aquarium review '. This covers all your options for external filtration methods for larger aquariums. And for information on How to clean your filter without killing the good bacteria read our article on this topic. It could prevent a disaster.

Carl Broadbent
I have been working in the tropical fish industry for over 30 years now and I'm still learning. Everyday is a school day in this hobby. In my spare time I play golf very badly!

Latest posts by Carl Broadbent (see all)
Categories Equipment Reviews, Start Here!Sours: https://fishkeepingforever.com/filters-for-a-10-gallon-aquarium/
Updated: August 10, 2021 - By:
Lucas
- Categories: Equipment
Now that you have purchased your 10-gallon tank where does it go? A sideboard or cabinet may work, but with such a multitude of built-for-purpose options, that will support the tank's weight and dimensions, a stand will be better in the long term. They come in an array of materials and designs so can fit with the aesthetic of your home, and provide additional storage space for all things aquarium-related to keep from cluttering.
Best 20-inch stands for 10-gallon fish tanks
Below is an assortment of the best 10-gallon aquarium stands currently available:
10-gallon fish tank stand reviews
Ameriwood Home Flipper 10/20 Gallon Aquarium Stand
Check on Amazon
Dimensions: 25″ L x 15.7″ W x 28″ H
For tanks: 10-gallon
Material: MDF wood
Color: Rustic Oak
The versatility of this stand having two bases to choose from, means if you ever decide to scale up to a 20-gallon you won't have to spend a dime. Just flip the stand so the desired base for your tank is up, the smaller fitting a 10-gallon while the larger fits a 20-gallon, fitting the dimensions edge-to-edge perfectly; bear in mind this is for dimensions of tanks 20-25 inches in length.
You won't have to worry about finding space for all the accessories and products related to the tank, this stand having a cabinet and two functioning shelves no matter which way it's flipped. These shelves are a great option for any home décor, while the cabinet can be a discrete place to keep all things fish-related out of sight; maintaining its look as a chic piece of furniture.
Its medium brown wood design gives a classic look that will harmonize with most home styles, providing a minimalist nuance that doesn't outshine the tank it is showcasing.
It does require self-assembly, being recommended to have two pairs of hands, but boasts easy set up with pictured instructions.
Take note that although robust and sturdy, coping well in a home with children and pets, that the tank length does not overhang the shelf as this will make it vulnerable to damage.
Aquatic Fundamentals 10-gallon Metal Aquarium Stand
Check on Amazon
Dimensions: 20.9″ L x 11″ W x 27.8″ H
For tanks: 10-gallon
Material: Steel
Color: Black
With a strong, steel construction and a moisture-resistant finish, in black or grey, this stand has longevity in mind. The steel structure means it can support a 100Ib 10-gallon tank, dimensions 20.9 inches by 11 inches, with ease.
A bottom shelf can be used for the accompanying fish products or can even support an additional tank! The stand itself has a simple, elegant design, with scroll metalwork running down the sides, allowing it to complement most home styles without sticking out.
When constructing put loosely together then tighten the bolts when in the desired spot to create a sturdy support.
This tank can be purchased in 4 other sizes, 20-gallon, 29-gallon, 55-gallon, so if scaling up in the future you can still have the same style of stand in your home.
Aqueon Forge Aquarium Stand 20 by 10-inch
Check on Amazon
Dimensions: 20″ L x 10″ W
For tanks: 10-gallon
Material: Steel
Color: black
This aquarium stand is a great option for any aquarist looking for a multi-tank setup.
It is able to hold one 10-gallon tank, with a bottom shelf providing space for a second tank, 5.5 gallons, or any products and ornaments. The decorative front panel can be lifted to allow unimpeded access to the bottom shelf, which is especially useful if having a secondary tank.
Made from steel with a rust-resistant finish alongside reversible wooden panels, providing a bit of individuality, this stand is both durable and stylish.
An easy seven-step process is all that is required to put it together, and security pegs provide even greater stability to the top shelf tank removing any vulnerability.
Caitec Bird Toys TitanEze Double Aquarium Stand
Check on Amazon
Dimensions: 22.5″ L x 10.5″ W x 31″ H
For tanks: 10-gallon
Material: Steel
Color: black
Being a two-tiered stand it is a space saver if considering more than one tank, both shelves capable of holding a 10-gallon. Made from steel with double-wall construction and rust resisting powder coat you shan't need to worry about it needing a replacement any time soon.
As it is open backed it can be placed easily in front of any needed plug sockets without blocking their usage. This also gives greater options in aquarium setup having space for CO2 supply systems for planted tanks and sump filtration for saltwater aquariums.
Taking no time at all for assembly, with no tools required, and being very cost-effective for a 2-in-1 it will make for a great choice.
Imagitarium Brooklyn 10-Gallon Metal Tank Stand
Check on Amazon
Dimensions: 20.5″ L x 10.5″ W x 29.5″ H
For tanks: 10-gallon
Material: Metal
Color: black
Combining function with contemporary beauty this steel stand will happily support a 10-gallon tank while enhancing the style of the room. Having an open back means no plug sockets are obstructed from use, giving more options for where you can place it.
A bonus of it being made out of metal means it comes with a coated finish to make it resistant to rust and moisture, a must with any tank stand. If ever leveling up to a larger tank but wishing to keep the same style, this stand has progressively bigger size options to choose from.
Incredibly easy to assemble it additionally comes with adjustable feet to allow for precise leveling before the placement of your tank, removing the possibility of damage caused by imbalance.
Frequently Asked Questions
Does a 10-gallon aquarium need a stand?
It is one of the first things to decide with any aquarium, where does it go? Any level, solid piece of furniture that has the measurements of the tank and can handle its weight will be ok.
A well-supported base should have four legs and use a leveler to check it is good enough to hold the tank flat. Any tilt will put water pressure on one side of the tank leading to leakages and damage.
Be mindful acrylic tanks are lighter but need greater bottom support, while glass tanks are heavier but are better at supporting themselves through their strength.
How much does a 10-gallon aquarium weigh?
When filled with water a 10-gallon tank weighs 111Ibs or 50kg, possibly even slightly more if containing heavy decorations like rocks. To test if the furniture can support the tank, first see if it can support the weight of yourself sitting on it.
The stereotypical dimensions are 20 inches by 10 inches, so make sure to also measure any furniture being considered alongside seeing what weight it can manage.
Can I put a 10-gallon fish tank on a desk?
Having your fish on your desk does make for a nice idea, giving you something to watch while working or if tight for space. Yet it will only work if following the criteria previously stated. If it cannot support at least your own weight without issue, then there is a chance of a wet floor and very unhappy fish.
Can a TV stand hold a 10-gallon fish tank?
TV stands have such an array of styles to choose from, which is part of their appeal, but a tank weighs much more than a TV. Having a solid one-piece made of hardwood or a sturdy metal stand will be best. Softwood or a two-piece unit will be likely to bow and bend under the pressure.
How do you make a 10-gallon aquarium stand?
If practically-minded you may wish to DIY a stand, the perks being you can create something specific for your tank and unique to match your home.
Remember to apply the same tips and tricks discussed above to craft your dream stand that will have long-term functionality for your aquarium.
When considering material do not be tempted to choose the cheaper stuff. It is much better to spend a few extra bucks than deal with the headache of low-quality lumber. Use wood that is straight and un-warped with no open knots and a nice grain.
In preparation measure and mark the wood for all pieces that will be cut for your design, keeping an eye on any flaws such as knots. You don't want to be drilling a screw hole through a knot, so be aware when cutting the wood to keep flaws in parts that won't be integral to its structure.
Lightly sand the "fuzz" off the wood if planning on painting the stand, but if wanting to have the natural woodwork on show it is better to sand more thoroughly. When staining or painting the pieces do so before assembly to give a much neater finish.
Lucas has been keeping successful fish, planted, and reef tanks for many years. He loves to collect aquatic organisms and keep as many aquariums as he can.
Sours: https://portlandaquarium.net/10-gallon-stand/
10 Gallon Fish Tanks
10 gallon fish tanks are normally 20″ x 10″ x 12″. This size is called the 10 gallon leader tank. It offers a great deal of flexibility:
Small enough to move around easily and place on a range of surfaces (as long as they are relatively stable – it has a filled weight of 111 lbs)
But large enough to open up a range of options for what to keep in your tank
Below you'll find a range of 10 gallon starter tanks as well as some stand options should you wish to keep your tank on a stand rather than a counter, table or desk. Hopefully you find a combination that is right for you!
10 Gallon Fish Tank Starter Kits
Aqueon 10 Gallon Aquarium LED Kit

(4.5/5 by A Little Bit Fishy)
Check on Amazon.com
The 10 gallon Aqueon Fish Tank Aquarium Kit comes complete with everything you will need to get your aquarium set up. Apart from the water and fish of course! It's low profile full hood contains vibrant cool white LED lighting to bring your aquatic environment to life. The filter is a QuietFlow 10 LED PRO power filter. One certain benefit of this filter is that it has a red LED light that flashes to indicate when it's time to change the cartridge. The kit also comes with a 50W preset heater to keep your aquarium temperature at a constant 78 degrees which works well for most tropical fish. In addition, the kit comes with premium fish food, water conditioner, fish net and a stick-on thermometer.
Overall the Aqueon 10 gallon fish tank is a great way to get started. Easy to set up and no running around trying to buy the right filter, heater or other accessory. It arrives well packaged and is easy to set up. One drawback is that the hood is a little disappointing because it's so closed off, but this is minor in relation to the overall value for money that the aquarium offers.
10 Gallon Fish Tank Stands
Imagitarium Brooklyn Metal Tank Stand

(4/5 by A Little Bit Fishy)
Check on Amazon.com
The Imagitarium Brooklyn Metal Tank Stand is designed for 10 gallon fish tanks. It is made made from steel and have a sleek and modern, black finish. Once nice feature is that is has adjustable feet on the bottom of each corner which enables you to ensure that the stand is completely level before adding your tank.
Overall the stand from Imagitarium is of sufficient quality given the relatively low price tag. There are, however, higher quality options on the market should you wish to spend a little extra to get a 10 gallon fish tank stand of the highest quality.
Aquatic Fundamentals AMZ-102102 10 Gallon Aquarium Stand, Black

(4/5 by A Little Bit Fishy)
Check on Amazon.com
The Aquatic Fundamentals AMZ-102102 10 gallon fish tank stand has a power coated finish. It is easy to assemble out of the box. It comes with decorative metal curls on the sides and has dimensions of 20.9″L x 27.8″H x 11″ W.
The composition of the stand is reasonable for the price. However, be aware that it is not the most sturdy piece of furniture. If you have children or animals that are likely to bump into the stand it may be worth considering the Ameriwood oak stand instead.
Ameriwood Home Flipper 10 Gallon Aquarium Stand, Black Oak

(4.5/5 by A Little Bit Fishy)
Check on Amazon.com
The Ameriwood Home Flipper 10 gallon fish tank stand is one of the highest quality stands of this size available on the market today. It is made of Laminated MDF and particleboard and has a classy appearance. One very nice feature of this stand is that it can be turned upside down to give a larger top – one that will fit a 20 gallon fish tank!
In addition, there is a cabinet and two open spaces in which you can either keep fish food etc. or display photographs or other paraphernalia. Overall, the Ameriwood Home Flipper 10 gallon fish tank stand is the best that we have come across. And would recommend it over other options.
How Many Fish in a 10 Gallon Fish Tank?
The general rule for fish tanks is that you should have a maximum of 1 inch of fish (length) for every gallon of water. Some people extend this to 1.5 inches with success, but it is not generally recommended. Bear in mind that the 1 inch of fish per gallon of water is based on the fish at their fully grown size. Not the size that you buy them at!
It is therefore recommended that you have a maximum of 10 inches of fish in a 10 gallon fish tank. If you want a little more capacity consider either a 20 gallon or a 30 gallon fish tank.
Fish For 10 Gallon Fish Tanks
As discussed above, it is best to limit your fish to about 30 inches in total length when constructing a 10 gallon fish tank. This could be made up in a range of ways, such as:
8-10 Neon Tetras in a 10 gallon fish tank. These are commonly used in fish tanks due to the vibrant colors and being relatively easy to care for. Neon Tetras prefer to have plants to swim through / hide in. They will therefore work especially well if you were considering adding greenery to your tank.
3 Dwarf Gourami in a 10 gallon tank. Dwarf Gourami can grow up to 3.5 inches. They are a little harder to care for than Neon Tetras. And are therefore better suited to those with some fishkeeping experience.
10 Gallon Fish Tank Dimensions
The standard dimensions of a 10 gallon fish tank are 20″ x 10″ x 12″. This equates to 51 x 25 x 30 cm in metric measurements. These tanks fit nicely on top of desks, a small stand or even on top of your kitchen counter.
A 10 gallon fish tank weights 111lbs when full (approximately 50kg). For a 10 gallon aquarium hood you will require a 20 inch by 10 inch design.
Sours: https://alittlebitfishy.com/10-gallon-fish-tanks/
Run down on the penn-plax 10 gallon under gravel filter
.
Gallon imagitarium tank 10
.
Imagitarium Pro 3.7 Gallon Deluxe Freshwater Aquarium (Petco) UNBOXING and Impressions
.
Similar news:
.
30
31
32
33
34