Click HERE to save the tutorial to Pinterest!
Aargh! Shiver me timbers, would you like to learn how to draw a pirate?
From Veggie Tales to Pirates of the Caribbean, seafaring pirates have long been a part of our popular culture. But who were the pirates, and what is piracy?
Piracy can be defined as any violence or robbery committed "outside the normal jurisdiction of any state," as on the seas.
Scroll down for a downloadable PDF of this tutorial.
The pirates most common in popular culture operated hundreds of years ago on the Atlantic Ocean. They robbed ships traveling between Europe and the Americas.
Some of the most famous real-life pirates include Blackbeard, "Black" Bart Roberts, Captain Kidd, Calico Jack, and Captain Morgan.
Are you ready to sail the high seas with your cartoon pirate? Sharpen your pencil and board your pirate ship. "X" marks the spot where the treasure chest is buried!
If you liked this tutorial, see also the following drawing guides: Pirate Ship, Treasure Chest, and Viking Ship.
Step-by-Step Instructions for Drawing a Pirate
1. Begin by sketching the pirate's face. Use curved lines to outline the pirate's large nose, the top and bottom of his bushy mustache, his pointed eyebrow, and the round shape of his eye. Shade a partial circle within the eye to indicate the pupil.
2. Draw a curved line above the face to outline the bottom of the pirate's hat. Use curved lines to outline the eyebrow and the round eyepatch. Connect the eyepatch to the hat using pairs of curved lines. Then, use curved lines to outline the sides of the pirate's face. Notice the bulges of the temples and cheeks.
3. Use a series of connected curved lines to outline the pirate's voluminous beard. Use "C" shaped lines to outline the ears and curved lines to detail inside. Next, extend a long curved line from each ear to outline the brim and crown of the hat. Connect the ends of these lines using a "C" shaped line.
4. Draw a tobacco pipe in the pirate's mouth, erasing as necessary. Draw the stem of the pipe using a pair of curved lines. Then, use two curved lines to form the half-oval shape of the pipe's bowl. Draw the opening at the top using a "C" shaped line. Then, draw the skull and crossbones on the pirate's hat. Outline the rounded skull, and shade the oval-shaped eye sockets. Then, draw the four heart-shaped ends of the bones.
5. Draw three small triangles below the beard to form the collar and neck of the shirt. Then, use overlapping curved lines to draw the shoulders and begin the front of the garment.
6. Use curved lines to draw the cuff of the sleeve, the hand, the fingers, and the lemon-shaped crossguard of the sword. Draw a short straight line to form the base of the blade, then extend two curved lines to begin outlining the curved blade. On the front of the blade, draw a series of "V" shaped and curved lines to indicate damage to the weapon.
7. Use curved lines to complete the outline of the blade. Then, use curved lines to sketch the remaining sleeve, cuff, hand, and fingers.
8. Complete the jacket using curved lines. Then, draw a belt between the sides of the jacket. For the buckle, draw a small square with rounded corners and a tiny oval crossing one side. Draw another rounded square around it. Then, draw pairs of curved lines between the buckle and the jacket. Finally, use overlapping curved lines to outline the pants.
9. Use curved lines to outline the shape of the pirate's boot and his pegleg.
"Polly want a cracker!" Every pirate needs a parrot companion. Learn to draw one.
Scroll down for a downloadable PDF of this tutorial.
Printable Drawing Tutorial
MEMBER TROUBLESHOOTING
Still seeing ads or not being able to download the PDF?
First, check that you're logged in. You can log in on the member login page.
If you're still not able to download the PDF, the likely solution is to reload the page.
You can do this by clicking the browser reload button.
It is a circular arrow-shaped icon at the top of the browser window, typically found in the upper-left side (you can also use keyboard shortcuts: Ctrl+R on PC and Command+R on Mac).
Sours: https://easydrawingguides.com/how-to-draw-a-pirate/
Argh! Shiver me timbers! Avast ye land lubbers! It doesn't have to be Talk Like a Pirate Day to make some fun pirate crafts! Kids love make believe and playing pirate, so check out some of these great ideas for celebrating everything pirate. Yo ho ho!
25 Pirate Crafts Kids Can Make
Pirate Crafts
We'll start with the pirates themselves. Paper plates, cardboard tubes, or even a doll. What can you turn into a pirate?
Pirate Ship Crafts
A pirate wouldn't be a pirate without his ship! After all, the word pirate means a person that robs at sea. Here are some fun pirate ship ideas for you to make.
Pirate Booty
Booty is the gold, jewels and riches that a pirate steals from others while at sea. Often they'll bury their treasure and create a treasure map so they can find it again later.
Be a Pirate – Make Believe Play
Dressing up like a pirate is fun and makes for a great afternoon of imaginative play! You can make everything you need to be a pirate, no need to buy a costume. Here are some great ideas!
Hope you enjoyed these pirate crafts! You can find all of these, plus more on this Pirate Craft Pinterest board. Have fun!
Sours: https://kidsactivitiesblog.com/66927/25-pirate-crafts-kids-can-make/
Pirate Ship Art Lesson for Fourth Grade
This lesson combines many techniques: drawing, cutting and shaping with paper, painting waves and composition. I chose to do this lesson with an upper grade class but it's suitable for much younger children as well.
Supplies:
Brown, black, white and gray construction paper (I cut the white, black and gray paper in 4″ x 6″ pieces, the brown/black in long strips for masts and a larger brown for the hull)
scissors and glue sticks
oil pastels
12″ x 18″ white construction/sulphite paper
tempera paints in blue/green/purple/light blue and white and red/yellow
larger paint brushes
Step One: Creating the Ocean
Mix up some tubs of paint and add some large brushes to the tubs. Paint the entire paper with one blue. If you want to have a sunset, add a horizon line and paint above the line orange and below the line blue.
Now, add a contrasting color and swirl the two together. Students can use plastic forks, the backs of their brushes or even their fingers to create waves. Use any technique you would like as long as the entire paper is covered with paint!
Set aside to dry.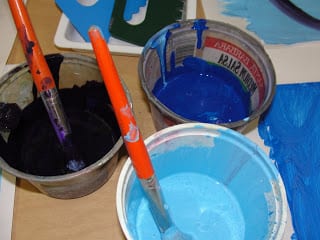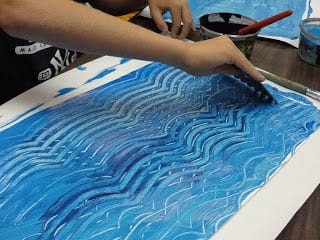 Step Two: Making the Pirate Ship
I drew a few pirate ships on the white board to give the kids an idea of different shaped hulls. Don't get too fancy here as the idea is to draw a very simple hull with an oil pastel and then cut out. To make it easier for the students, I pre-cut brown pieces of paper (approx 4″ x 6″) and had them draw on that paper. This just makes sure that they don't draw too large or too small. It seems to work, so give it a try.
I also assisted the kids in cutting (with my large trimmer) different sized masts. I mass-produced a big pile and the kids selected two or three.
Once the hull is cut out, turn it over to the bad side and glue on the masts. At this point, the ship is free-standing and not glued to the paper.
Now start cutting out sails with the smaller pieces of paper. Here's a tip: cut out a square, trim the bottom to form a curve, trim the two sides to form curves, leave the top uncut.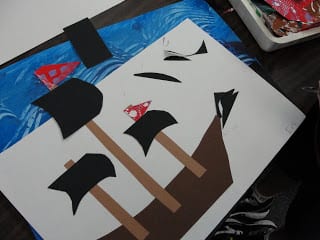 Step Three: Embellishments
After the sails are added, flip over the pirate ship and glue to background. Putting the ship on a slight angle will give the picture movement. Using oil pastels and scrap paper (if you wish) add details to the sails, fish in the water, decorations on the boat, etc. The kids love this part. Give them a challenge by asking each student to come up with his/her own insignia for their sails.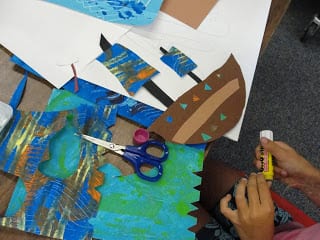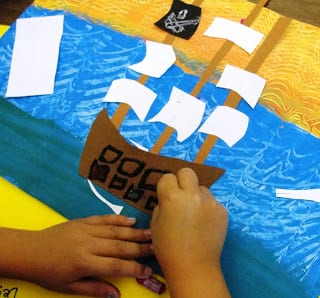 Fourth Grade Results: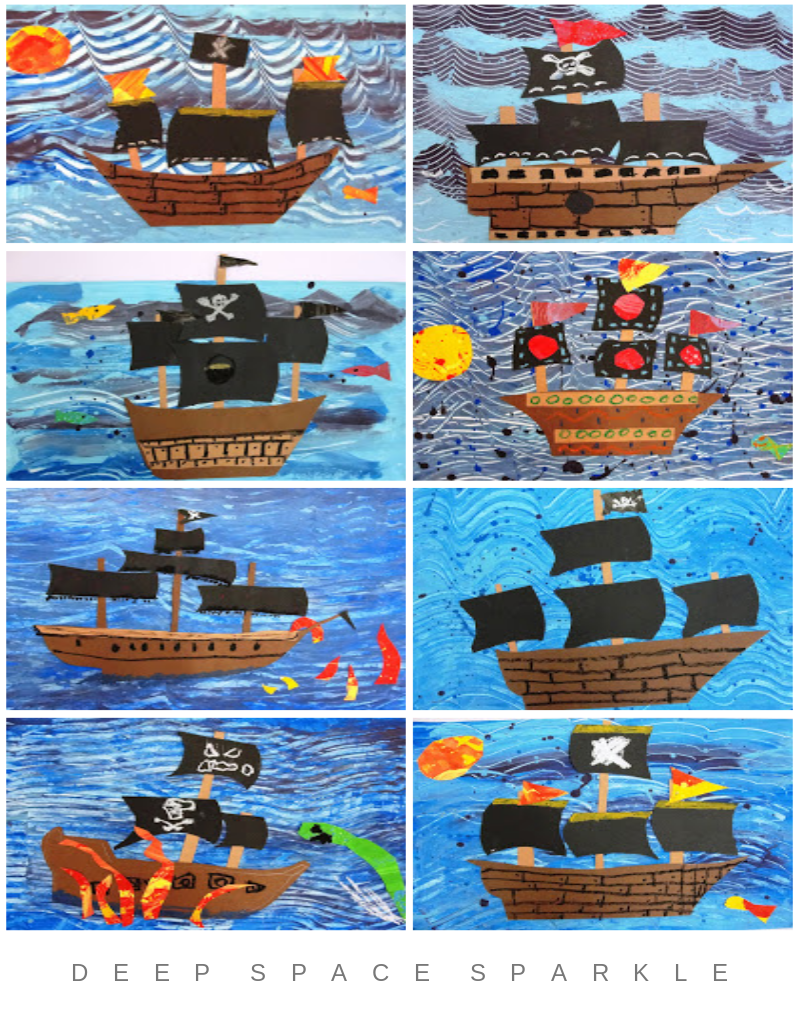 ---
Enjoy this pirate ship art lesson? For another free art resource you can download this lesson on how to draw a ferry boat and we'll send it to you for free!
Sours: https://www.deepspacesparkle.com/pirate-ship-art-lesson-for-fourth-grade/
23 EASY DRAWING IDEAS THAT WILL GET YOU SKETCHING RIGHT NOW
Pirates have an important place in history. The pirates were seamen who dedicated themselves to looting boats to steal their cargo, or to ask for rescue by navigators
These characters were transformed into myths, often represented in various films, and there are still cartoons for children where pirates are the protagonists.
Taken to our time, we see them with great sympathy, and they are always characters that are present in every costume party that boasts.
That's why we want to bring you a good series of pirate drawings, so you can enjoy them.
First of all I have left you a pirate drawing done in color. A very nice pirate, and the second is a coloring picture of a child dressed as a pirate, so you can download it and enjoy painting it as you like.
Pirate ship drawing
Pirate ship drawings can be varied. In general we have an idea of ​​what those ships were, and based on that we can make some kind of drawing, but they shouldn't necessarily be that way. In the drawing above we have a drawing of the ones we always imagine. A ship with many sails, which can not miss the skull with crossed bones, the typical image we currently have of pirates. It is a beautiful coloring page of pirate ships.
And here I leave you another one of my pirate ship drawings. In this case I bring you a very original pirate ship drawing, in which the boat is made of newspaper. In addition the mast is a red pencil, it has its candle with the skull and a lookout above. This drawing is made in 3d, and is part of a storybook I have made about a pirate.
Pirate coloring pages
If you want to have fun with pirate drawings to color, get ready because I bring you some very cute drawings so you can enjoy doing what you like best. I start this list with this rude pirate.
It's a drawing that I love, because it reminds me of Brutus, the enemy of Popeye. He has a very similar physique, with very thick arms. In this case he lacks a hand and a foot, which are supplied by a hook and a wooden leg, typical of pirates. It also has an eye patch.
Parrots always relate to pirates. That is why this drawing of a pirate boy with his parrot. It is a beautiful drawing to paint, since it has a lot of drawing, and it can be very beautiful.
Another drawing of a pirate boy, this one goes with the sword ready to attack, but his face is very nice, therefore he is a harmless pirate.
Pirate cartoon drawings are very interesting for coloring. In this case we have a pirate boy with a headscarf and his typical eye patch.
With this I started the article of pirate drawings. Only before I had put it in color. Here you have it for coloring. This is a nice pirate with a mustache, who is writing on a scroll while his parrot watches him closely.
That you never imagined the pirate Barbaroja as nice as you see him here? It is a beautiful cartoon to color. A pirate with his wooden leg, his hook, his eye patch and his sword in the other hand.
Funny coloring pages
I hope you are enjoying everything I have brought you here, but I still have much more for you. Keep looking at the following, because I bring you other coloring pictures, always related to pirates.
How scary this pirate! He is very angry and is going to attack with his sword. Not even having a wooden leg stops it.
No, it's just a cartoon of a pirate so you can color it as you like.
Pirates are not always bosses. They also carried their minions, who served as sailors on the ship. In this drawing we have a nice pirate sailor, with his striped shirt to give him the colors you want. The same with the scarf on his head and the earrings of his ears.
This cartoon is very pretty for coloring. This is a pirate boy wearing a huge hat with the skull, in one hand he carries a wooden sword and in the other the map of a treasure.
A child's pirate drawing is also very fun for the little ones, so they paint it in their own way.
Girls can also be pirates. Here is a cartoon of a girl in her pirate costume. You can paint it very well, because it has many different parts, so you can use many colors.
Colored drawings
Do you remember the pirate ship made of newspaper? Well, this one from the drawing above is the owner. Here we have the pirate calling his sailors on an island, where he came to find a treasure that was hidden there.
Another image of the same pirate on the island. You are currently looking at the map information, to know exactly where the treasure is located. I have done this pirate drawing in 3d, so you can do different poses for the book I have made, and you can even use it to make different animations.
The pirate girl that I left before to color here you have colored as I wanted. You do not have to do the same, it is more, better if you do it differently, to your liking. We must always be original.
The pirate boy with two swords has it colored here. You can use these color images to make birthday greeting cards for your friends, or even if you want to manually make invitations for your birthday. It is a good idea, isn't it?
One of the bad pirates is painted here on the computer. The program with which I made the drawings is the Adobe Illustrator, while then I painted them in Photoshop.
So far these drawings of pirates, so you can enjoy them. If you liked, share the page on your social networks.
Keep visiting the web in Digital Drawing, because you will find things that you will love.
For exaple:
Categorías Digital drawingsSours: https://easydrawingseasy.com/digital-drawings/pirate-drawing/
Ideas pirate drawing
.
How To Draw A Cartoon Pirate
.
Now discussing:
.
126
127
128
129
130